Nifty (close approx. 9873.30): Nifty opened gap-up today after yesterday's up move and the day-high was formed in first hour of trading at approx. 9921.90, very close to all time high.
Hourly technicals : The Nifty formed a shooting star candlestick reversal pattern in hourly chart in the very first hour of the day and drifted down steadily. Towards the end of the day, it consolidated near 50 hourly moving average, which is presently at approx. 9878.9. The hourly Bollinger is practically flat and hourly ADX is indicating fatigue in the momentum. For tomorrow, hourly upper (approx. 9919) and lower (approx. 9831) Bollinger band levels should provide important resistance and support. Also, 61.8% retracement of last major rise from approx. 9815.75 to approx. 9921.9 lies at approx. 9856.30. Below that, 100 hour moving average, which is presently at approx. 9792.8 is important level to watch out.
On the other hand, if there is a breakout above 9930, the Nifty can aim for 10000. Hourly CCI and RSI are also close to mid-point of their respective normal range and hourly slow stochastic is close to bottom of normal range. Tomorrow being a Friday and only 5 days remaining for July series expiry, Nifty may consolidate for next 2-3 days between 9800 to 9930 zone.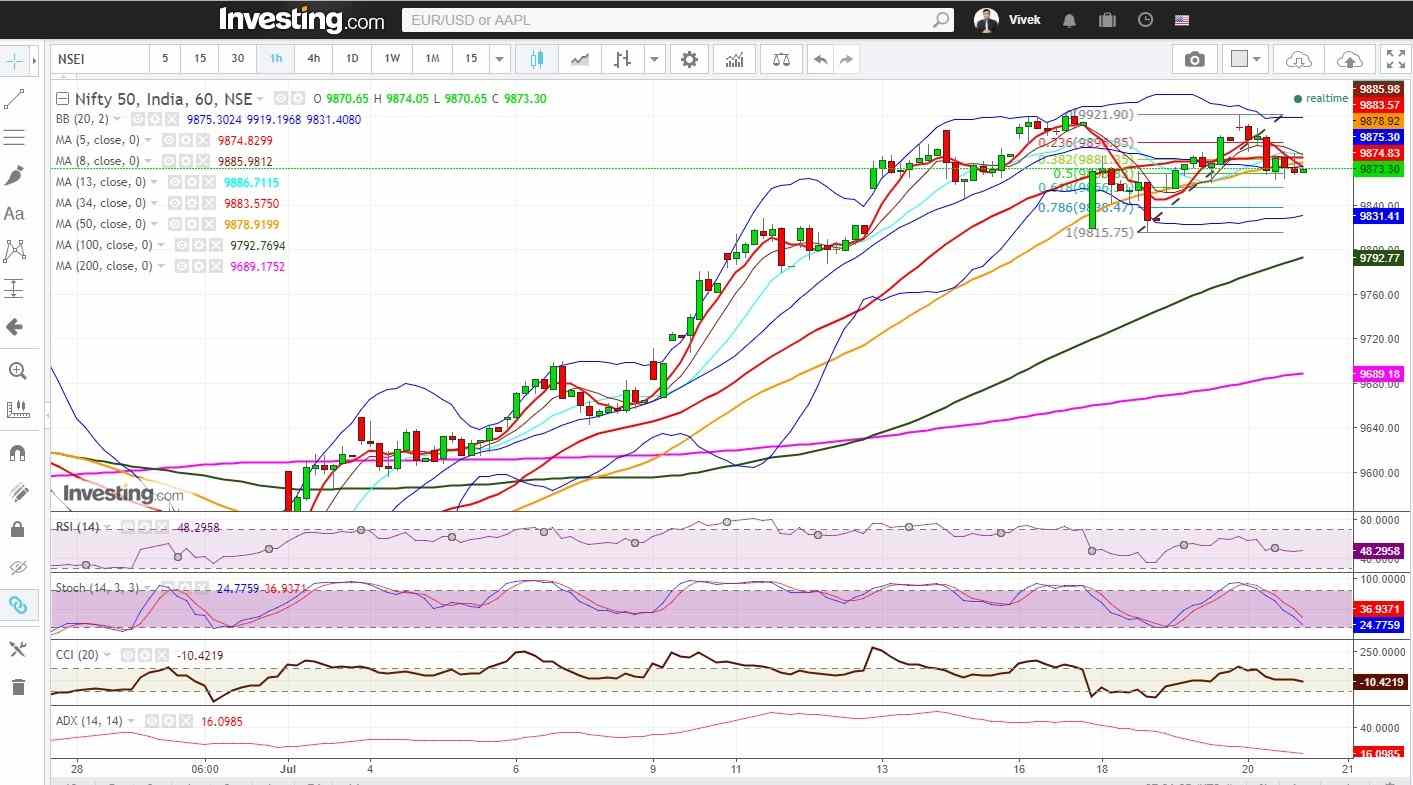 Figure: Nifty hourly chart
Daily technicals: Nifty closed between 5 dma (at approx. 9880.5) and 8 dma (at approx. 9862). On the upside 9930 and 10000 are important levels to watch out for. On the down side, 13 dma is at approx. 9789.1, which should act as a good support. The mid-Bollinger line (20 dma) stands at approx. 9705.3.
The daily slow stochastic is still in overbought territory and the daily RSI and CCI are just inside their normal range after Thursday's price action. Overall, Nifty remains bullish to neutral, in the daily time-frame based on daily technical parameters.Figure :Nifty daily chart
At present, with 5 trading sessions remaining for July expiry, 9900 call saw approx. 9 lakh additions and 9800 put saw approx. 2.5 lakh addition in open interest. 9800 put now has approx. 65 lakh and 9900 call and 10000 call has approx 52 lakh and 71 lakh open interest. Hence, Nifty may choose to consolidate in next two to three trading sessions. But, a sharp price move in either direction will require revisit of technical parameters.

Figure: Nifty options data, source www.nseindia.com
Figure : Nifty technical Table