Nifty (close approx. 9827.15): Nifty opened down today mainly due to big down move in ITC (down by 12.44% at close), which is a major index heavyweight. As we can see, the up-trending trend line is broken and more significantly market fell from two significant attempts of pull-backs during the course of the day. In the hourly chart, Nifty remains below all important short term moving averages. The first hour low in Nifty, was eventually breached at the final hour of the day. Hourly Williams %R and Hourly CCI are in oversold zone.
If the downtrend continues tomorrow, the next probable support in hourly chart comes at 100 hour and 200 hour moving averages at approx. 9744.3 and 9667.8 respectively. The bearish set-up will possibly be negated, if Nifty moves and sustains above 20 Hourly moving average, which is presently situated at approx. 9882.6. Also, we have to look at 38.2%, 50% and 61.8% pull back of last rise (from approx. 9449 to approx. 9928) at 9756.5, approx.9703.5 and approx. 9650.5 respectively.
On, the upside, resistance should emerge at 20 period hourly moving average and 34 hourly moving average at approx. 9882.5 and approx. 9877 respectively.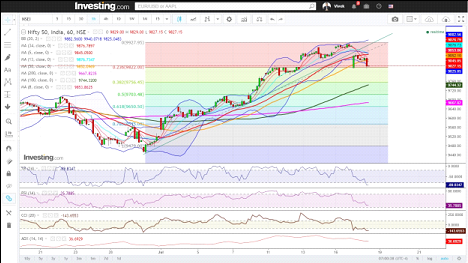 Figure: Nifty hourly chart
According to daily chart, Nifty closed below 5-dma after 11 straight trading sessions. Daily CCI is and Williams %R are on the verge of entering normal region from overbought region. While daily RSI has already entered the normal zone. These things indicate the possibility of consolidation or correction in Daily timeframe. On the downside, support may emerge at 13 dma and 20 dma at approx. 9740 and approx. 9681 respectively.
On the other hand resistance should be faced at 9867.45, which is 5 dma at present. Nifty may resume uptrend if it starts closing above 5 dma.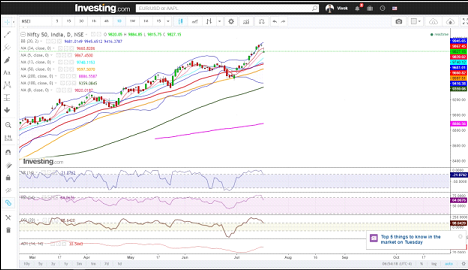 Figure: Nifty daily chart