Nifty (weekly close approx. 10681.25):
This week Nifty opened Gap-up and continued upward journey with range-bound consolidation during the week.
On Friday Nifty was very volatile, visiting both the upper and lower end of the weekly range between 10590-10690.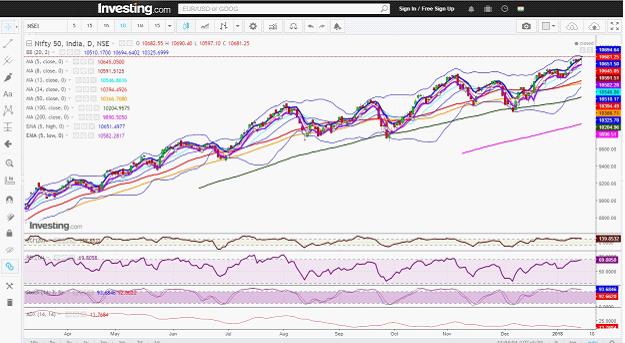 Figure: Daily Chart
The daily CCI, RSI, Slow Stochastic are in the overbought region.
But, the candles being formed in the last 4 days are kind of Doji candles signaling a reluctance nature of the up-move.
The daily close is also close to upper- Bollinger line.
All these factors point to a steady up-move with guarded-optimism.
In the hourly chart, Nifty has been very volatile, fluctuating between, mid-Bollinger and upper Bollinger line, except Friday, when it also visited lower Bollinger line on the downside and reversed from that.
The down-move and the reversal were pretty dramatic and might have struck the traders in both directions.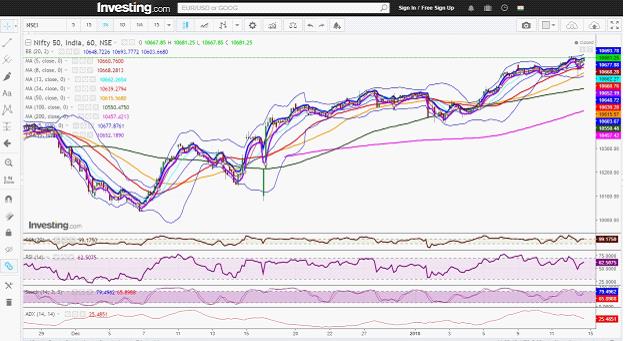 Figure: Hourly Chart
Technical possibilities for the upcoming week:
Nifty remains bullish on the back-drop of the bullish break-out, robust US market, a good initial set of earnings and budget- expectations.
The index may continue its upward bias with periodic pull-backs if it continues to trade above 34 hourly moving average. The Index will also get influenced by the noise around the up-coming annual budget and continuous earning performances.
In the weekly chart, Nifty remains broadly bullish with weekly CCI, RSI and Slow Stochastic in the bullish territory.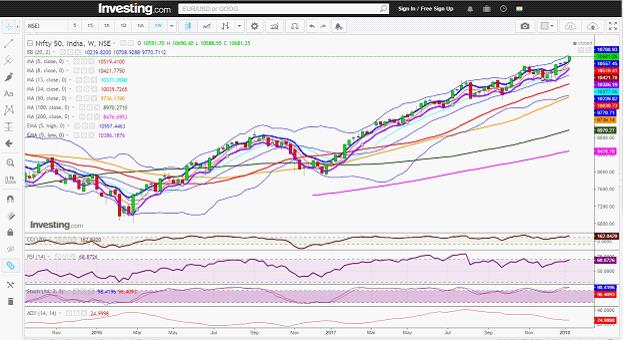 Figure: Weekly Chart
Price sustaining above 5 weeks High EMA makes the case for a strong upward momentum.
However, a dip below 5 weeks High EMA (presently at approx. 10557) will open up possibilities of a revisit to 5 weeks Low EMA (presently at 10386).
Learn technical analysis by joining: NSE Academy Certified Technical Analysis course.
We are including the ELM level matrix for Nifty for Monday 15th November for your reference.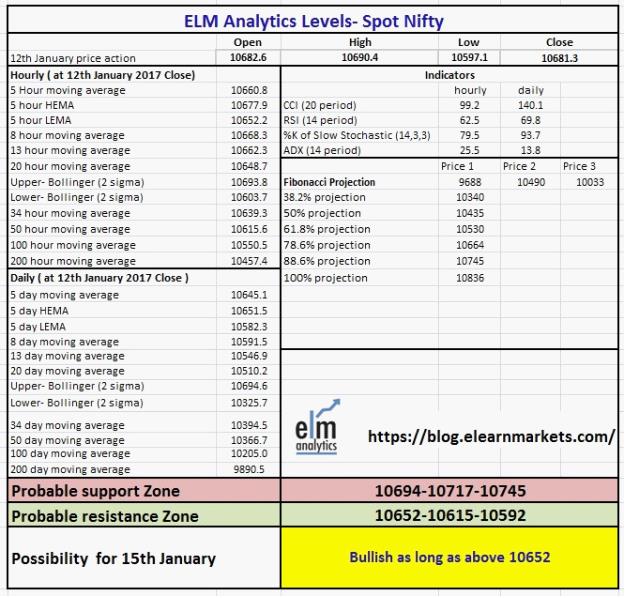 Figure: ELM Nifty level Matrix 15 Jan
Check the video below to know more about how to interpret the above table: