Nifty (close approx. 9966.4): Nifty opened gap up today above 9930 resistance zone and eventually, moved higher. We had discussed this possibility in our Saturday's report (possible theme, Nifty technical table).
Hourly technical: The Nifty opened gap up at 9936.70 and the first hour close was above resistance zone of 9920-9930. Thereafter, Nifty steadily moved up and made intraday high of 9981.50. In the final hour there was some profit-booking in Nifty, as it failed to touch psychological 10000 mark today. This was mostly due to weakness in European indices and US indices futures. Eventually, Nifty closed at 9966.4.
Nifty closed near 5 hour moving average, which is presently at approx. 9967.6. If Nifty closes below 5 hour moving average in coming hours, it may find support at 13 hour, 20 hour and 34 hour moving averages which are presently at approx. 9934, approx. 9918 and approx. 9901 respectively. We should also look at the Fibonacci retracement levels of the last rise from 9838.55 to 9981.5, as shown in the technical table below. On the upside, Nifty should look to achieve the psychological 10000 level, which is very near to its present price.
The hourly ADX is losing momentum, while the hourly RSI has just entered into the normal range from overbought zone. Hourly CCI is just at the borderline of normal zone, while hourly slow stochastic is firmly in bullish zone. This setup is bullish to neutral. But, it is time to be little cautious as profit booking can set in near psychological 10000 level.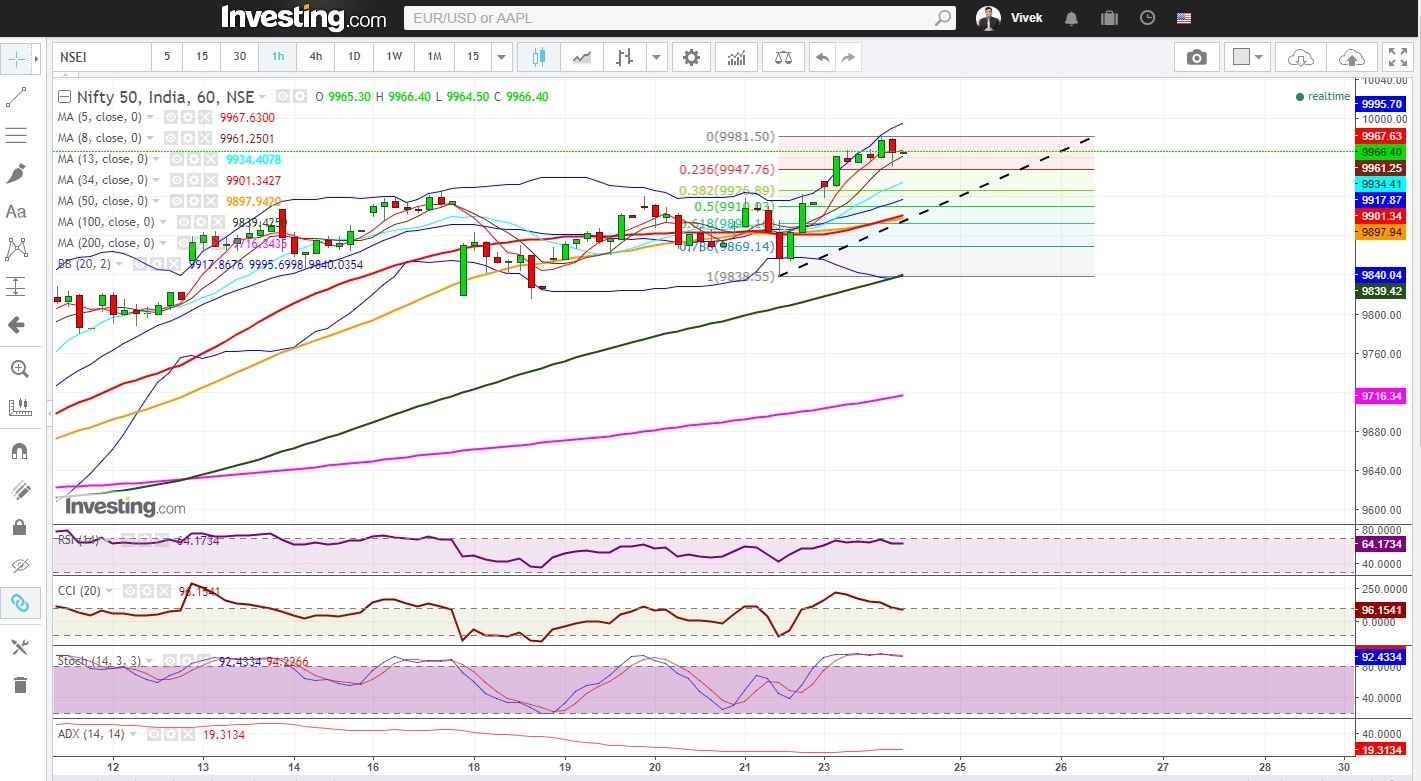 Figure: Hourly chart
Daily technical: Nifty closed above 5 day high EMA (exponential moving average) which is presently at approx. 9932. Hence it is bullish in daily timeframe. On the downside, 5 day high EMA and 5 DMA , 5 day low EMA, which are presently at approx. 9932, 9896 and 9865 respectively, should act as support zones. On the upside, the upper Bollinger (presently at aprrox. 10051), trend line resistance of approx. 10010-10020 should act as resistances.
The daily RSI, CCI and slow stochastic are in overbought zone and are indicating bullish momentum.
Figure: Daily chart
Nifty option open interest analysis: Only three days are left to expiry and Nifty 10000 call has almost 65 lakh open interest with premium of approx.Rs. 22/-. Hence 10022 should act as a hurdle on the upside. Above 10030-40, Nifty may see strong short covering in 10000 call and that may push market even higher. On the down side the 9900 put has almost 60 lakh open interest and a premium of approx. Rs. 19.50/-. Hence the 9880 level should act as important support if there is an immediate downside.

Figure: Options data, source www.nseindia.com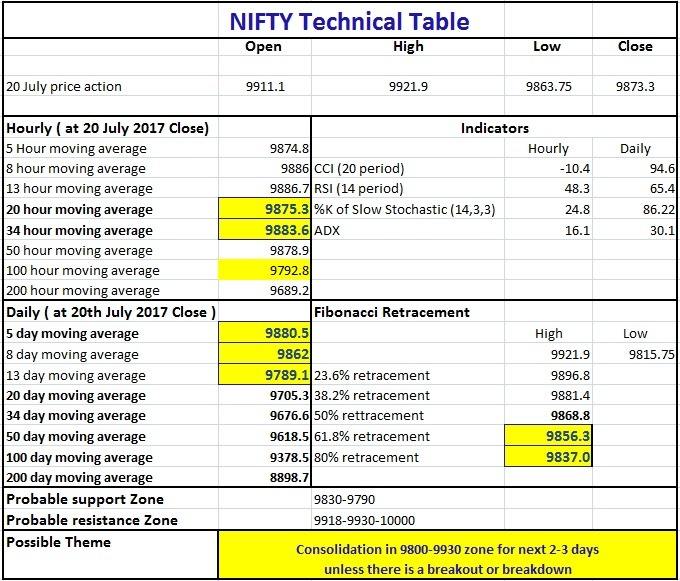 Figure : Technical Table