Nifty below the 21 month low today . Traders bewildered.
What bewilders the market participants now is not the fact that the market is falling, but instead the volatility. High volatility , that is intraday swings lead to stoploss triggers and loss for intraday traders.
In the intraday 5 minutes chart of nifty we can see the volatility in better details. With opening, Nifty drooped 60 points followed by a consolidation in some 20 point range. There after positivity was witnessed on account of a positive opening from the European market , taking Nifty 60 points high, though it still did not go green at any point after opening. But, as day's closing loomed nearer, the market particiapants gave up yet again and the index closed with final jitters , closing 80 points down at 7215.
Overall, the banking sector was pretty beaten. The Punjab National Bank announced its quarterly results and thereby closed 9% lower. Allahabad bank, UCO bank were also major downers whereas the SBI closed some 5% lower. The auto sector has been giving mixed performance, TATAMOTOR was the worst performer in that sector, though maruti closed in green.
Moving on to the winners, we saw Apollotyre posting really good results and closing in double digit gains.
As we mentioned , European markets were positive today and as we speak they are trading nearly 1 % higher.
CHART OF THE DAY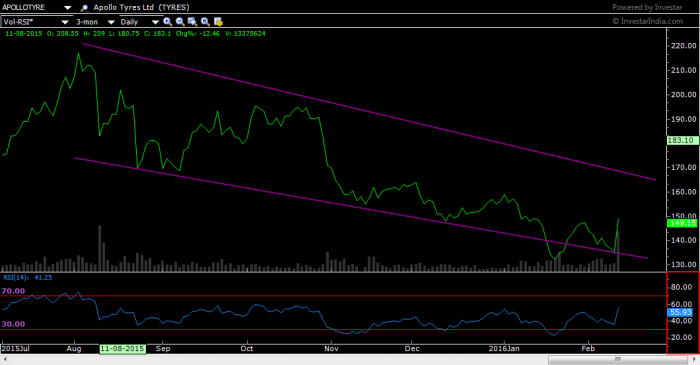 As mentioned Apollo tyres announced their results today and closed a phenomenal 10% higher. Few days back a trendline breach on the downside had prompted short positions among traders, however a reverse move took the prices back above support trendline , trapping the bears in the process. This is called a bear trap. As we can see in the chart, the next resistance level on the chart near 165-170
—————————————————————————————————————————————–
Read more articles here:
https://blog.elearnmarkets.com/market/nifty-chart/
https://blog.elearnmarkets.com/market/nifty-live/
https://blog.elearnmarkets.com/market/nifty-live-chart/