Amidst stock market crisis, we hear about stocks breaking lower, heading towards long term supports daily.
Walking on the same path is the State Bank of India ( SBIN ), which has almost approached its long term support levels. The first level, which stands threatened currently is the 165 level, where consolidations have been witnessed in the past (highlighted by the orange box on the chart).
The next major support comes at 145 , where a double bottom had formed  when price took support there twice, once in September '13 (point B) and other in February '14 (point C). Adding to this level is the Runaway gap at point A.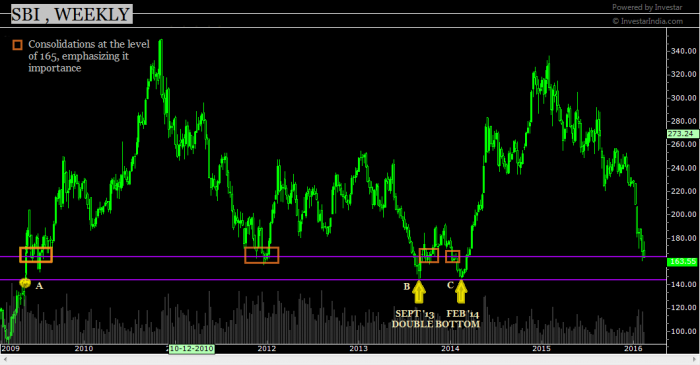 Lets take a look at the closer picture. We have the daily chart of SBIN below with the Relative strength index indicator  showing a positive divergence on the chart. The presence of a divergence on the indicator along with a major support zone of 145-160 is enough evidence to spike our senses. A close on the price movements of SBIN is need of the hour. A reversal from here is expected, provided the 145 level is not breached by the end of this trend.