With the sad month of February ending yesterday in which we saw nifty lose a good 7.7%  and 570 points on close to close basis, the market was in a cheerful mood today in appreciation of the Budget announced yesterday.
As we had discussed that the low of 12th feb's hammer had been tested amidst volatility, today Nifty formed a very bullish pattern called the Marubozu. Now this pattern is a solid green body as evident and is a signifant bullish candle as it has no upper and lower wick.
If we look at the sectoral performance for the month of February, it was majorly a downer and almost all the sectors were bathed in red with realty being the worst hit, losing 14.82%, followed by the Nifty Midcap 50 down 12%, BankNifty down 11%, and Nifty down 7.78%.
If we look at today's performance the Nifty indices all cheered and positivity was rampant in every sector and index especially the realty index whixh closed 5% higher.
On the same tone lets take in the winners of the day , where we have ITC leading with a rally of 10.50% closely followed by DLF which was up 10.34%. The volume traded on ITC was unnaturally high, nearly600% of its average daily volumes.
Here we have the chart showing how the stock reacted to the news which was highly expected and pre discounted in the stock's price.
On DLF's Chart we can see a good reversal as it has bounced up from the support trendline which goes back almost 7 years and the resistance is present somewhere in the zone of 200.
The losers of the days show no significant name today except for ONGC, which roughly a percent down.
The international indices are also in cheer with our Indian indices oputperforming the global markets , closely followed by Shanghai Composite and Hangseng.
CHART OF THE DAY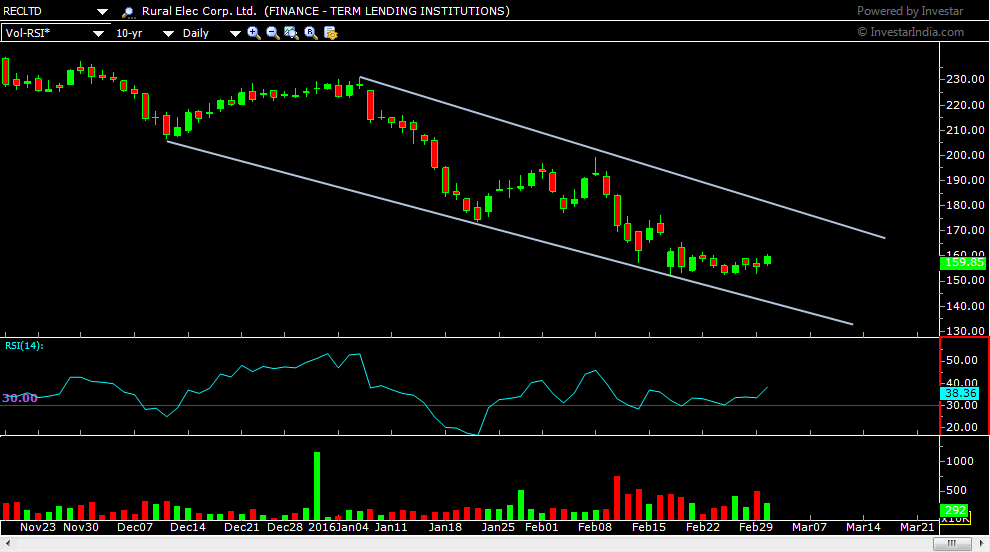 We have the daily chart of RECLTD that is rural electriv corporate ltd, and we see strong support coming in from both the trendline and the momentum indicator here. Also with the government's allocation of 2.87 lakh crores for village development, we can hope for this stock to continue the positivity in days to come.
_____________________________________________________________________________________________________________________
Read more articles here:
https://blog.elearnmarkets.com/market/nifty-chart/
https://blog.elearnmarkets.com/market/nifty-live/