The Indian  stock market gained another day as the index Nifty closed almost half percent higher. On the charts, the resistance comes out at the level of 7780, a closing above which will take the index near the benchmark level of 8000. The support lies at the level of 7580 which has played a crucial role in the past few trading sessions.
Nifty Bank has also closed half percent high, in sync with Nifty where as the Nifty IT and Nifty Realty have closed with a moderate gain of .13% and .20 % respectively. The outperformers were the Nifty Midcap 50 and Nifty infra idices which closed 1.10% and .67% higher today.
The top gainers of the day are some auto sector stocks like tatamotor, ashokleyland and banks like Axis, SBIN and indusind ..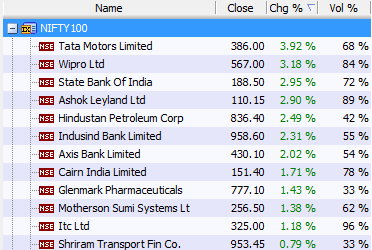 The top losers of the day are mostly the steel stocks like Hindalco , Vedanta and TATA steel.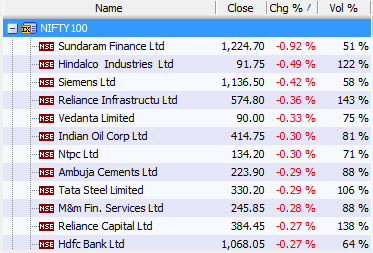 The International Picture:
Crude oil is trading rather positive as compared to yesterday, it is almost .67% higher as we speak, where as the gold and silver are trading flat. The DJIA and NASDAQ futures are also trading with positivity. However the DOW and NADSAQ indices closed in a negative today, in spite of sharp gains witnessed in the European, Asian indices and also crude. Today positivity might return to the indices in US given Gold trading flat or negative .
The European indices are trading flat and rather in a volatile manner. FTSE 100 is just 0.03% higher from yesterday , DAX is positive with 0.67% gains and the CAC 40 is the most volatile in the lot, currently trading 0.30% higher.
The Asian indices have mostly given green closings except for the Shanghai index which lost 0.34% in today's trade.
CHART OF THE DAY:
RelCapital  is showing two important levels on its weekly chart currently. The first is the level of 390, a closing above which will activate the next level of 470 which will serve as the target for this stock. On the 2 hours chart of RelCapital also a channel formation with impending breakout is visible. If the stock manages to close above the upper trendline and not breach the lower trendline in the remaining week, then the positive outlook for the stock will be considerable enhanced.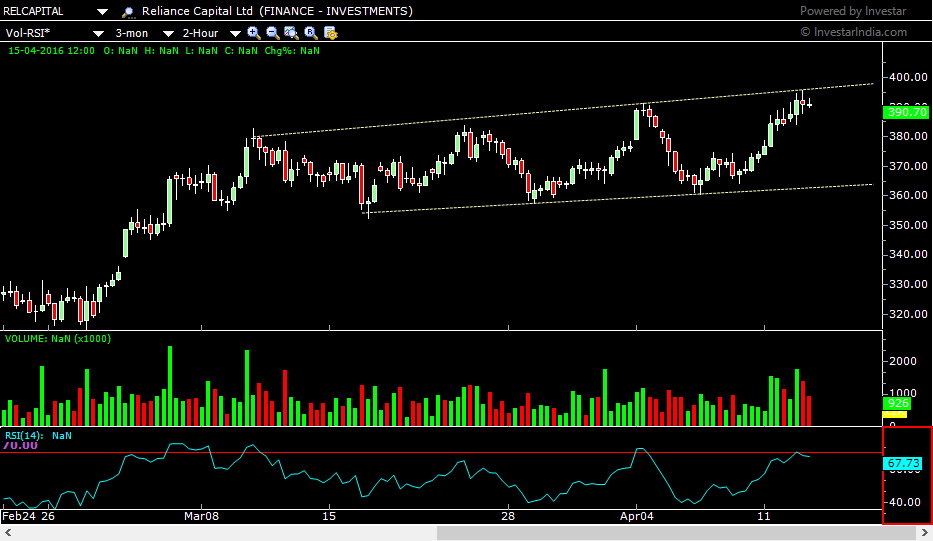 ________________________________________________________________________________________________________________________________________
Read more articles here:
https://blog.elearnmarkets.com/market/nifty-chart/
https://blog.elearnmarkets.com/market/nifty-live/