Unified Payment Interface is one among the many technological developments in the ways we can manage our money. Want to learn about managing your money in detail? join our course to gain a Certification in Online Financial Planning & Wealth Management at Elearnmarkets.
There was a time when smart-phones were considered a luxury, but in today's modern era, it has become an important part of our daily life and is more of a necessity now.
In the recent past, India has witnessed a number of technology-based revolution and the recent one being "Unified Payments Interface".
What is Unified Payments Interface?
Unified Payments Interface (UPI): an interface developed by National Payments Corporation of India (NPCI) with the support of Reserve Bank of India (RBI) and Indian Banks Association (IBA), is a hassle-free and a quicker mode for transferring money to millions of people in India.
It's an advanced version of IMPS, which acts as an alternative to mobile wallets.
Also Read: Advantages of IMPS Fund Transfer
UPI was launched by RBI governor, Raghuram Rajan on 11th April 2016.
Some of the major banks which have integrated the interface with their mobile apps include ICICI Bank, HDFC Bank, SBI, PNB, BOI, Bank of Baroda, Citi bank, HSBC, and Canara Bank.
Currently, most e-payments in India is facilitated through traditional e-payment methods like NEFT, RTGS, IMPS.
Know More: Difference Between NEFT and RTGS
Why is it considered safe?
 It performs all functions of internet banking or debit card in a safer environment.
The app holds a significant impact especially in making third party payments.
Say if you are making payment to someone, you usually need to add the person as a beneficiary and also require details like bank account number, IFSC code, and other important details.
This UPI app simplifies your entire procedure and all you need is receivers unique ID.
It allows a customer to keep virtual addresses for several accounts in different banks.
Moreover, the privacy of customer's data is also kept intact since there is no account number mapper apart from customer's own bank thus allowing the customer to freely transfer financial address with anyone.
How it helps in your daily life?
You can use this app to make payments from as low as Rs 50 to a maximum of Rs 1,00,000.
This is not just useful in making daily payments but also helps in transacting amongst your friend group.
Say you went to enjoy pizza with your friends, so when the bill arrived, one person pays it and others just transfer the money to his/her account thus eliminating the need to use cash in the entire process.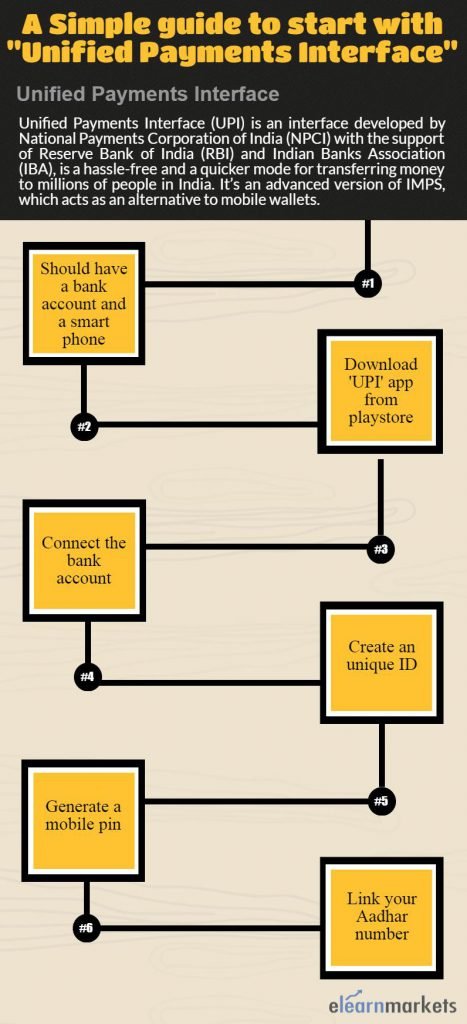 How it works in making e-commerce transaction?
UPI is also helpful in making your e-commerce purchase.
The feature of cash on delivery will probably come to an end with the introduction of UPI service.
So once you receive the product, you can make payment using your UPI app.
You'll just require a unique ID of the e-commerce company.
The receiver of the product can also simply scan the QR code which the delivery person carries through his UPI app or simply transfer the sum directly to the unique ID of the delivery person.
Bottomline
Today where mobile wallets like PayTM, Oxigen, Mobikwik, etc, are gaining significant popularity, UPI has arrived as a savior to retrieve the lost ground of banks.
RBI has granted only banks to become Payment System Players (PSPs) of UPI service and has kept mobile wallet players out of it.
The urge of mobile wallet players to include them as a service provider hasn't been considered so far.
The introduction of UPI is believed to be a win-win situation for all since it will help the banks to retrieve their lost ground over mobile wallet players and will also benefit the customers in making payments and transfer.
Moreover, the overall economy will also be significantly benefitted as it would reduce the usage of currency notes and make the entire process more transparent.
Like UPI, Payment Banks have emerged as a convenient alternative during demonetization. Read here to know more about Payment Banks and their services.
In order to get the latest updates on Financial Markets visit Stockedge