Market Plunges: Indian markets closed today after a session of heavy selling and severe losses. Nifty open today at 8345 which was a 67 point gap down from the previous close of 8372. Throughout the day, it made a high of 8322 and low of 8225. Stocks which gained the highest today are AMBUJACEM(+0.94%), TECHM(+0.93%), TATAPOWER(+0.89%), HINDUNILEVR(+0.83%) and INFY(+0.79%). The biggest losers were VEDL(-4.51%), YESBANK(-4.28%), BAJAJ-AUTO(-3.97%), ULTRACEMCO(-3.69%) and TATAMOTORS(-3.54%).
Global Market on a breakdown: The Global markets had a major downfall today with DJIA (-2.06%) being negative along with S&P500 (-2.11%), FTSE100 (-1.27%) NIKKEI225(-2.98%) and also Crude Oil (WTI) losing (-0.36%).
Sectors are bleeding: Only 3 sectors were gainers today with minimal gains in CNX IT(+0.39%), CNX FMCG(+0.31%) and CNX PHARMA(+0.05%). The sectors which fell the most were CNX REALTY(-2.60%),  CNX MEDIA(-2.25%) and CNX AUTO(-2.01%).
Rupee nearing 66/$ mark – Today the Indian currency has hit a fresh two-year low of 65.73/ $. Currencies in emerging market started correcting after Yuan's devaluation but however rupee was a relative outperformers as compared to its emerging market peers. HSBC forecasts that it may go down to 66/$ this year-end and  67/$ next year.
TECHM nears major resistance: Tech Mahindra limited which had crashed apart from 660 levels in the weekly charts in the month of may-june 2015, finally found its resistance at 460 in the month of july. After its rebound from 460 levels, now it is nearing its previous support(turned resistance due to polarity) at 560.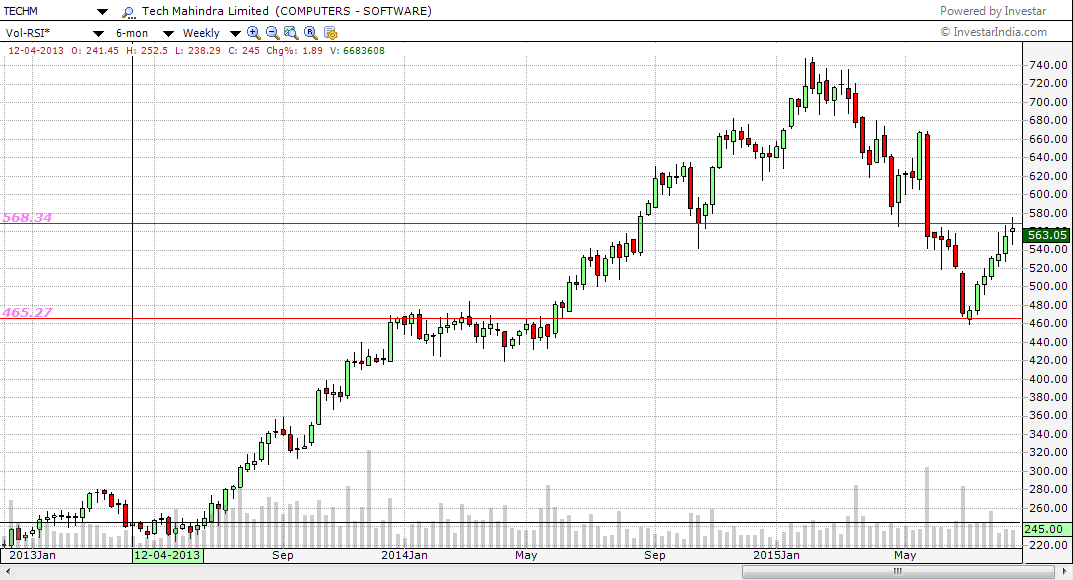 Gold crosses Rs 27,000 mark– Today gold climbed Rs 480 points to hit 2 month high, thus  crossing the Rs 27000 at the bullion market. The  spike in gold price was on signs that the US Federal Reserve may make  delay  in interest rate hike as inflation remains low and the sell off in emerging markets spreads.
Bharti Airtel hopeful of a rebound: Bharti airtel had a major rebound in the month of july 2015 with a shooting star pattern in the weekly charts. This was later followed by confirmation when the stock crashed apart from the levels of 430 to 360. It can be seen that in the daily chart the the stock has neared its resistance of 360 and along with the formation of a hammer pattern which awaits confirmation, the stock deserves a close watch in the coming days.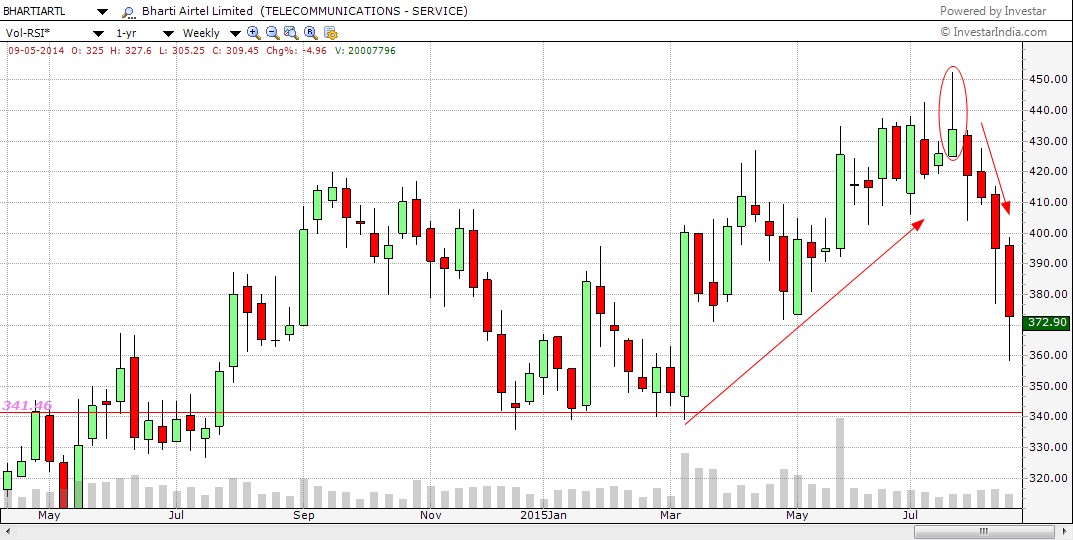 Rajan signaling of action at yuan's further devaluation– RBI Governor Raghuram Rajan said that in case of Yuan's further devaluation, some measure would be taken to counter the chinese currency devaluation which is done so as to get an edge on exports. However Rajan warns of a scenario where the central banks would seek to rival each other thus damaging the global financial system.
Paper stocks still looks attractive after a recent rally – Paper stocks after a sharp upmove in the last 3 months still looks attractive and is available at lower valuations compared to high valuations of stocks in several sectors. According to George Thomas, marketing head of Tamil Nadu Newsprint (TNPL), writing and printing paper demand is growing at 5-6%, while packaging industry is growing in excess of 10%. On the raw material side, the pulp prices have remained steady". But inspite of all positivity, it should not be ignored that traditionally paper industry have traded at such low multiples and appears cheap only in respect of other industries. Moreover the falling rupee may impact the prices of pulp( raw material to the industry).