Nifty takes a plunge: Benchmark Nifty 50 had a disappointing close last week, fell over 230 points to trade back to levels seen 8 weeks back @ 8300. With Friday's 70 points gap down, the index finally broke below the crucial supports of 8350. Looking at the weekly charts, its clear that 8200 is the immediate support to watch for (see red arrows in chart). On the upside, we sense that rallies will face resistances in the range of 8350-8450.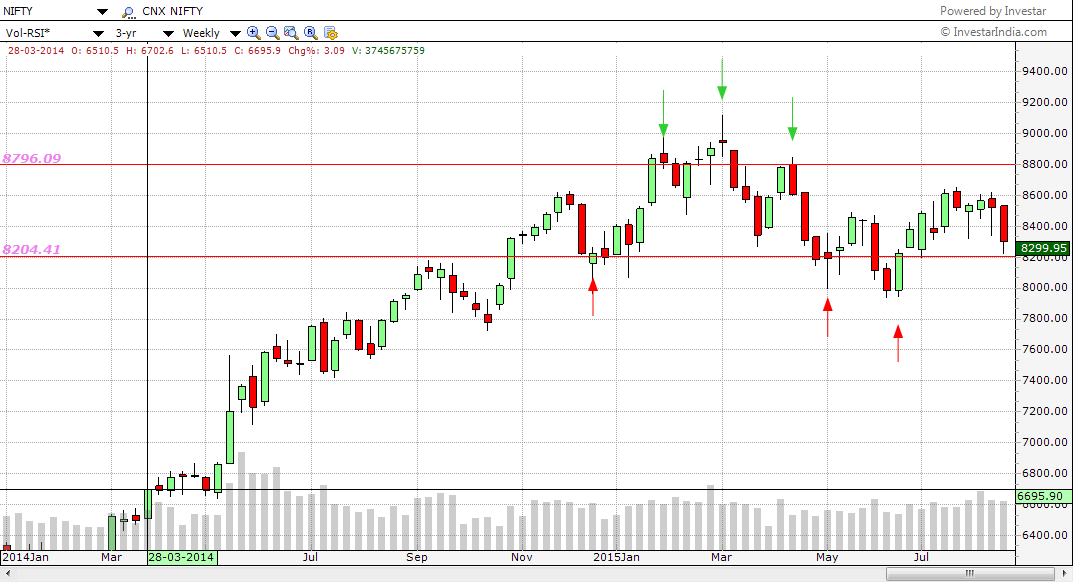 Sectors look too bleak: With the dramatic fall in the national index, majority of the sectoral indices were underperforming.
CNX AUTO

which has its immediate support at 8250 and resistance at 8600 lost 3.01% this week to close at 8382.

CNX ENERGY

lost about 5% this week to close at 7998. It broke down its major support of 8200 on 18.02.2015 and has been negative ever since.

CNX FINANCE

too suffered the same fate with the breakdown of the 7400 support, the sector ended the week with a change of -4%.

CNX FMCG

had a better week compared to its counterparts. With the gain of about 2% its immediate support is at 20200 and the resistance is at 21200.

CNX IT

managed to survive the stormy week with as little losses as possible(-0.13%). Currently trading at 12032, its its immediate support is at 11600 while the resistance is at 12300.

CXN MEDIA

by fas has lost the most this week with a downfall of nearly 6%. The trading sessions of thursday and friday lost the most with a fall of 2.8% on thursday and 2.25% on friday.

CNX METAL

is on its second consecutive week of downfall. It fell nearly 10% week and more than 5% this week. The index broke down its support of 2145 and is nearing its multi year low of 1600.

CNX PHARMA

fared quite well this week. It gain for the fourth consecutive week to  accumulate a total gain of 1200 points. The immediate support is at 12700 while resistance is at 13700.

CNX PSU BANK

had very volatile week with negative as well as good factors flowing in. Throughout the week it went as high as 3782 ans as low as 3358 an closed at 3493 with a change of 0.28%.

CNX REALTY

was among the biggest losers this week. It shed about 10% to close at 166.5. Its immediate support is at 160 while resistance is at 180.
Zee Entertainment Limited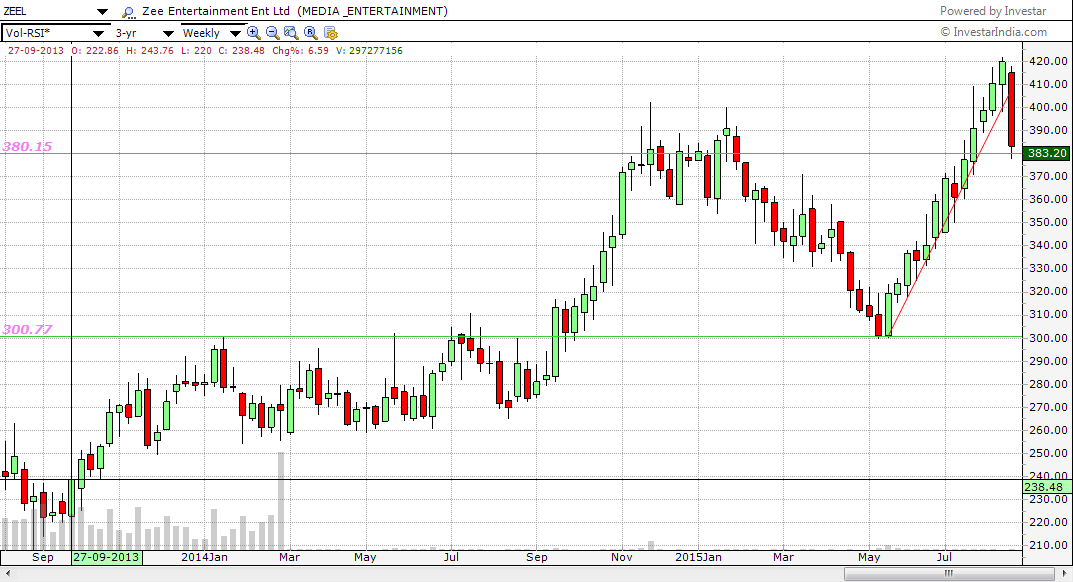 This week has not been kind to ZEEL as it gave up almost all the gains of its previous 4 weeks. As we can see below, ZEEL has been making consistent gains from 300 levels since may 2015. But this week has been a major downfall as it fell nearly 9% to close at 383.00. On the weekly charts, it is testing its support of 380. In case it fails to hold, the next support will be at 300.
Bajaj Auto Limited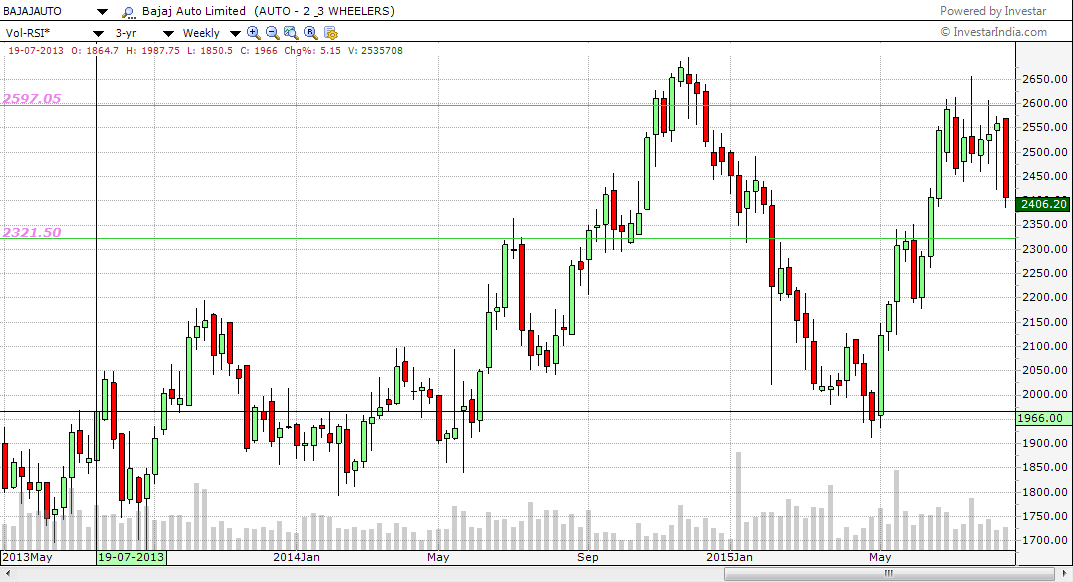 In a similar story, BAJAJ AUTO had been testing its resistance at the levels of 2600 in the weekly charts. But with a fall of  6% this week, it can be confirmed that the resistance will not be broken this time. The current support for Bajaj Auto is at 2320 while the resistance is at its lifetime high of 2600.
Market extended its loss this week on account of uncertainties in global economy, weak expectation of interest rate hike in US in September, depreciating Indian rupee and worries over slowed Chinese Industrial activity. This uncertainties led Sensex and Nifty to drop by 2.5% and 2.1% to close at 27366.07 and 8299.95 respectively.
IOC's Offer for sale (OFS)– The government has announced to sell 10% stake in Indian Oil Corporation (IOC) via Offer for sale (OFS) route which will take place on 24th August i.e. Monday and approximately 24.28 crore shares will be on sale. For the retail investors, 20% of the shares will be reserved and will get a 5% discount as well on the allotment price or the 'Cut-Off' price, whichever is higher. The government however has not disclosed the floor price for the offer which will be announced by the government latest by 5 pm tomorrow.
NTPC tax-free bonds gets oversubscribed 7.25 – NTPC's  tax-free bonds have received overwhelming response and was oversubscribed 7.25 times across different tenures. The company  said that it targeted to raise  Rs 300 through the bonds but the bids were received for Rs 2,175 crore for placing the bonds on private placement route. NTPC has decided to retain subscription for 10 years of maturity at the coupon rate of 7.15% p.a.
Sun Pharma gets USFDA approval for acne drug – The company said it has received approval from the USFDA  for its new drug application for acne treatment medicine-XiminoTM extended-release capsules. This approval will further strengthen the company's branded dermatology portfolio in the US. It expects XiminoTM  capsules to be available for patients during the fourth quarter of 2015.
JK Tyre to buy unit of Birla Tyres – India's third largest tyre maker, JK tyres is set to buy the Uttarakhand tyre unit of BK Birla flagship Kesoram Industries for an enterprise valuation of Rs 2,000-2,200 crore. The deal is likely to be funded through a combination of debt and equity. JK Tyre will borrow Rs 1,500 crore from public and private sector banks, including State Bank of India, while  the rest will come from internal accruals. The deal would make JK tyres to increase its share in Indian market and would bring the company on par with Apollo tyres which is now at No.2 position.
5,800 JLR cars hit by blasts at China port – Tata Motors Ltd said on Friday that 'many' of the 5,800 Jaguar and Land Rover vehicles it had at Tianjin port in China were likely to have been damaged in the recent chemical explosion that killed more than a hundred people.The company said that it has not yet decided the exact extent of the damage .The number of cars damaged at China's largest auto import hub could climb to above 10,000 when accounting for all vehicles in the area in  cluding other global carmakers such as Volkswagen AG, Hyundai Motor Co, Toyota Motor Corp and BMW AG . This will affect deliveries at a time when China's auto market has been shrinking due to slowing economic growth and the recent stock market slump.The share fell more than 4% on friday after the statement.