After harsh beating and heavy sell off, the market tried to recover thus ending on a volatile note today.
The bottom fishers are eager to jump into the market , lured by the so-called attractive valuation of stocks that are trading below their book values, especially in banking stocks.
Nifty closed almost flat today, just a meagre 5 points lower from yesterday's tumble. Today was the most volatile day of the week as we witnessed the index trying to trek above yesterday's close several times but barely sustaining it. As evident, the selling has occurred on very heavy intraday volumes, which is evident on the daily chart as well.
The weekly closing has also been below the trendline which is a cause of concern. On the 5th of Feb, we had mentioned that the Chinese markets were going to be close, so lets keep in mind now that they are opening on Monday and no one knows what their reaction to this bloody week is going to be.
During the week, Gold has been outshining every other asset class. Yesterday it was up by 5% and is now trading at its 11 month high.
Crude on the other hand has slipped lower all throughout the week except for yesterday. This stability which was witnessed in crude yesterday was one of the main reasons why the global indices have been better today.
The European Indices have witnessed a rebound after yesterday's sell off and are traded 1 to 1.5% higher . The Japanese Index Nikkei 225 was down nearly 5% yesterday due to Yen losing against the dollar.
CHART OF THE DAY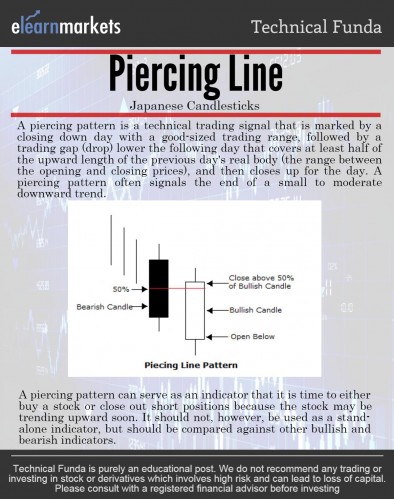 On the charts of Mahindra & Mahindra or MM as we know it, a Piercing Line candle stick pattern has formed. More details on which is available in this infograph.
On the weekly chart of MM we can we that the stock is currently at a very strong support zone of 1090. The chart suggests that there maybe a temporary bounce in this stock , however the weak momentum indicator does not stand by the credibility of the support line it seems.
Coming week is very crucial in deciding what will happen to the market, many questions hang in air with regard to how will China react to it siblings selling off while it slept and will the gold continue its journey higher or will the Yen continue to fall against the Dollar? I will see u again next week with a report on the market. Till then Happy Learning!
___________________________________________________________________________________________
Read more articles here:
https://blog.elearnmarkets.com/market/nifty-chart/
https://blog.elearnmarkets.com/market/nifty-live/
https://blog.elearnmarkets.com/market/nifty-live-chart/