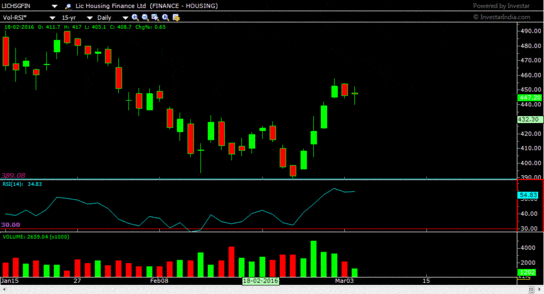 Volume plays a very important role in determining the actual 'mood' of a security.
The process of accumulation and distribution are extremely important in identifying the tops and bottoms, be it in case of an index or in a particular stock.
Know More: How to get trading signals using Accumulation Distribution Line (ADL)?
In the above chart of LICHSFIN, we can see that when the price was falling, the volumes were increasing.
This strengthening of volume indicates that the downtrend was strong and is a sign of heavy selling.
Become a technical analysis expert by enrolling in NSE Academy Certified Academy Technical Analysis course on Elearnmarkets.
To add to the same, in the last 6 trading sessions, when the stock performed better and gained nearly 15% from the bottoms, the volume just did not back this rally.
The falling volume indicates that there is a weakness in the stock.
Adding to the same is the loss of momentum on scare volumes witnessed in the last two days.
The formation of the doji on the chart, however, has raised a question mark.
If the high of this doji be breached tomorrow and the stock closes above today's close then we can expect the rally to continue.
However, the volumes do not indicate towards any strength.
It is important to remember that volumes are not the primary indicators and hence decisions of trading or investing cannot solely be taken on the basis of volumes.
But they do play the role of important confirmators.
You are free to ask questions and post your comments regarding this article.