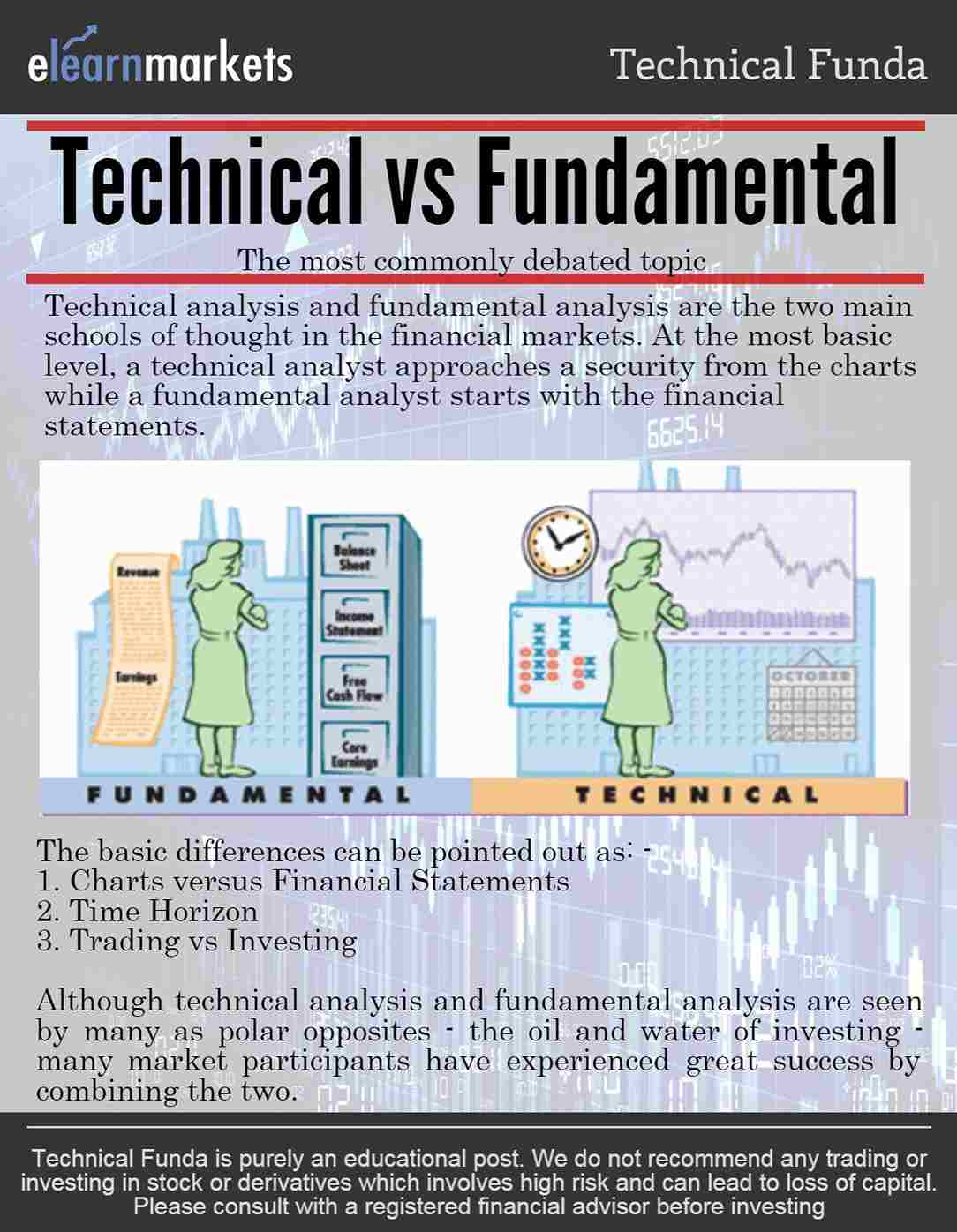 "The fundamentalist studies the cause of the market movements while the technicians studies the effect" – John Murphy
The terms technical analysis and fundamental analysis are two schools of thought in the world of financial markets. They are the methods by which stocks and other financial instruments are analyzed.
Important trading and investing decisions are made based on the research and forecasting of these methods.
But, like most philosophies and strategies, both have their own methods and beliefs.
Learn Technical Analysis from scratch by enrolling in NSE Academy Certified Technical Analysis course on Elearnmarkets.
The most defining points of difference of each of these methods are:
Comparison Chart
| | | |
| --- | --- | --- |
| Basis | Technical Analysis | Fundamental Analysis |
| Definition | It is the method by which the future prices of a stock is forecasted using the past price data. | It is the method in which various factors such as the financial statements as well as economic factors are taken into consideration to calculate the fair value of a stock. |
| Source of Data | The prime source of technical data is through charts. | The prime source of fundamental data is through financial statements. |
| Basis of Trading decision | When the trader believes that he can buy the stock at a lower price and sell it at a higher price. | When the analyst estimates the intrinsic value of the stock and determines whether it is underpriced or overpriced. |
| Time Horizon | Technical analysis is usually followed for the short-term approach but it can be used for the long term too. | Fundamental analysis can be used for the long term investing only. |
| Concepts followed | Dow theory, Indicators, and Oscillators. | Return on Equity (ROE) and Return on Assets (ROA). |
To understand better about the differences between Fundamental Analysis and Technical Analysis, you can watch the video below:
Bottom line
Many investors combine fundamental analysis and technical analysis to generate better investment decisions.
In order to get the latest updates about Financial Markets visit our website https://stockedge.com/
Feel free to give your feedback by using the comment box below
Happy Learning!!