Price Movement Today: Markets started off with a positive note today, opened with a gap up of 35 points in Nifty and a high of 8430, but later went to as low as 8340 to close at 8383(-0.40%). Stocks which gained the highest today are M&M(+2.59%), CIPLA(+3.10%), TATAPOWER(+2.74%), SUNPHARMA(+2.52%) and LUPIN(+2.49%). The biggest losers were VEDL(-8.26%), TATASTEEL(-6.04%), HINDALCO(-5.11%), BOSCHLTD(-2.40%) and NMDC(-2.35%).  
We are coupled with: The impact of the Yuan devaluation was relieved a little today as the global markets were in green. The  NASDAQ was up +0.10% today along with SNP500(+0.10%), FTSE(+0.83%), DAX(+0.1.96%), HANG SENG(+0.43%), SANGHAI(+1.76%).
Pockets of strength and weakness: Sectoral indices were a mixed bag today with CNX PHARMA(+1.11%) being the highest gainer. This was followed by BANK NIFTY(+0.64%), CNX PSU BANK(+0.63%) and CNX AUTO(+0.41%). The sectors which lost the most was CNX METAL(-2.77%), followed by CNX REALTY(-1.37%), CNX MEDIA(-0.49%) and CNX IT(-0.42%).
Nestle up by 6%: Bombay High Court rules in favour of Nestle India  in Maggi ban case, this led to a 6% rally for the stock. High court has ordered FSSAI to justify the ban on 6 variants of maggi. However the company will not be able to sell its product until the final verdict on the case is given by the High Court. The court has ruled that preserved samples will now be tested in three different labs situated in Jaipur, Mohali and Hyderabad in a span of 6 weeks. We expect the stock to be in focus with 6000 level as a strong support.
FM's push for rate cut:  The macro data which came on wednesday indicated July CPI going down to 3.8% and June IIP going up to 3.8%. The CPI data came in lower than the RBI's forecast and the slump in global crude prices looks positive for rate cut. Finance Minister, Arun Jaitley however believes that the scenario on the back of good macroeconomic data looks ideal for a rate cut which RBI governor Dr Rajan kept unchanged on the last meet on 4th August.  
Rupee hit 65/$ mark: Today the rupee touched 65/$, the level last seen on September 6,2013, depreciating 0.36% against yesterday's close of 64.77. The rupee started to weaken on the back of yuan's surprise devaluation made yesterday. As we can see in the chart, in three consecutive days, the USDINR rate has raised from 63.750 to 65.100.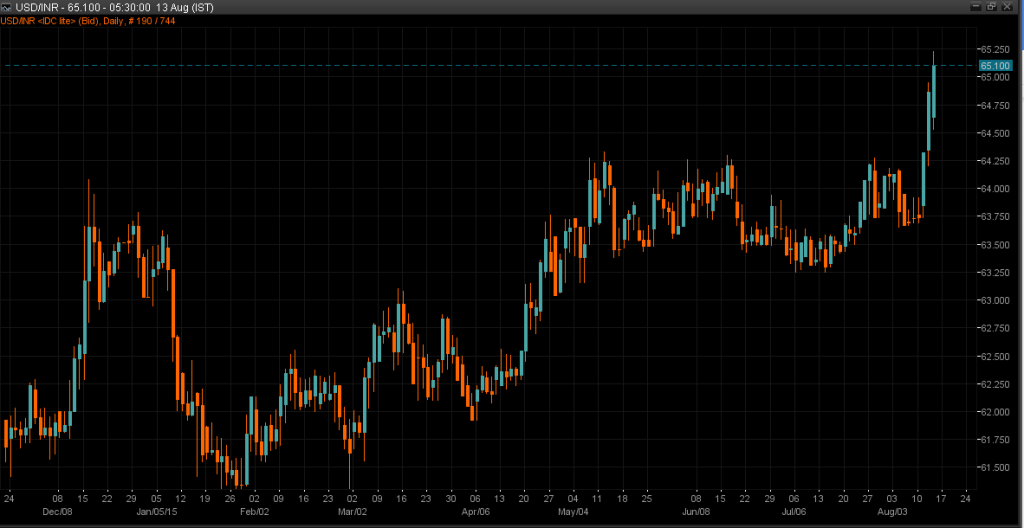 Coal mine auction restarts: "Bidding for Majra coal block commences. Applicable floor price at Rs 800"- tweeted Coal Secretary Anil Swarup. The companies like Jaypee cement, ACC, JK lakshmi cement, Emami cement, Crest Steel and Power,Grace industries are in the race for Majra mine, which has a extractable  reserve of 14.92 million tonnes. The daily price of Coal India has been falling for the last 6 days at a rapid pace. From the levels of 440 on the 5th of this month, it has come down to 371 yesterday. Because of the positive cues in the coal sector today, it had its first up day to end at 377 which was last seen in the month of may this year.
Vedanta drags metals sector down: VEDL i.e. Vedanta Limited hit a multi year low today. It opened with a gap up and throughout the day fell 9.18% to end at 103.40. This is a price which was last seen in the year 2009. Because of this the CNX METAL was deeply negative today. The Yuan Devaluation also has impacted the metal sector in a massive manner.
The Markets ended in green for the first time in the last 5 sessions. The much expected GST bill was not passed in the parliament largely unproductive monsoon session of the parliament.