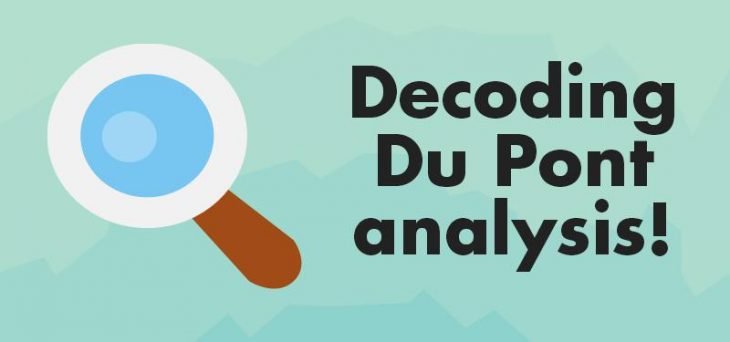 DuPont Analysis: Interpretation, Analysis, Formula, Calculator
What is DuPont Analysis?
DuPont Analysis is an extended examination of Return on Equity (ROE) of a company which analyses Net Profit Margin, Asset Turnover, and Financial Leverage. This analysis was developed by the DuPont Corporation in the year 1920.
In simple words, it breaks down the ROE to analyze how corporate can increase the return for their shareholders.
Return on Equity= Net Profit Margin x Asset Turnover Ratio x   Financial Leverage

= (Net Income / Sales) x (Sales / Total Assets) x (Total Assets / Total Equity)
Individuals at all levels who would want to learn fundamental analysis and analysis beyond valuations can register for Equity Research Analysis course certified by NSE Academy.
The company can increase its Return on Equity if it-
1. Generates a high Net Profit Margin.
2. Effectively uses its assets so as to generate more sales
3. Has a high Financial Leverage
DuPont Analysis Interpretation:
DuPont Analysis gives a broader view of the Return on Equity of the company. It highlights the company's strengths and pinpoints the area where there is a scope for improvement. Say if the shareholders are dissatisfied with lower ROE, the company with the help of DuPont Analysis formula can assess whether the lower ROE is due to low-profit margin, low asset turnover or poor leverage.
Once the management of the company has found the weak area, it may take steps to correct it. The lower ROE may not always be a concern for the company as it may also happen due to normal business operations. For instance, the ROE may come down due to accelerated depreciation in the initial years.
The DuPont equation can be further decomposed to have an even deeper insight where the net profit margin is broken down into EBIT Margin, Tax Burden, and Interest Burden.
Return on Equity= EBIT Margin x Interest Burden x Tax Burden x Asset Turnover Ratio x Financial Leverage

ROE = (EBIT / Sales) x (EBT / EBIT) x (Net Income / EBT) x (Sales / Total Assets) x (Total Assets / Total Equity)
You can watch the video below to get a  more clear idea of DuPont Analysis :
DuPont Analysis Example:
Let's analyze the Return on Equity of Companies- A and B. Both the companies are into the electronics industry and have the same ROE of 45%. The ratios of the two companies are as follows-
Ratio                               Company A             Company B
Profit Margin                       30%                         15%
Asset Turnover                     0.5                            6
Financial Leverage                 3                             0.5
Even though both companies have the same ROE, however, the operations of the companies are totally different.
Company A is able to generate higher sales while maintaining a lower cost of goods which can be seen from its high-profit margin.
On the other hand, company B is selling its products at a lower margin but having very high Asset Turnover Ratio indicating that the company is making a large number of sales. Moreover, company B seems less risky since its Financial Leverage is very low.
Thus DuPont Analysis helps compare similar companies with similar ratios. It will help investors to measure the risk associated with the business model of each company.
Click here to calculate with the help of DuPont Analysis calculator.
You can also see a snapshot of DuPont Analysis Calculator below:
Dupont Analysis Calculator:
Bottomline:
DuPont Analysis is very important for an investor as it answers the question what is actually causing the ROE to be what it is. If there is an increase in the Net Profit Margin without a change in the Financial Leverage, it shows that the company is able to increase its profitability.
But if the company is able to increase it's ROE only due to increase in Financial Leverage, it's risky since the company is able to increase its assets by taking debt.
Thus we need to check whether the increase in company's ROE is due to increase in Net Profit Margin or Asset Turnover Ratio (which is a good sign) or only due to Leverage (which is an alarming signal).
Keep learning!
Disclaimer
Elearnmarkets.com wants to remind you that all our content is created solely for the purpose of education. No strategy, stock, commodity, fund or any other security discussed here is any way a recommendation for trading or investing. Elearnmarkets.com will not be any way responsible for trading losses incurred by any individual or entity for trading with real money. Please take advise of certified financial advisers before trading or investing.