Price Movements Today: Markets started off with a negative note today with Nifty at 8471. During the trading session it made a high of 8501, went to as low as 88359 to close at 8387(-1.27%). Stocks which gained the highest today are LUPIN(+5.55%), ITC(+3.94%), BPCL(+2.02%), DRREDDY(+1.65%) and SUNPHARMA(+1.21%). The biggest losers were YESBANK(-6.29%), CAIRN(-5.67%), PNB(-5.51%), VEDL(-4.15%) and RELIANCE(-4.08%).
Global Market Scenario: The Global markets were negative today with DJIA (-0.93%) being negative along with S&P500 (-0.83%), FTSE100 (-0.45%) NIKKEI225(-1.94%) and also Crude Oil (WTI) losing (-0.54%).
Sectoral Performance: The sectoral indices were a mostly negative today. The sectors which gained were CNX FMCG(+1.55%) and CNX PHARMA(+0.96%). The sectors which lost the most were CNSX REALTY(-4.04%), followed by CNX PSU BANK(-3.39%), and CNX MEDIA(-2.80%).
Zee Entertainment loses 2.74%: A consistent uptrend line which was being followed by ZEEL since the month of may 2015 has been broken today with the massive breakdown of ZEEL. As we can see in the chart below, ZEEL lost 2.74% today to close at 394.50.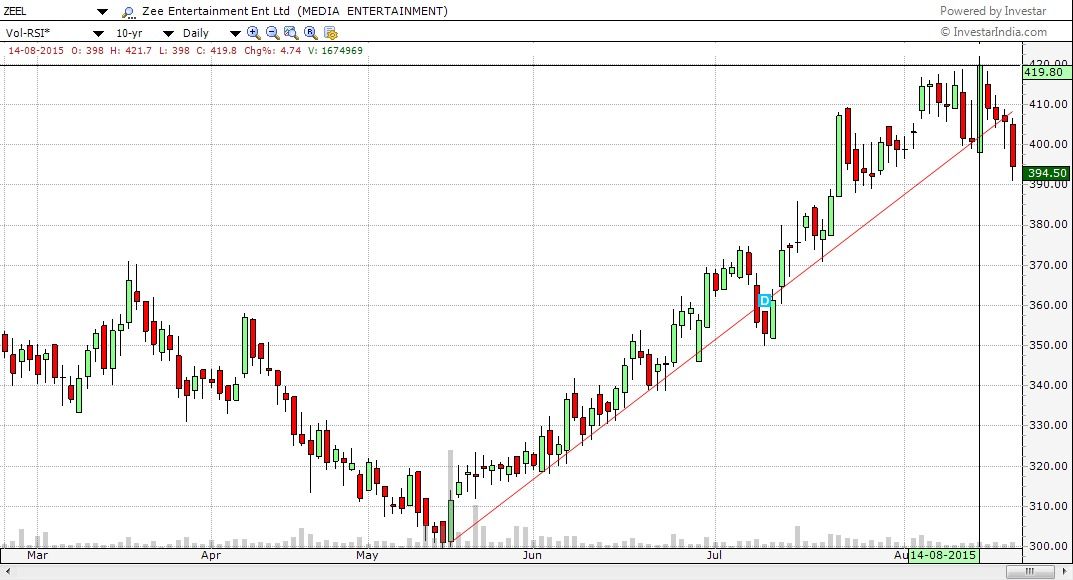 RBI gave a nod to 11 companies for payment bank– The RBI has given its nod to 11 companies for payment bank out of 41 applications received which includes Aditya Birla Nuvo, National Securities Depository Limited(NSDL), Reliance Industries, Paytm, Airtel M Commerce etc. A payment bank is one which can take deposits, allow remittances and provide simple financial products but cannot lend to its customers. Such banks needs to invest 75% of its funds in government securities and the minimum capital required to establish a payment bank is set at Rs 100 crore. Moreover the bank will be allowed to accept savings deposits of up to Rs 1 lakh from each customer.
Amtek Auto slips more than 50% in two consecutive days – Amtek auto falls again for the second consecutive day.There seems to be huge nervousness among the investors due to number of reasons.Firstly the company will be excluded from trade in future and options from November series. Secondly there is in a huge debt in the company's books which can be clearly seen in its last quarter result where it posted a loss of Rs 157.6 crore during the quarter against profit of Rs 86 crore in the same period last year due to higher interest cost. Moreover the net sales of the company declined by 12.7% at Rs 854 crore in the June quarter against Rs 979 crore in the corresponding quarter of previous fiscal.
NTPC tax-free bonds oversubscribed by 7.25 times – The company got a very good response on its tax free bonds which have been oversubscribed 7.25 times. This bond had a maturity of 10 years yielding 7.15% p.a . Retail investors, which include HUFs and NRIs, can invest up to Rs 10 lakh in such bonds while those investing higher amount would be classified as HNIs.