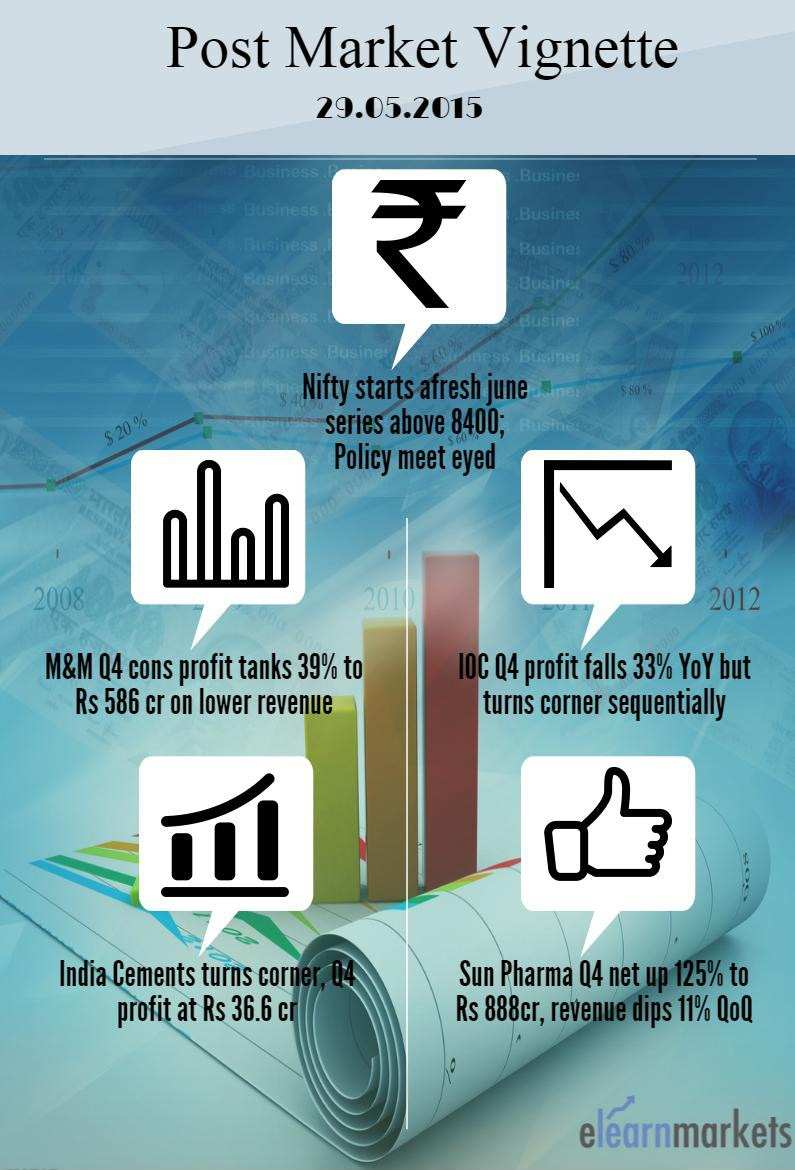 Post Market Round-up 29.05.2015
The market had a major Bullish day today after a series of down days and traded with a positive bias for the whole day.. Nifty opened today at 8327, made a high of 8443, fell as low as 8305 and finally closed at 8433 (+1.38%). Its current support is at 8000 while its resistance is at 8800.
Among the sectors, the highest gainers today were CNX AUTO (+1.88%), CNX PHARMA (+1.53%), BANK NIFTY (+1.48%), CNX FMCG (+1.26%) and CNX IT (+1.08%). The only loser today was CNX Realty (-0.52%). The reason for the rise of the CNX AUTO sector was mostly due to the rise in M&M (+4.46%). Its current support is at 1150 while its resistance is at 1300.
Among the prominent stocks, the highest gainer today was M&M (+1.64%) followed by GRASIM (+3.87%), BPCL (+3.37%), AMBUJACEM (+3.59%), and ACC (+3.28%). The stocks which fell the most today were HINDALCO (-1.98%), PNB (-1.82%), NMDC (-1.48%) and ONGC (-0.23%). HINDALCO was trading today with a high of 133.2 and a low of 128 to finally closed at 129. Its current support is at 124 while resistance is at 140.
The market sentiment was mildly positive today with 44 Advance and 5 Declines and 1 unchanged.