Understanding the implications of the GDP growth on the economy is an integral element of macroeconomics. Want to learn more about the basics of macroeconomics? Join the
NSE Academy Certified Macroeconomics
course on Elearnmarkets.
Let us now discuss the 5 things we should be aware of when it comes to India's GDP growth.
1. Revised GDP Calculation Methodology
</ahref="https:>
India's statistics ministry in January radically revised its gross domestic product calculation methodology.
To be precise, it's a "base year" revision, where statisticians shift the reference year for measuring inflation-adjusted growth from 2004-05 to 2011-12.
A few other tweaks have also been made, including the addition of new data sources, classification systems, and items like LCDs and smartphones to the country's national accounts.
This was the most comprehensive overhaul ever of India's GDP measurement method, Pronab Sen, chairman of the National Statistical Commission, told The Mint newspaper.
It will bring the country's measurement techniques in line with global best practices.
Despite repeated attempts by the ministry to explain how it changed the method and why many economists remain suspicious of the new calculations.
The revised GDP is controversial as the new growth numbers do not fit with other indicators which suggest the Indian economy has been stuck in a rut.
2. India got ahead of China's growth rate Months Ago
Looking at the latest revised quarterly year-over-year performance, India grew more than China last quarter as well as two quarters before that, making it the world's fastest-growing large economy for those quarters.
Although India's GDP and per capita income, at US$1.9 trillion and US$1,499 respectively, are roughly one quarter that of China, the speed of Indian GDP growth has been rising, whereas that of China is slowing.
With much more favorable demographics and benefiting from abundant cheap labor and opening up, some analysts think that India's growth rate will exceed that of China sometime before 2020.
In the last calendar year, 2014, China's economy grew faster while during the 12 months ended March 31—India's fiscal year—China and India's economies grew by the same amount.
3. The Modi Wave Effect Has Brought Changes in the Scenario
Indian Prime Minister Narendra Modi came to power about a year ago promising to invigorate the economy.
Modi's vision of developing India from the bottom-up will be a tough task because India has low tax revenues owing to low tax rates, India's ability to spend on development and infrastructure is currently less than one third that of China.
While many have been disappointed with what Mr. Modi has delivered so far, the economy has shown improvement.
The fundamentals were better during Mr. Modi's first fiscal year in office compared with the time of his predecessor Manmohan Singh.
4. Much More Growth in India Is Expected
India's Finance Ministry said in February that the country's economic growth could speed up to as much as 8.5% this fiscal year.
That would put India's growth rate way ahead of China's, which is expected to be around 7% this year.
Lesser external vulnerabilities, plunging crude oil prices and above all Prime Minister Narendra Modi-led government's reforms drive have led most global institutions such as IMF, Moody's and World Bank to lift their economic growth outlook for the Indian economy.
5. The Bad Monsoon Might Slow Down The Economy
Most Indian farmers are dependent on rain for irrigation so a bad monsoon can knock whole percentage points off GDP expansion.
Last year's June-through-September rainy season has officially dubbed a drought because it yielded 10% less rain than usual.
Farming accounts for nearly 18 percent of India's $1.8 trillion economies and supports the livelihood of millions.
Since 60 percent of farmlands are rain-fed, a failed monsoon can seriously impact food prices and the economy as a whole.
While agricultural production took a hit, India's economy still grew more than it had in four years.
Source: Wall Street Journal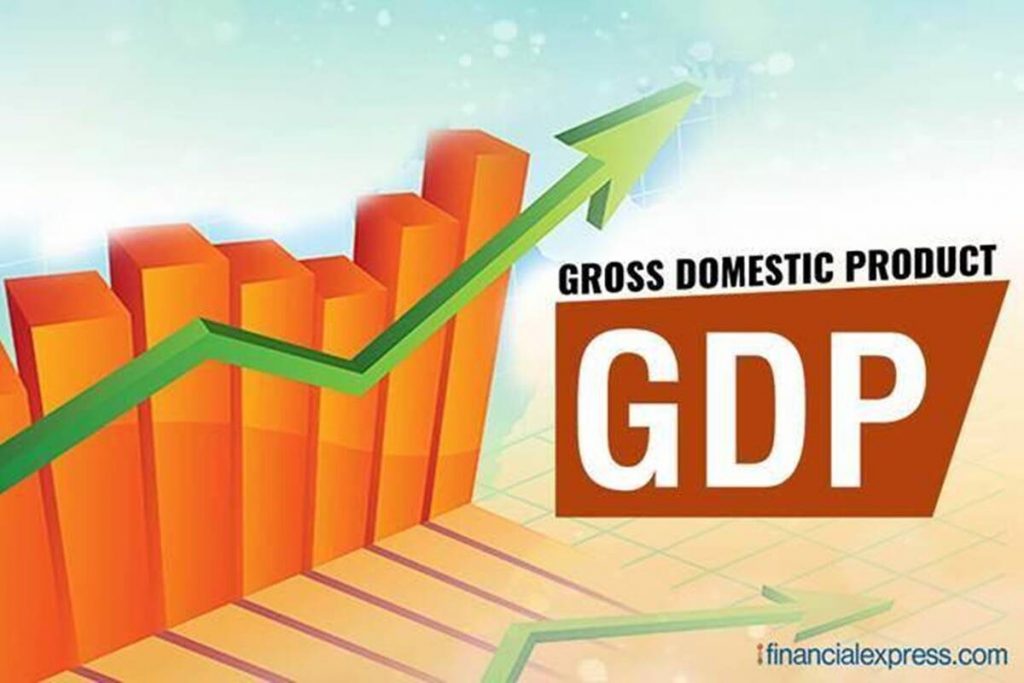 Bottomline:
We hope the above write-up has helped you to get a clear idea on the major reasons for the GDP growth in the Indian economy.
Also if you wish to enhance your practical skills, you can join our trading strategy course and master your stock trading game!
You can read other related macroeconomic topics here.
Keep Learning!!