Nifty close 11589.1: Nifty had witnessed some correction in the first half of the week due to the rupee weakening even after intervention of the central bank. However on Thursday the bulls finally came out and resulted in the formation of hammer in the daily chart. On Friday Nifty opened higher than previous day and ended on a positive note.
At this point Nifty likely to face resistance at 11609 levels and for support it would be 11550.
Hourly Technical: In the Hourly chart, the index was falling down but bounced back from 11400 level and witnessed a good recovery from the lows in the last two trading session suggesting positive momentum in the index.
Most of the indicators in the hourly chart are in a neutral to overbought position. RSI is at 60, Stochastic is in the 90 overbought zone, ADX is below 20 and CCI is at 135.
Overall there is a chance of consolidation as well as up move as the indicators are in the overbought zone. In case of down fall there two major supports which are Lower Bollinger band (presently at approx. 11422.25) and the 20 MA line (presently at approx. 11513).

(Hourly chart)
Daily Technical: In the daily chart, Nifty is presently trading above 20 Day moving average which turned the sentiment to bullish. However, on the upside, 11620 may act as a short term resistance for the Index.
Let's discuss the indicators, in the daily chart Indicators are in the neutral. RSI is at 58, Stochastic is at above 50, ADX is at 32 and CCI is at 6.
(Daily chart)
Weekly Technical: In the weekly chart, though there is a bearish engulfing at the top but the good part is that Nifty has witnessed good recovery from the low suggesting the strength of the bulls in the bigger timeframe.
Moreover, Nifty is trading above most of the moving average and looks quite strong in the weekly chart.
Lets discuss the indicators, RSI is above 70, Stochastic is above 80, ADX is above 20 and the CCI is above 100. So in short technical parameters look bullish and there is a possibility of up move in the bigger timeframe.
(Weekly chart)
You can use stockedge app to get cutting edge over others in both short term trading and investing. Here you not only get data at one particular place but can also create your own combination scans based on your own technical and fundamental parameter. See the video below to know about various features in Stockedge app.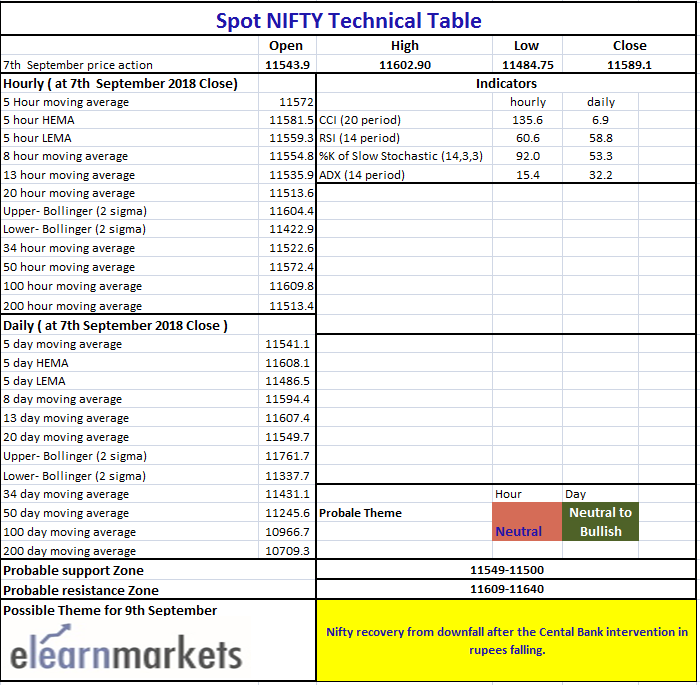 Nifty tech table