Nifty saw a dull day today, saving the level of 7250 barely.
On this daily chart we can see a divergence in volumes. That is in past few trading sessions, though the price has been inching upward, Volume is not supporting the same. This is a sign of weakness. Looking at the intraday 30 mins chart , a resistance area seems to be present on the upside near the level of 7250, and on the downside the first support is coming in at 7125.
The Gainers in the market are BEML which was up 7.35%, Crompton greaves 6%, , justdial5% and so on, whereas on the losers screen we don't see much aches, a modest 2-3% slide inIndiabulls, mothersun sumi, ntpc and so on.
On the International front there is more cheer than witnessed on our markets today. Chinese Sanghai Composite closed a good 2.35% higher whereas the European indices are also better  with 1.2-1.7% gains. The US market was also up yesterday .
Chart of the Day
On the Chart of BEML a Bullish Engulfing pattern was formed on Friday and today a strong upmove was witnessed. As we saw in the winners slide, BEML gained the maximum today closing a good 7.10% higher!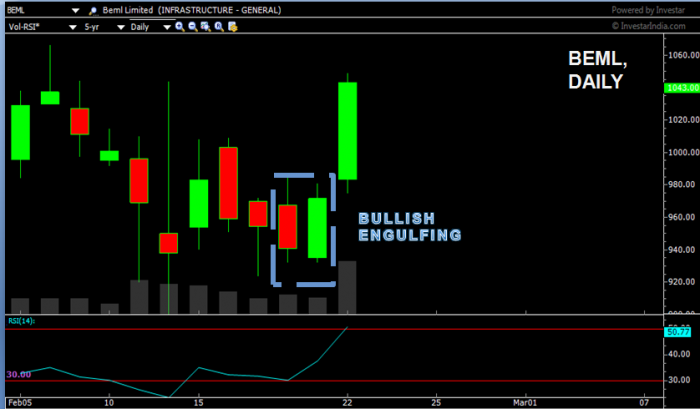 _________________________________________________________________________________________________________
Read more articles here:
https://blog.elearnmarkets.com/market/nifty-chart/
https://blog.elearnmarkets.com/market/nifty-live/