Nifty oscillated in the range of 7050-6985 today ahead of the Union Budget due on monday.
As we had noted , yesterday was a down session and as per the the nseindia.com website, the volume turnover today was just 70% of what was witness yesterday. This is not a very positive news as today was also the first day of the March series.
Apiece of news came in that iron mining will be allowed again in the Goa mines. This a positive for Vendanta limites as it has mines down in Goa and had faced issues when the mining was restricted back in 2012 by the Supreme court.
On the gainers of the day's list we have Dewan Housing Fin corp ltd, up by 6.6%, followed by IGL +5.66%, and Aurobindo pharma +5% which is a new entrant on the Nifty 50 family.
The losers list starts with Union Bank losing around 4.32% on twice the volumes as witnessed yesterday. Baja auto continued the losing streak and lost another 3.57% today whereas pidilite was dowm 3.17%.
The international picture was a green glow as after a very long time we saw almost all the indices trading in green on a single day including Chinese shanghai composite.
CHART OF THE DAY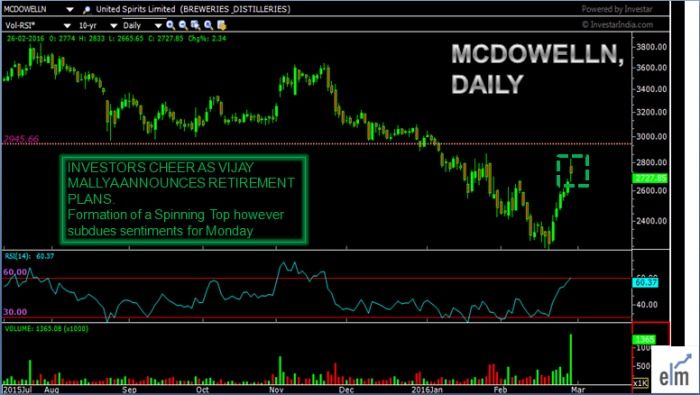 Vijay Mallya was a reason for cheer as he announced that he is considering retirement next month on his 60th birthday. The united spirits stocks opened much higher however has closing came a spinning top formed on the charts which subdues hopes for Monday.
___________________________________________________________________________________________
Read more articles here: