Nifty gave up the sluggishness witnessed in it in the past two trading sessions and closed 50 points higher at 7530.
Nifty had opened with a downside gap and covered the same immediately covering a range of 100 points almost. The 10 mins chart shows a megaphone pattern called the broadening triangle on the chart.
The other NSE indices were also higher today with the NIFTY REALTY leading, followed by Nifty Infra and Midcap 50. Nifty Bank index again outperformed the Nifty, closing .89% higher.
Winners: Cromton greaves-8.9%, Rel Infrs- 6.5%, Rel cap- +4.62%, Yes bank- 4% higher followed by arvind lmt, tech mahindra.
On the chart of Yesbank, we saw that the stock has turned lower from the previously mentioned level of 790, The stock turned up again prior to reached the support level from 660. The stock is again close to 790 and has almost breached it on the upside. However  a deeper penetration is necessary here as 790 is a very important level historically.
Losers: Mindtree -11.40% Poly Medi – 10.74%, mild weakness in others like vedanta, container corp, jubliant foodworks, BPCL , closing 2-3% lower.
On the internation front we have data taken from the website www.marketwatch.com.
We can see that the internation futures od DJIA is trading .50% higher on account of a bullish crude oil with is trading 1.5% higher currently. The US indices DJIA ad Nasdaq closer weaker yesterday on account of a weak global input. FTSE 100, CAC 40 and the DAX are all better in europe, up almost a percent. The Asian indices have done better with sensex and singapore closing green however the japanese, chinese were weaker today.
CHART OF THE DAY
We have Tech mahindra were a japanese candlestick pattern called the Rising three method. In this pattern, the first candle is a strong candle followed by three small down candles within the body of the first, the last candle is again a strong bullish candle which encapsulates the three down candle. On the chart of tech mahindra,the price is currently standing at a resistance zone and a stronger closing tomorrow is very important, the next resistance would be expected at the level of 500.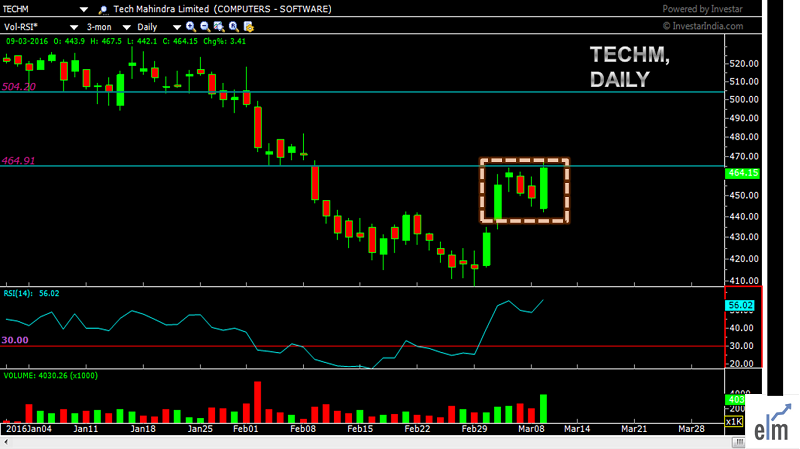 _________________________________________________________________________
Read more articles here:
https://blog.elearnmarkets.com/market/nifty-chart/
https://blog.elearnmarkets.com/market/nifty-live/
https://blog.elearnmarkets.com/market/nifty-live-chart/