With the technology gaining momentum, everything is available online. E-money is trending and we all believe and follow internet banking very smoothly. Understanding these technological changes in the banking sysyem is important for us to excel in money management. To learn about financial planning in-depth, join our course to gain a Certification in Online Financial Planning & Wealth Management at Elearnmarkets.
Before understanding how to transfer funds through NEFT and RTGS, it is important to understand the basic difference between the two.
Have you heard of batch processing and online processing. These are basically two ways in which applications update data based on nature of processing.
In batch processing, the data is first collected, during a work day, and then batch-processed. So all the collected data is processed in one go. Batch processing can take place, for example, at the end of the day when computing capabilities are not needed for other tasks. This type of processing can take a long time to process.
Whereas, in online processing data is processed immediately while it is entered. The user only has to wait a short time for response. This type of processing enables the user to provide the input and get the response of the processing immediately.
Now, you might ask what was the need to explain all this. It's because RTGS and NEFT are related to online and batch processing in some way.
Let's talk about RTGS first.
Real Time Gross Settlement (RTGS) transactions are example of online processing because like online processing, RTGS transactions take place immediately, i.e. on a real time basis. In RTGS transactions, the settlement takes place one after another so the user only has to wait a short time for response.
And NEFT?
Well, National Electronic Funds Transfer (NEFT) transaction is an example of batch processing in which transactions take place in batches, i.e. certain number of transactions is initiated for processing. After those transactions are processed only then another batch of transactions will be initiated for processing.
How to transfer funds through NEFT and RTGS?
The most important thing you should keep in mind while transferring funds through RTGS or NEFT is that you must have net banking facility available in your bank account.
Then the bank will ask you to add a beneficiary to your account before transferring funds. After the beneficiary is added, you should take note of his/her account number, IFSC code, bank and branch name along with his/her name as per bank account details.
After all this is done, you will receive a message that beneficiary has been added and then funds can be transferred easily.
What is the difference between RTGS and NEFT?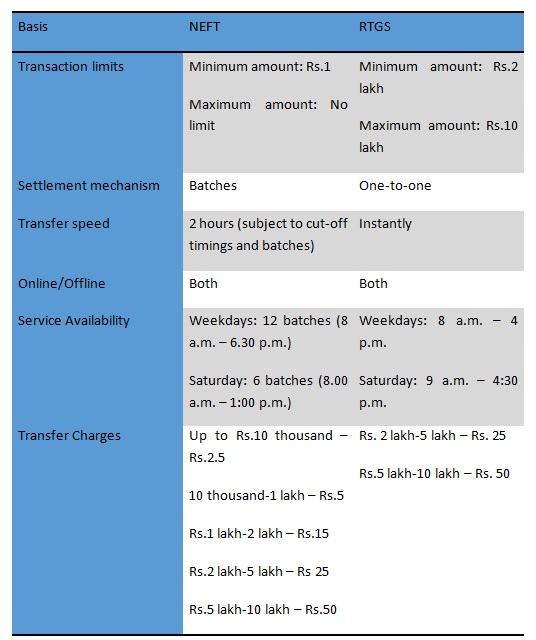 Also Read: Difference Between NEFT and RTGS
Benefits of using the RTGS and NEFT mechanism
Fast transfer of funds
Cost effective and less time-consuming way of transferring funds
No or less paperwork required to transfer funds which is good for the environment
Can be done from anywhere anytime using internet banking
One thing to note here is that in case the amount to be transferred is more than Rs. 2,00,000/- , you will require a cheque leaf as well along with the application form.
Also, the two mandatory things to remember is that both the originating and destination banks should facilitate NEFT and the person remitting the amount shall have the information:
Name of the Beneficiary
Account Number
Account Type
Name & IFSC of the Beneficiary Bank Branch
With respect to the charges on NEFT/ RTGS transfer, Reserve Bank of India (RBI) has issued no guidelines in this behalf. The charges differ from bank to bank. Also, the higher the amount, the higher is the amount bank charges on the transfer made.
Offline mode requires your time; there may be a long queue in the branch wherein already people may be waiting to transfer their funds.
Apart from this, if you are fine with spending extra minutes, you can always avail the offline mode, without making any application with your bank.
Hope after reading this article, you will not have a struggle anymore to convince anyone who prefers the offline mode of transferring funds.
In order to get the latest updates on Financial Markets visit Stockedge