Nifty has been overly volatile off late. Today it opened with an upside gap of nearly 50 points from yesterday's close.
The gap was almost filled during the day as Nifty started slipping, support came in at nearly 7125 from where Nifty recovered in an attempt to reclaim the day's high.
If we look at the daily chart of Nifty a Doji pattern has formed. As we have earlier mentioned this pattern suggests confusion among traders. Since 7200 is already a very psychologically emphasized level, the appearance of a Doji at this point does no good to the market.
The buzz in the market was about the Quick Heal 's listing, which registered a close some 16% below the opening price.
Sectoral view for the day is a mixed one . Auto sector saw Hero moto co leading with a closing some 3% higher whereas Maruti was among the laggards of the day.
The IT sector relatively outperformed the index and other sectors on an overall basis. The Nifty IT index closed a good 1.81% higher than yesterday.
Now, on the Global front the Asian Indices were leading a good bit, which brought about our gap up morning today. However the European markets opened weak today which had put the Indian indices also under pressure. Now also the European markets are slightly under pressure.
Chart of the Day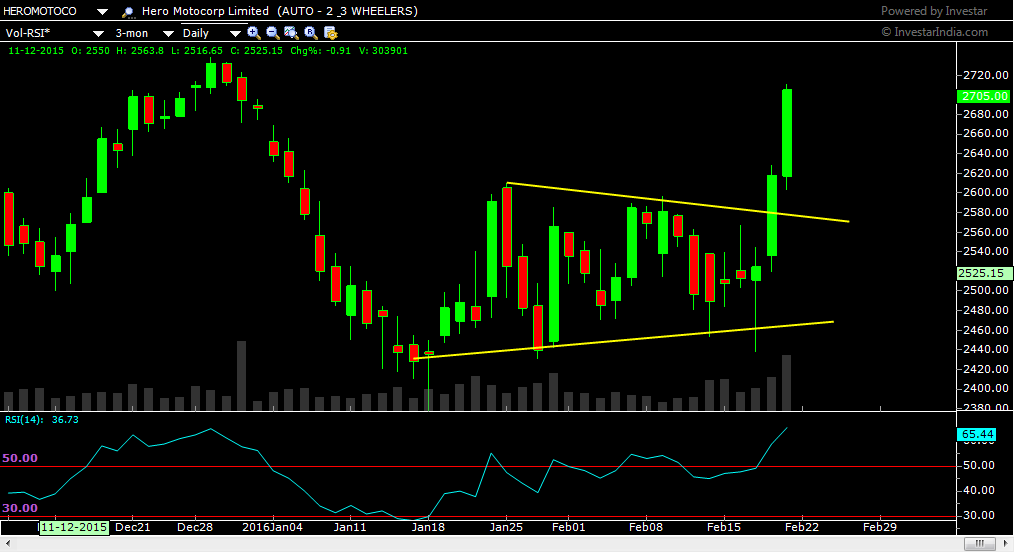 HeroMoto has given impressive move today. It broke out of the symmetrical triangle pattern on the upside with good volume. As visible on the chart Hero had been consolidating since the past few days, absolutely trendless and directionless. Here onwards, keeping in perspective the overall market performance, the stock is expected to continue the move.