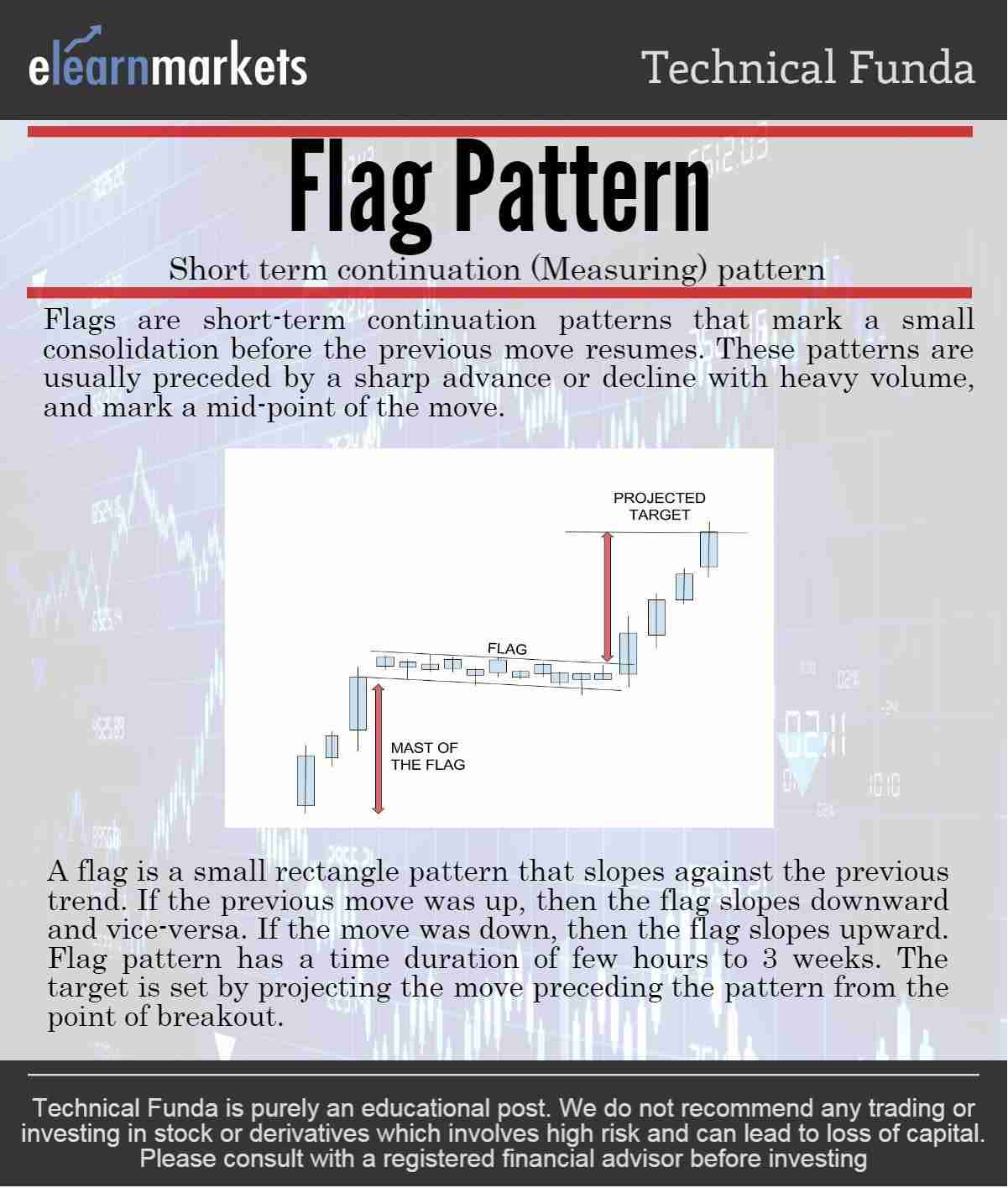 A Flag Pattern may be formed after a downtrend or an uptrend.
Also Read: A complete overview on trend and theory of retracement
It is a measuring move, as it occurs somewhere near the middle of the trend.
Post the formation of a Flag pattern, the price advance or decline by almost exactly the same magnitude as it had before the formation of the Flag.
Enroll for NSE Academy Certified Technical Analysis learning and a better understanding of charts & patterns.
The flag is like a rectangular consolidation phase with a slight tilt in the direction opposite to the preceding trend.
Flag Pattern is like a short-term rectangle pattern, a similar pattern is the pennant pattern which is a triangular short-term pattern and is also a measuring pattern.
The volumes play a very important role in the formation of Flag, during the consolidation phase, the volumes gradually decrease and burst on the breakout.
Examples:
An example of the Flag Pattern is present below, in the chart of JUSTDIAL LTD..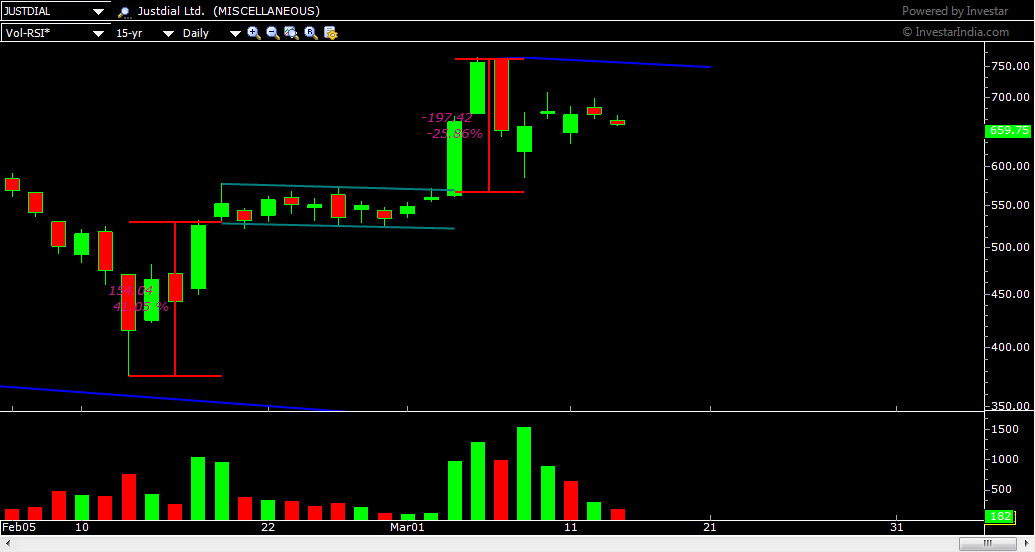 The above is a historical example.
Below, we have an example of the flag pattern as it unfolds.
The chart of IFCI Ltd has given a breakout from the rectangle consolidation pattern and is heading higher.
The target from the low of 20.10 upto the base of the rectangle pattern, i.e 22.8o is 22.80-21.10=1.70.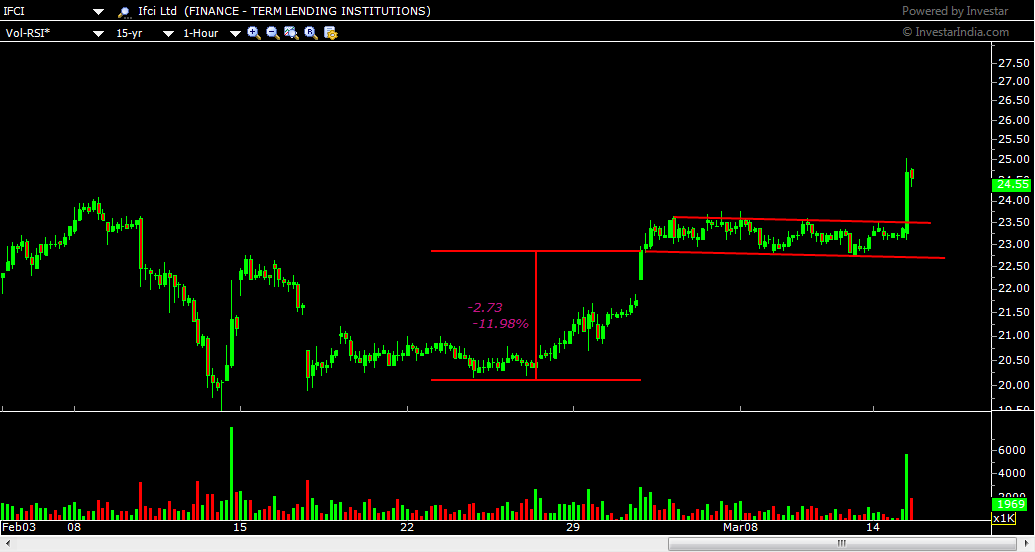 Projecting the same from the point of breakout i.e 23.50 gives us 23.50+1.70= 25.20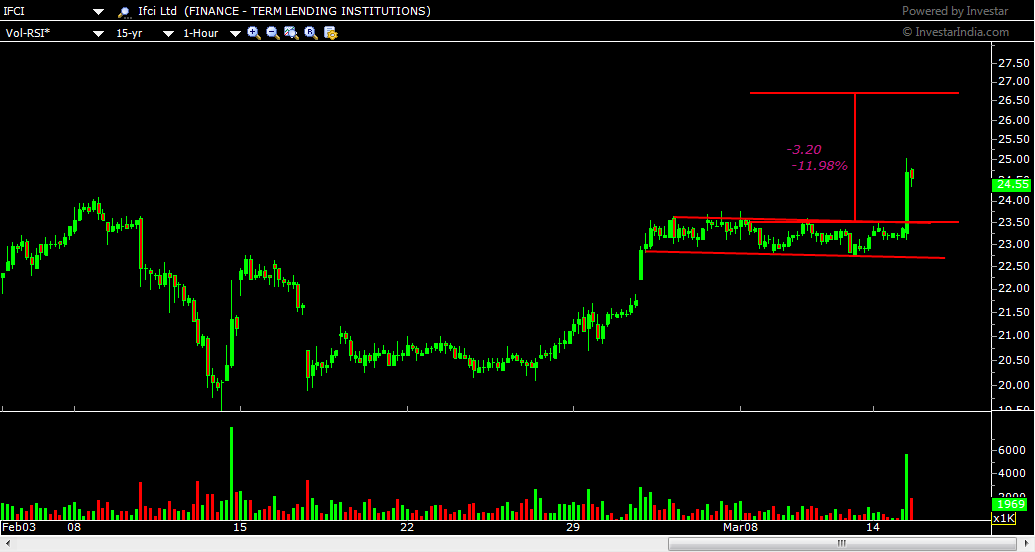 You can check Nifty Charts for more Charts and Pattern
On the daily chart of IFCI Ltd below, we see that the Flag Pattern has emerged at the point of a resistance trendline.
Following that, the breakout which occurred today has taken the stock not just out of the bounds of the flag pattern but also above the important resistance zone of 23.50.
As per this pattern, we have already determined the level of 27.20 as achievable, however as per the trendline visible on the chart we can estimate that the stock might take a second resistance at that level of 29.
Therefore the coming major zones of resistance for IFCI Ltd are 27.20 and 29.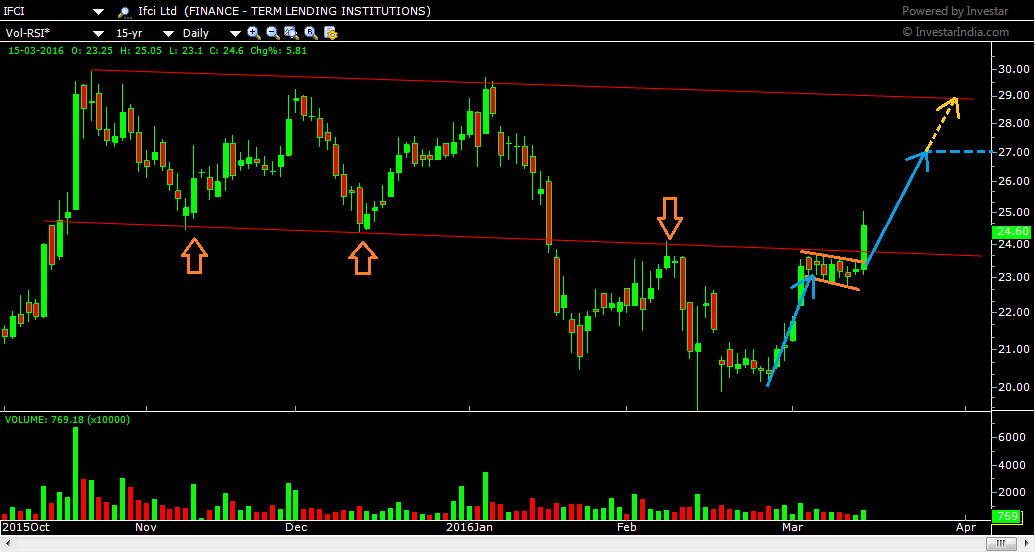 Bottomline:
With this, we have come to the end of the article.
Do leave your comments and doubts in the comments section below, we will surely get back to you.
In order to get the latest updates on Financial Markets visit Stockedge