A Broadening Triangle is a relatively rare triangle pattern which occurs when there is a lot of volatility in a security.
It is formed when the prices forge higher highs and lower lows consecutively.
On joining the highs and lows with lines, a diverging pattern is seen on the chart. This pattern stands for high volatility and several false breakouts.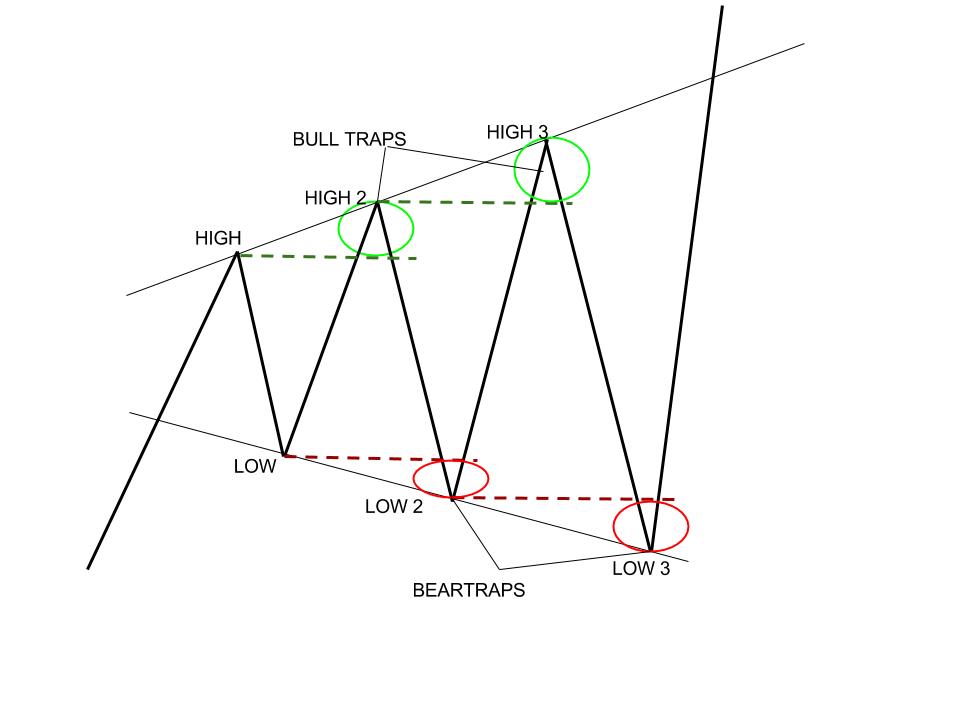 What is Broadening Triangle?
While forming, it is difficult to predict the actual breakout from the pattern because of the diverging nature.
More over the tendency and requirement of surpassing the previous highs in the formation of the pattern, is a reason why breakout traders face a lot of stoploss triggers , trapping bulls when the previous peak is breached and bears when the previous low is breached and then the price turns back and returns into the pattern.
The direction in which the final breakout will occur is also very difficult to predict in the Broadening Triangle pattern.
In the charts below, let us take some real -life examples of the broadening triangle.
Example 1 – Nifty Intraday 15 mins Chart
A broadening triangle had occurred on the chart on the 3rd and 4th of Feb, which gave a downside breakout and lead to a severe correction in the price.
The appearance of a gap on the breakout adds to the important and surety of the breakout.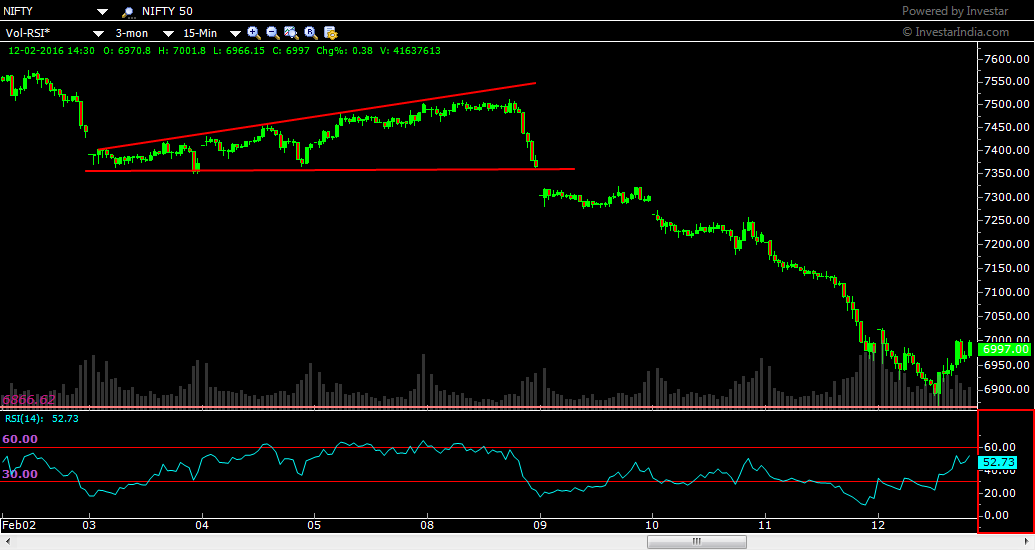 Example – TataElxsi Chart
The next example is on the chart of TataElxsi where the pattern has occurred very close to the top of the chart and has not given a decisive breakout yet.
Bottomline:
The volumes play an important role in the development of this pattern.
As the pattern unfolds, the volume keeps falling, until finally, the breakout comes wherein the volume shoot up.
We have already discussed that this pattern is a rather confusing one and is a nightmare for the traders who trade breakouts.
It is strong advice that pattern traders either don't practice this pattern or work on it with the assistance of other technical indicators to make their analysis doubly sure.
Rather than using the laggard indicators like moving average, it is better to use leading indicators like momentum oscillators like the Relative Strength Index(RSI)
Keep Learning!!
Use our Stockedge to get access to various fundamental and technical scans of the financial markets.