Nifty (weekly close approx. 10458.35):
This week Nifty opened on a Bullish Note and it surged towards the Top of the 10300-10630 range. However, Nifty after hitting top on Tuesday, corrected steadily throughout the week. However the fall in Nifty was muted compared to global rout, as q3 GDP data for India was better than street expectation. Nifty remained weak inside the range, but for the first time after more than a year Nifty closed below 20 week moving average. Hence next important support level for Nifty remains close to 34 week moving average, i.e. close to approx. 10255.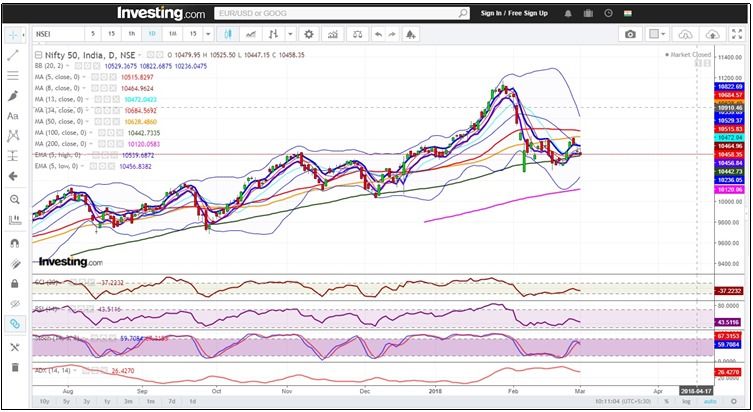 Figure: Daily Chart
The daily RSI, CCI and Slow Stochastic indicators are lacking any directional momentum, while the daily ADX has shown signs of loss of momentum. The hourly RSI and Slow Stochastic are closed near bottom end of the range while the hourly CCI closed below the oversold zone. This indicates loss of upward momentum and possibility of downward move. On Thursday Nifty closed just near 5 day low EMA. A decisive move below this EMA may take Nifty towards the bottom end of the 10300-10630 range or 200 day moving average (approximately at 10120) now.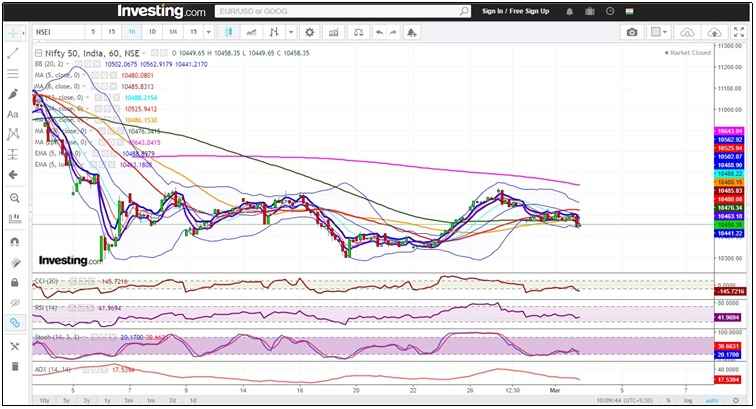 Figure: Hourly Chart
Technical possibilities for upcoming week:
Next week Nifty may find direction based on both global and domestic news flow. The rub-off of positive surprise in GDP data or electoral outcomes may restrict downside, however a sustained down move in US and Asian markets may break the resolve of Nifty bulls. On the downside 34 week moving average (approx. 10250), 200 day moving average (approx. 10120) are important levels if 10300-10650 range breaks. On the upside 10630 is a very steep resistance.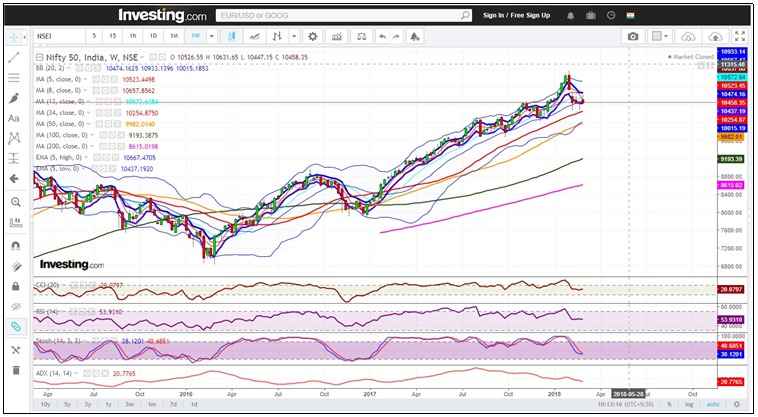 Figure: Weekly Chart
We are including the ELM level matrix for Nifty for Monday 5th March for your reference.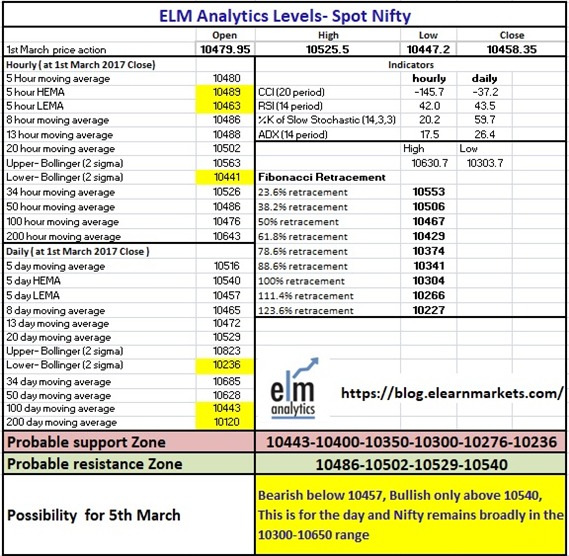 Figure: ELM Nifty level Matrix 5th March