Listen to this :
Bengali: এই ব্লগটি এখানে বাংলায় পড়ুন।
Hindi: आप इस लेख को हिंदी में भी पढ़ सकते है|
Do you want a luxurious retirement life?
Do you wish to go on a vacation abroad?
Are you tired of unnecessary expenditure and looking for ways to control it?
Well, then you must read this blog to find one solution to all your queries.
For all our wishes to come true, we not only have to save a portion of our income but also invest it.
We invest it to multiply our money to financially secure our future.
Here comes the role of "Personal Finance"
"Finance is not merely about making money. It's about achieving our deep goals and protecting the fruits of our labor. It's about stewardship and, therefore, about achieving the good society." – Robert J. Shiller
Personal Finance means managing our finances according to our future goals.
In this blog, we will discuss 5 Simple Tips To Manage Your Personal Finance successfully–
1. Write down your financial goals:
Going for a vacation, luxurious retirement, buying a new car, saving for a child's education fund are all financial goals.
The achievement of these financial goals depends on how well you plan your investments.
The financial goals can be long term goal or short term goal
Like savings for retirement is a long-term financial goal whereas buying a house or going on a vacation is a short-term financial goal.
You need to make a separate list of all long term and short term financial goals and then plan your investments accordingly to manage your personal finance.
For example, for long term goals you can invest your money in an investment tool have longer lock in period say for 10 years such as Public Provident Fund and for short term goals you can invest your money in an investment tool have a shorter lock in period say for 3 years such as Equity Linked Saving Scheme (ELSS).
2. Create a financial plan to manage your personal finance:
In case you already have financial goals in mind, go ahead with preparing a manage your personal finance in a well organized manner
Not creating a financial plan is one of the most frequent financial planning mistake.
Now, the first step of creating a financial plan is making personal finance checklist.
Read here to find all the steps for making a financial plan. One thing to remember here is maintaining consistency while following the financial plan.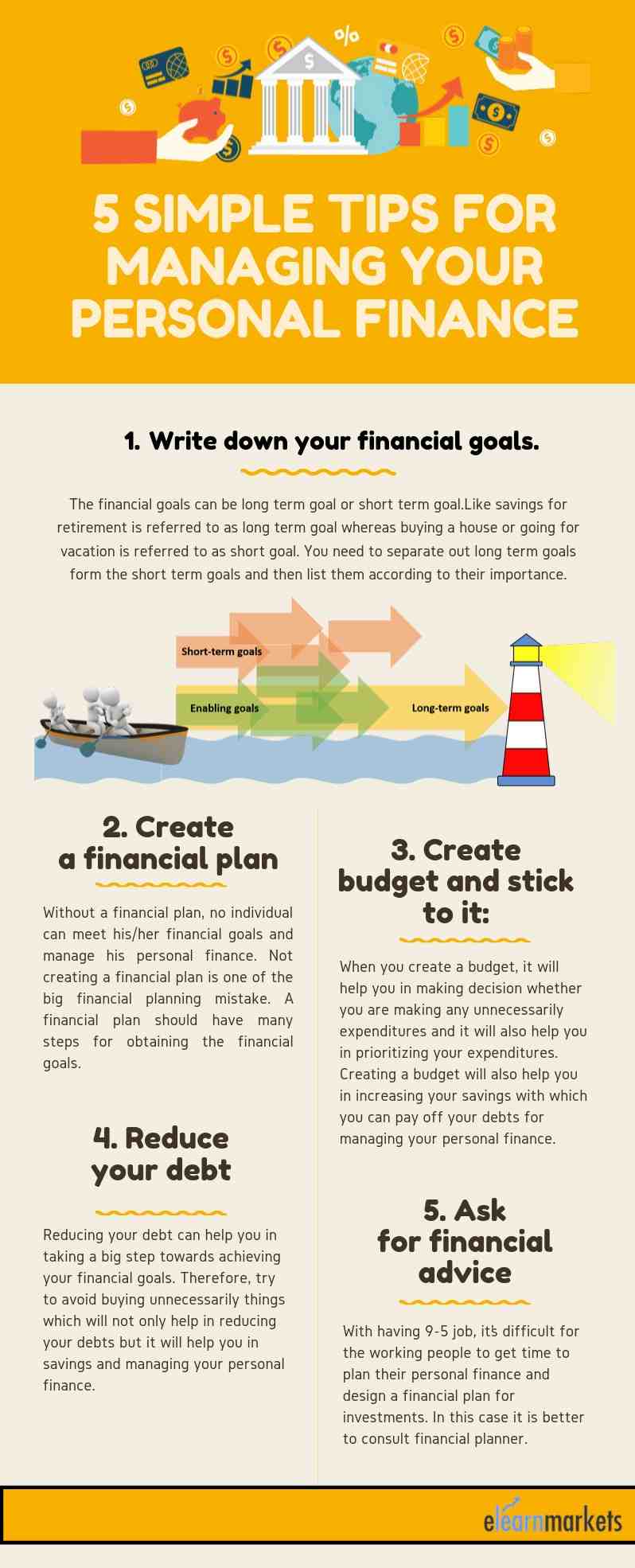 3. Create budget for managing your personal finance:
A budget helps you control your spending habits.
Suppose you follow the thumb rules of budgeting based on the 50/30/20 Rule.
According to this rule, you allocate your income as follows:
50% of income to needs,

30% of income to wants and

20% income to savings
By doing this allocation, you are prioritizing your expenses which
will eventually help you to control your unnecessary expenditure.
Budget automatically helps you with reduced expenditure and additional savings.
This savings can be further used for making investments in various investment options like shares, mutual funds, bonds, fixed deposits, recurring deposits, etc.
4. Say no to debt:
Reducing your debt can help you in taking a big step towards achieving your financial goals.
Some people cannot resist buying expensive things when they go for window shopping in the shopping malls and then paying with the credit card for unnecessarily expensive thing like gadgets, overpriced shoes etc.
These unnecessary expenditures are reasons for increased debt.
So even if you have know to your financial goals or have a financial plan or have created a budget, only if you are debt free, you will able to manage your personal finances well
5. Ask for financial advice:
With having 9-5 job, it's difficult for working people to get time to plan their personal finance and design a financial plan for investments.
In this case, it is better to consult a financial planner.
He will help you in creating your financial plan according to your risk appetite and financial conditions.
The financial planners also know various investment products available in the market and help you in making a diversified portfolio for your investment which will help you in reducing risks.
Key Takeaways:
The first step of managing your personal finance should always be determining your financial goals.

Create a financial plan to provide a direction to your financial decisions

Prepare a budget to control your spending habits

Maintain consistency in whichever method of financial plan you use.

Consult a financial planner if you don't have time to manage your personal finance