Any transaction in the stock market, whether it is a buy or sell transaction, requires a broker's intervention. To choose the best broker, it is essential for us to understand the basics of the stock market.
They work as an agent between the stock market and market participants.
Brokers are registered members of exchanges regulated by the Security and Exchange Board of India (SEBI).
There are two types of brokers in the Indian stock market.
Discount Broker:
Discount Broker offers the cheapest, low-cost brokerage for buying or selling socks compared to a full-service broker.
They are technology-driven brokers with low operation costs. They only provide a trading platform to stock market participants but no advisory means.
When you use a discount broker service you are essentially on your own and you don't have the added benefit of someone to offer you advice.
The discount brokerage firms' fee charges are 60% lower in comparison to full-service brokers. They also offer free online trading software to all customers.
The most popular discount brokers are Zerodha, 5Paisa, and Upstox.
Full Service Broker:
This kind of broker provides Research, trading, and advisory facilities in stock, commodities, currencies, Mutual funds, IPOs, insurance, Tax tips, etc.
They operate from many offices and branches across the country, which clients can visit in case of any query.
They offer client-dedicated relationship managers, advisory, customized support, portfolio management services, financial planning services, and services relating to wealth management.
The commission charged by the full-service broker is higher compared to the Discount broker because the advisory makes up an important part of their cost.
The full-service broker provides Companies with Fundamental reports and technical calls for investors and traders.
Some full-service brokers have their own banking and Demat services account too.
Suggested Read – How To Open A Demat Account?
The most popular full-service brokers are ICICI Direct, Motilal Oswal, Angel broking, sharekhan, Edelweiss Broking, etc.
Discount broker vs. Full service broker
Here are the key differences between discount brokers and full-service brokers based on different factors:.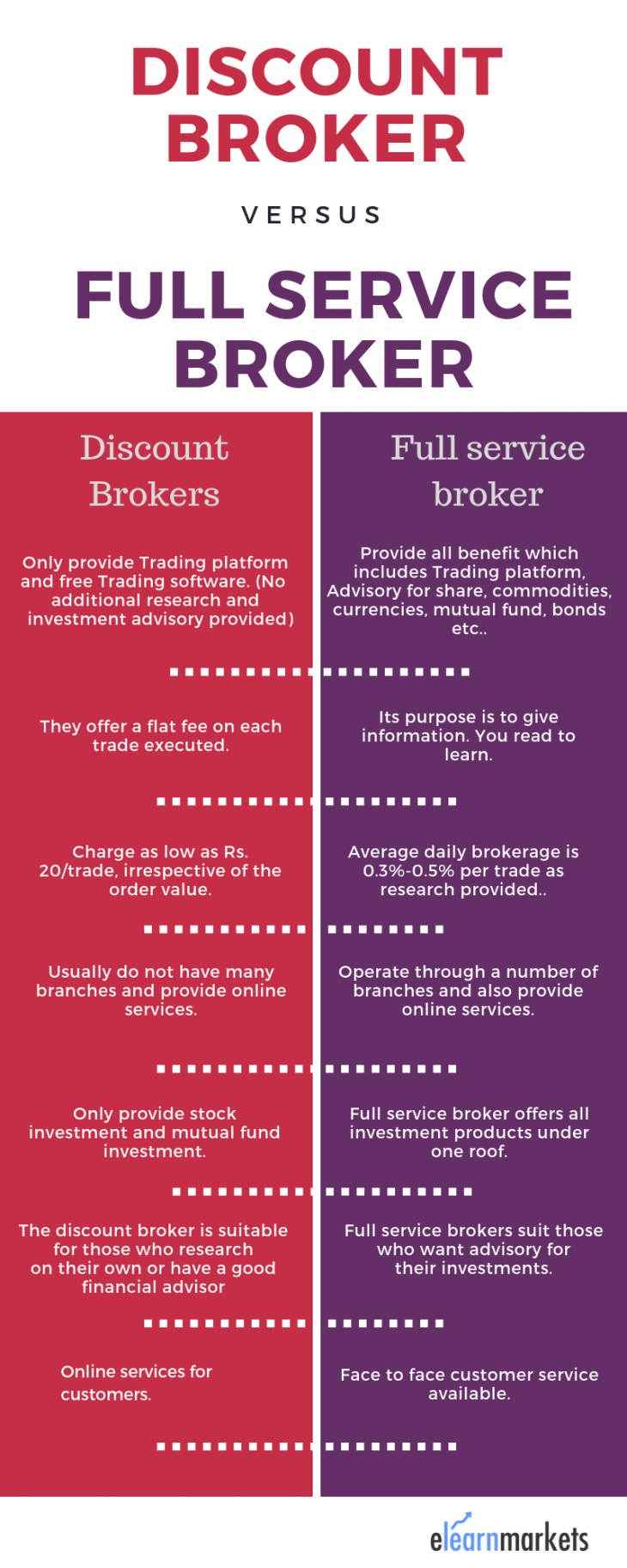 Pros of discount stock broker:
Lower Cost:- The lower cost is usually the result of lower commission charge compared to the full service broker. It is the primary benefit of using discount broker.

Online Trading platform and access of information:- Discount broker is a great fit for those who are comfortable doing their own research. Discount brokers offer best online Trading Terminals free of cost. They also provide education materials like blogs or videos for their clients for financial education.
Learn from Experts : Guide to Financial Planning
Flat brokerage charges:- Either you are a big player or a small investor, discount broker charge you the same. They offer their clients flat brokerage charges whether you buy 1 lot or 100 lots. For example if you buy 1 lot or 100 lots of nifty, Zerodha charges you flat Rs. 20 whereas full service broker charges you as per % of volume you trade in.

Unbiased services and no misleading: Discount broker don't offer investment advices and have no interest to promote or sell third party product. Thus their clients are not misguided.
Cons of discount broker:
No Relationship manager:- In discount brokerage you don't offer relationship manager like full service broker. So, if you don't have time to manage your portfolio of stocks regularly and require a person to manage your stocks then discount broker is not for you.

No advisory: Discount brokers doesn't offer research and advisory services, company report and trading calls to their clients. They also don't provide information on IPOs, FPOs, and Buyback etc.

PMS services:- Discount broker doesn't offer portfolio management services to their clients.

3 in one account:- Discount broker doesn't offer 3 in one (Banking+ Trading +Demat) accounts. These types of account are only provided by full service banking broker like ICICI Direct, SBI securities etc.
How to decide whether to go with Discount broker or Full service broker:
It is important to select the broker which matches up best with your particular temperament.
If you don't have a lot of money to invest in the stock market and can't afford to spend large amounts on fees and commissions.

You like to do your own research and make your own investing decision.

You are good at learning how to use different tools and resources to get the insight you need to make smart decision with your money.
If you find yourself in the following categories, then you should go for discount brokers.
On the other hand:
If you are a beginner in stock market and need guidance at every step.

You have enough money to qualify for the slightly lower fees that some full service brokers offers to their top clients.

You don't have much time to carry out research and identify suitable trading opportunity.
If you find yourself in the following categories, then a full-service broker is good for you.
Key Takeaways
If you have enough knowledge, time and are comfortable in making your own decision without any assistance, then discount broker is good for you.

On the contrary, if you are new in market and do not mind paying extra commission for the advisory services to save your time, then you can go for Full service broker.

The decision of choosing a brokerage house is purely dependent on personal need and preference. A new participant in the stock market must consider the above to take the best decision.
Want to know more about brokers? Hop in to our stock broking course.
In order to get the latest update about Financial Markets visit https://stockedge.com/