Do you have an Insurance policy?
Almost everyone has an insurance plan and the credit goes to insurance agents who do a phenomenal job in selling the insurance policies for their companies.
These insurance guys will try to coax you to take an endowment plan, children education plan, permanent life insurance plan etc but you will hardly hear from their mouth about the term insurance plans.
This is because of the handsome commission received by the selling agents in selling these plans, which is very low in case of term plan.
So they focus on utilizing their energy in selling those plans which fetch higher commission to them.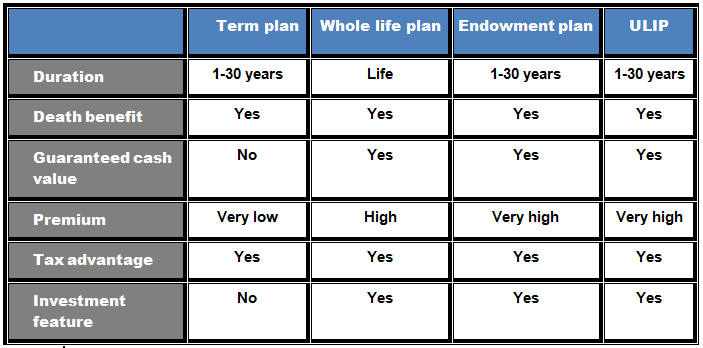 Term Insurance Plans – An important decision
Taking an insurance plan is one of the most important steps in your overall financial planning.
You may avoid buying ULIP, Endowment plan, Child plan etc but you just can't think of ignoring the term plan, especially if you are one of the earning members of your family and there are dependents under you.
Also Read:  Know the Future of Life Insurance? Also, Cover its Benefits
Moreover, if you don't have enough assets to feed them, then it's actually very important.
A myth about Term Insurance Plans
Most of the people are not well aware of the term policy and consider it to be a permanent life insurance policy.
So it's very important to understand the difference between the term insurance plans and permanent life insurance?
A term insurance does not insure your life but is a 'cash flow' insurance and it ensures the cash flow, your family would need to survive even if you are not there.
Term insurance plans act as a replacement for cash flow so it is always advisable to insure those members of the family whose death would mean a financial loss to the family.
Your absence would definitely cause an emotional loss to the family but no financial loss.
Suppose if you take a 20-year term policy, your premiums are guaranteed to stay the same for 20 years and if you die during the 20 year period, the insurance company pays the death benefit to the named beneficiary.
So this term policy is primarily created to last only for a finite period, say for 20 years.
Permanent life Policy- An Expensive Choice
Permanent life policy, on the other hand, is designed to exist until you are alive.
The insurance companies will be responsible to pay a death benefit to the named beneficiary whenever you die and moreover, it also has a tax-privileged savings component attached to it.
So for the 'investment' like feature attached to it, these permanent life insurance policies are more expensive than the term policies.
You will be shocked to know how expensive these life insurance policies actually are.
For instance, the premium paid on variable and universal policies are ten times while in case of whole life insurance, the premium paid is as high as twenty times the premium paid on term insurance plans.
Insurance plans- Mostly underinsured
The problem with the term insurance or any insurance is that it is mostly underinsured.
You ask anyone, almost everybody has some insurance policy but what amount of insurance cover one should opt for is the key problem.
However, it is very simple and one can actually calculate for him in the following manner.
Calculation of Human Life Value or the sum assured
In order to find out the sum assured, it is very important to find out the human life value.
Say if someone has a monthly family expenditure of Rs 30000 and the Fixed Deposit rate in India is 8% p.a.
So, Human Life Value = (Monthly expenditure * Number of months in a year)/Bank F.D rate

= (30000*12)/0.08 = Rs 45,00,000
However this formula does not consider the inflation aspect, so multiply the Human Life value with 1.5 which will provide a margin of safety due to the inflation and other factors.
So the sum assured in the above case would be 45,00,000*1.5 = Rs 67,50,000.
So even the person is no more, his family is secured from the financial loss, which would be impossible otherwise and they will receive Rs 30,000 per month by simply depositing the sum assured in a safe investment say Fixed deposit in bank.
Term Insurance- an inexpensive choice
The best thing about the term plan is that it's very inexpensive as compared to other plans.
Say if a person is 23 years of age and he wants to take an insurance cover worth 67,50,000 as calculated above, the annual premium comes to Rs 6950 in HDFC life (provide the person is not a tobacco user) which comes to Rs 19/day.
So I would recommend everybody to definitely go for term insurance plans.
By the way, make sure that I am not an insurance agent coaxing you to buy the product.
I don't like permanent life insurance policy since it is very expensive and due to the presence of investment like feature in it.
I would rather prefer to invest in any other asset class say equity, debt or real estate because this insurance product fetches a very low return.
So it is better to stick to the term insurance which is a pure insurance product and is less expensive.
Permanent life policy- When?
You should not think about whole life insurance until you have substantial emergency reserves, all revolving debt paid off, sufficient bank balance for large future purchase etc.
However, the permanent insurance plan could be a valuable tool for a few people having a very high income or having a very large asset base otherwise life insurance needs are best met with term life insurance.  
Bottomline
I believe the judgment of choosing an insurance product depends on one's need and the person should use their wisdom in choosing the right product rather than getting influenced by insurance agents.
Moreover, insurance plan should not be seen as an investment product because better products like equity, bonds, mutual funds etc are available in the market to fulfil the investment need.