A bank account serves a lot of purposes for anyone in the process of financial planning, the three most important ones being safety, convenience, and savings.
Traditionally in India, we have four major types of Bank Deposits, namely Current Accounts, Savings Accounts, Recurring Deposits, and Fixed Deposits, each with varying advantages.
However these days, some banks have also introduced many new products, which combine the features of two or more types of bank deposits like 2-in-1 Deposits, Power Saving Deposits, Smart Deposits, etc.
With the introduction of new products, there have been cases of increasing fraud in the bank accounts as well. To safeguard yourself from these frauds read this Banking awareness book that includes detailed information about managing your bank account.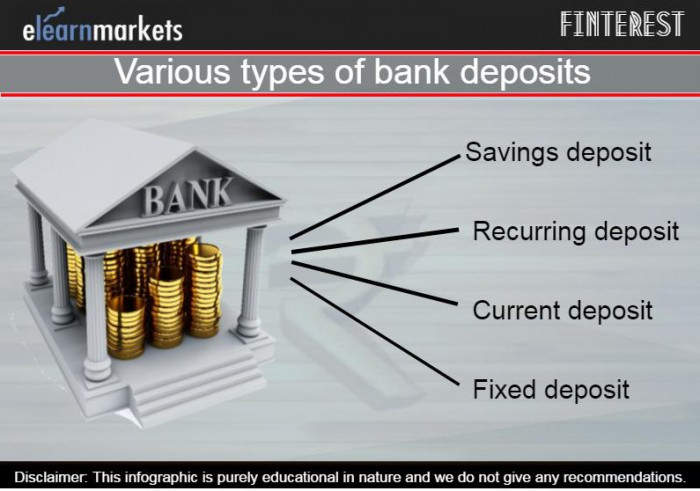 Let's understand the various types of Bank Deposits in brief.
Savings Account
A savings account can be opened with a bank or financial institution, to earn interest on the balance maintained.
This account should be opened with the objective of storing money in electronic form. These days, most savings accounts can be used for multiple purposes like paying bills, quick transactions, easy credit, etc.
It offers high liquidity and is very popular among the masses. It does, however, have cash withdrawal and transaction limits to promote digital payments.
Banks provide an interest rate that is only slightly higher than inflation, so it is not very optimal for investment. The interest provided by Public sector bank is only 4%, however, some of the private banks like Yes Bank and Kotak Bank offers interest between 6-7%.
Suggested Read : Top 7 Benefits of Bank Account you should know
Some banks also offer special savings accounts for the various sections of society, like women, senior citizens, children, etc. Each come with their own interest rates and withdrawal limits.
To choose appropriate savings to account for yourself, it is best that you research well these types before you make your decision.
Recurring Deposit
It is a special type of term deposit where you do not need to deposit a lump sum savings rather a person has to deposit a fixed sum of money every month (which can be as low as Rs 100 per month).
You should choose a recurring deposit when you want to inculcate the habit of saving regularly and you don't have a lump-sum amount to set aside.
The interest rates on these accounts range from 5% – 7%, and varying rates are offered to senior citizens. These accounts have maturities ranging from 6 months to 120 months.
You can also give a standing order to the bank to withdraw a fixed sum of money from your saving account on every fixed date and the same is credited to the RD account. However, the bank may charge some penalty for delay in paying the installments.
Another unique feature of this account is that you can take a loan worth 80-90% of your deposit by using this deposit itself as collateral.
There are no premature withdrawals allowed in the account, but for a penalty, you can close the account before the maturity date of the deposit.
Current Account
A current account is a special type of account that has lower restrictions than a savings account when it comes to withdrawals and transactions.
It is also known as a demand deposit account and it is meant for businessmen to conduct their business transactions smoothly.
These accounts should only be opened by you if you are a small business person who has multiple monetary transactions on a daily basis.
These are the most liquid deposits and there are no restrictions on the number and the number of transactions in a day.
Banks also offer overdraft facilities on these, i.e., they let account-holders withdraw more money than there is in the account.
Moreover, there is no minimum balance required to be maintained here, unlike other bank accounts.
With the advancement of digital payments, banks also offer the best online banking facilities to these accounts, which has helped them contribute more to developing businesses in the economy.
A disadvantage of these accounts is that banks do not pay any interest on these accounts. Also, these accounts also charge hefty fees for their services and maintenance.
Fixed deposit
A fixed deposit (FD) is an investment avenue offered by banks, financial institutes, and Non-Banking Financial Companies (NBFCs)_that offers guaranteed returns with an interest rate ranging between 5%-9%.
It gives higher interest than a regular savings account and offers a wide range of tenures ranging from 7 days to 10 years.
You should try out a fixed deposit account when you want to build your habit of investing but your risk appetite is quite low since it offers guaranteed returns.
You may or may not have a separate bank account to open a fixed deposit with the bank. These days, banks also offer FDs which allow for tax exemptions of up to ₹1,50,000 per year under section 80C of the Income-tax Act, 1961.
Another benefit with FDs is that all interest amounts below ₹40,000 are tax-free. Interest amounts above ₹40,000 are subjected to Tax Deducted at Source (TDS).
Just like a recurring deposit, you cannot make any premature withdrawals, but you can prematurely shut down the deposit. You may be charged some penalty in case of early closure of the FD account.
However, with the focus of the government to have a bank account for everyone under the scheme of Pradhan Mantri Jan Dhan Yojana, you can open up a bank account for free if you do not have one and enjoy various facilities offered by banks.
Frequently Asked Questions
What is the difference between mutual funds and bank deposits?
A Fixed Deposit offers pre-decided returns that do not change throughout the tenure of investments but Mutual Funds offer better returns on long-term investments as they are linked with the market.
Why do your savings bank deposits actually result in a loss?
The money in your bank is actually making you a loss. The reason being the money does earn interest, but the purchasing power of your money actually decreases over time due to inflation.
How do bank deposits help the nation's economy?
The banking system helps in channeling funds from savers to borrowers by the process of taking deposits and making loans.