Are you worried that technical analysis of stocks may be too difficult and "technical" for you? That its only for the experts and professionals?
The answer is No.
Technical analysis is not so complex or it cannot be done only by experts or professionals. Anyone can make money out of the technical analysis. In this article let us discuss how one can make profits from technical analysis of stocks consistently.
What is Technical Analysis of Stocks?
It is important to understand the indicators, the positioning of various patterns, and various tools. It is even more important to become aware about the importance of adopting money management practices and also dealing with psychology.
Most traders fail to profit from the technical analysis because they are in a hurry in implementing the indicators and patterns rather than having the patience to first understand those patterns and indicators. Learning about the Technical Analysis of stocks will help the investors to understand the core logic behind its mechanism and also help you to identify which patterns to trade and which ones to avoid.
Apply various types of Technical Indicators
One should always choose a combination of 2-3 technical indicators. We should not rely on only one indicator as sometimes the indicator gives us a false signal. We should remember that technical indicators only confirm the price movements. These false signals given by these indicators can be avoided by using price actions and other technical indicators.
Identify High Probability Trading Opportunities
 Every investor wants to find high profitability trading setups, but the thing is they don't know-how. Instead of looking at the prices, you are looking at indicators without understanding their purpose.
Instead of following trends, you are predicting market reversals. Instead of proper risk management, you are putting huge bet as the trade feels good.
If you are doing any of the above then it will be difficult to find high profitability trade. One of the simplest ways to identify high profitability trading setups is to follow the trend.
"Trade in the direction of the general market. If it's rising you should belong, if it's falling you should be short."  – Jesse Livermore
When the price is in an uptrend, one should stay long. When the price is in a downtrend one should be short.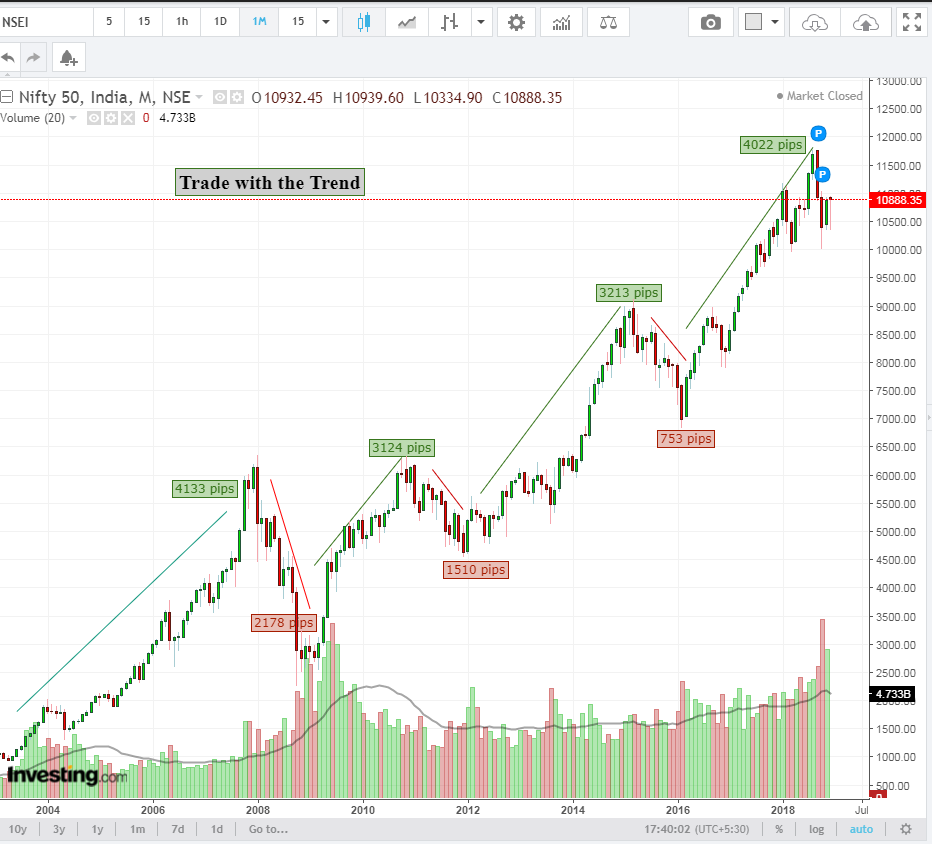 By trading with trends we can see that the bullish move (green) goes much in our favor compared to the corrective move (red).
Identify Master Chart and Bar Patterns
Every day we have to choose among a hundred trading opportunities. This is because a wide range of factors affects the market. Therefore it is important to use technical analysis to succeed in trading with the candlestick and other patterns.
Chart patterns form an important part of trading. These patterns provide a clear picture and also give us trading signs of future price movements. The best patterns are those which form the backbone of a profitable trading strategy.
RSI, volume, support, and resistance levels confirm these patterns. Stock chart patterns play a crucial role in identifying breakouts and trend reversals. This is because history has a habit to repeat itself and the financial markets are no exception.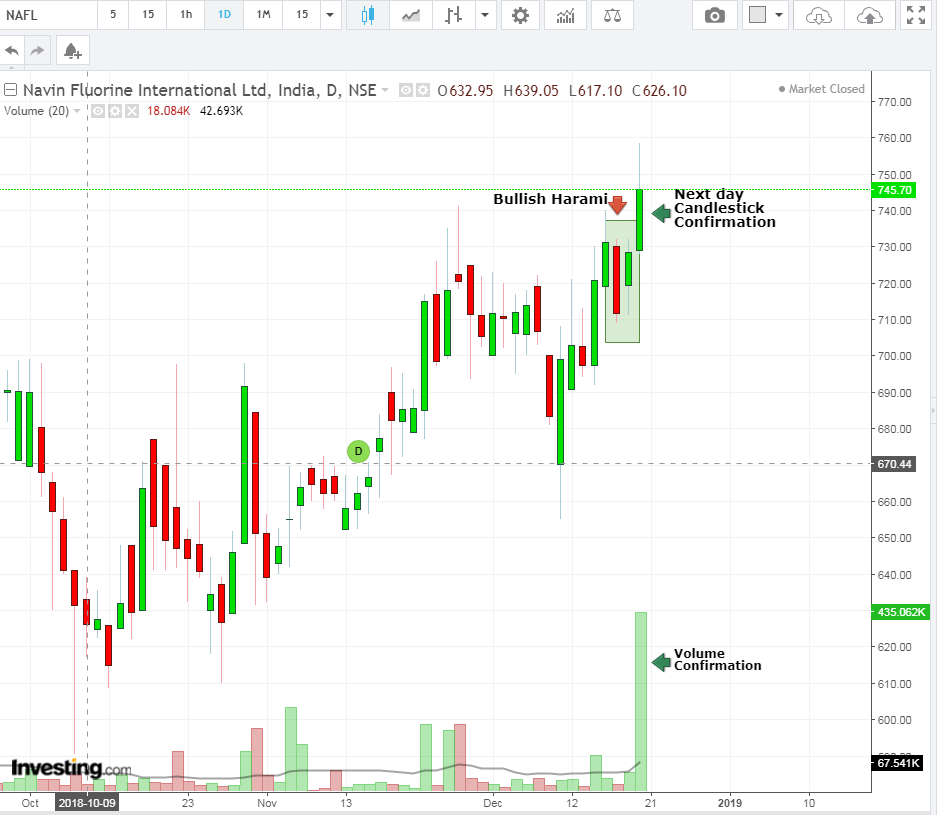 From the chart above we can see how a candlestick pattern, "Bullish Harami" gave a bullish signal with volume confirmation.
Trading Psychology:
Trading psychology is very important for traders due to their quick decisions often dart in and out of stocks on short notice. In order to accomplish this, they need a certain peace of mind. They need discipline so that they stick to their established trading plans and know when to book profits and losses.
Money Management:
Money management is an important element in trading after trading psychology. But novice traders often neglect and only focus on technical analysis. But in order to survive in the stock market, you must know the basics of the share market and to manage capital.
Capital is the determining factor of our trading. The more we have the more possibilities we have to develop and the more we can spread out the risks. Our capital should be considered in the same way as business capital.
Bottomline
As discussed above we can see how simple candlestick patterns and trends can give us signals. If we learn about technical analysis and implement it in a simple way, we can consistently make profits from technical analysis.