TATAELXSI has formed a rare triangle pattern.
This triangle is called a Broadening Triangle and is one of the most confusing patterns. The upper and lower trendlines both diverge as the pattern unfolds, leading to many false breakouts and losses for pattern traders. This pattern is popularly also called 'megaphone', 'funnel', 'inverted triangle' due to its shape.
On the chart of TATAELXSI, such technical patterns are quite common. On the Chart number 1 below, we have presented three such patterns for you:
Upward trending channel
Broadening triangle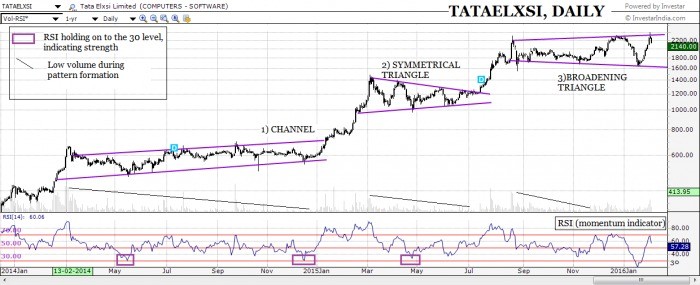 The first two patterns gave a strong upside breakouts, with good volume and took the stock price much higher. They were also supported by our momentum indicator (RSI) while still building.
The third and the most recent pattern (refer to chart no. 2), the broadening triangle seems weaker as per indicator analysis. The oversold support zone of 30 has been breached in the recent dip, indicated by the circle on the Chart.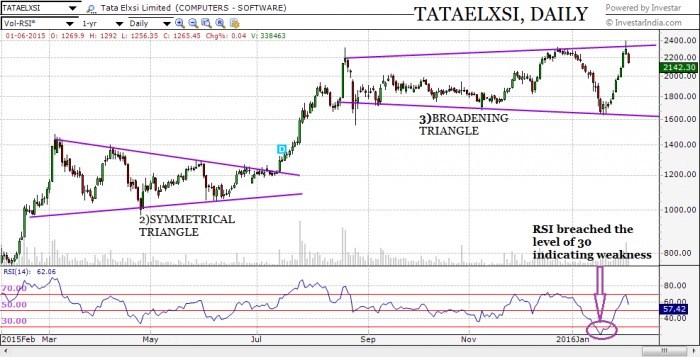 Besides the indicator and volume analysis, if we look at the price movement, resistance from the trendline near the 2400 level has already lead to the downturn in price. The lower side breakout from the pattern is expected to come about from the level of 1600, however due to the nature of Broadening triangle, calling such breakouts is a long shot and needs a lot of patience and involves risk.
Check out NSE Academy Certified Technical Analysis for more knowledge on charts and patterns.