Listen to this:
A number of schemes like Pradhan Mantri Jeevan Jyoti, Pradhan Mantri Suraksha Bima Yojana, and Atal Pension Yojana, were launched by our honorable Prime Minister, Narendra Modi in May 2015 for the welfare of the needy people. Today, we'll discuss Pradhan Mantri Jeevan Jyoti Bima Yojana. Want to know more about Government of India Financial Schemes? Join our Free Course: Government Financial Schemes on Elearnmarkets.
Pradhan Mantri Jeevan Jyoti Bima Yojana
Pradhan Mantri Jeevan Jyoti Bima Yojana is a government-backed life insurance scheme in India.
Pradhan Mantri Jeevan Jyoti Bima Yojana is a pure life insurance policy which offers coverage for death for one whole year. This scheme is renewable from year to year.
The benefit of this cover will be available only to the nominee only because this cover is only for mortality with no investment component and has a life cover of Rs.2 lakh.
It's a great initiative taken by our government since as of May 2015, as only 20% of India's population has any kind of insurance.
This scheme will provide the benefit of Rs 2,00,000, which will be payable to the member's family in case of his/her death due to any reason
Objectives of Pradhan Mantri Jeevan Jyoti Yojana
Some of the basic objectives of this scheme are as follows-
1. To secure financial future
This scheme also helps in securing the financial future of the individual's family.
2. Increase penetration of life insurance
As we know in India, the penetration of life insurance is not much widely spread. Therefore, one of the reasons of launching PMBJJY could be to increase life insurance penetration.
3. Increase Awareness
In India, people are unaware of the benefits of a life insurance and even if they know, there are very few people who actually take up a life insurance cover. So to make people aware and encourage them to take up life insurance schemes, a basic cover of Rs.2 lakh is being provided through this yojana.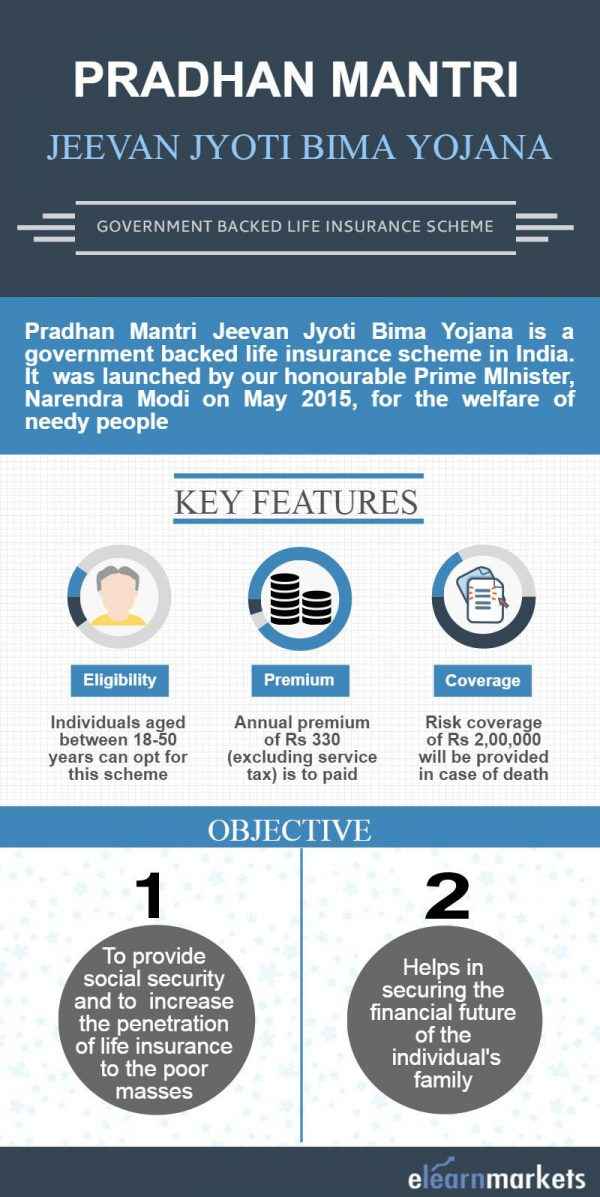 Features of Pradhan Mantri Jeevan Jyoti Bima Yojana
Some of the key features under Pradhan Mantri Jeevan Jyoti Bima Yojana are stated below-
1. Premium Paid
It's important to maintain a required balance as the payment of the premium will be deducted from the bank account of the subscriber.
2. Renewal
The policy-holder needs to renew the policy every year in order to continue with the plan.
3. Risk coverage
In case of the death of the individual, risk coverage of Rs 2,00,000 is to be provided.
The life is covered irrespective of the reason of the death.
4. Nominee details
The subscriber has to provide the nominee name and also the relationship with the nominee.
5. Government contribution
The contribution made by the government towards this scheme is decided every year and it comes from the unclaimed money that has been lying idle in different public welfare funds.
Eligibility for Pradhan Mantri Jeevan Jyoti Bima Yojana
1. Any individual aged between 18 years and 50 years and having savings account in a bank can opt for this scheme.
2. Individuals who join the scheme post initial enrolment period extended up to 31-08-2015 or 30-11-2015 will have to submit a self-certification of good health that the concerned person doesn't suffer from any of the critical illness as specified in the consent cum declaration form.
Benefits of Pradhan Mantri Jeevan Jyoti Bima Yojana
The PMJJBY offers the following benefits to the insured-
Death benefit
In case of death of the insured person, the amount of Rs.2 lakhs provided under the scheme is given to the beneficiary of the policy.
Tax benefit
The premium paid under the scheme is eligible for tax deduction under section 80C of the Income Tax Act.
Also, the insurance holder needs to submit form 15G/15H for preventing TDS. If he does not do so, then any life insurance proceeds exceeding Rs.1 lakh will be taxable by 2%.
Risk Coverage
Although the scheme provides coverage only for a year, one can easily renew it at the end as it is a renewable policy. One can also opt for auto renewal in which the amount will be automatically debited from your savings bank account.
How to apply?
1. Download the application form and fill the necessary details.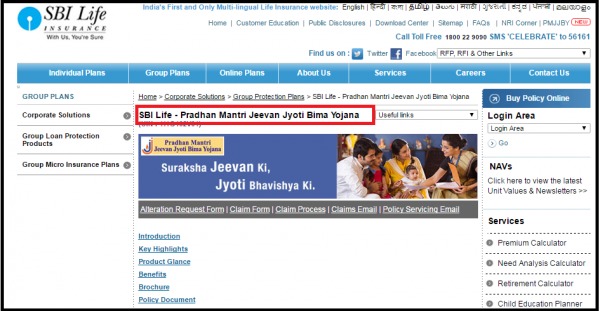 Source: https://www.sbilife.co.in/en/group-insurance/protection-plans/pradhan-mantri-jeevan-jyoti-bima-yojana
2. Take a print out of the form and submit it to the nearest branch.
3. Remember that you have an adequate balance in your bank account.
Exclusions
Some of the key exclusions under this scheme involves:-
1. Intentional self-injury
2. Suicide
3. Any loss made due to the breach of law with or without criminal intent
Also Read: 7 Government of India Schemes to Invest for Social Security
Premium
The amount of premium to be paid per member is Rs 330 per annum excluding the service tax.
It will be automatically deducted from the account holder's savings account in one installment through an auto-debit feature on or before 31st May of the annual coverage period under this scheme in case the person opts for long-term options.
However, if he/she does not choose the long-term option, the individual has to opt every year.
Termination of Assurance
The account will get terminated in the following scenarios-
1. The account holder who has attained 55 years of age
2. In case the account has been closed with the bank or there is an insufficient fund for debiting premium.
3. If you have made multiple coverage under this scheme, the insurance cover will be restricted to Rs 2,00,000 and any other covers will be terminated and the premium may be forfeited.
Criticisms
The banks have complained about the low revenue receipt and some of the bankers have said that the amount received on it is insufficient to cover the service cost.
Moreover, the insurers have also stated that information of pre-existing disease or health certificate is needed for joining.
Bottomline
Pradhan-Mantri-Jeevan-Jyoti-Bima-Yojana is one of the important social security programmes initiated by our government to help especially the poor people.
As of May 2018; nearly 5.35 crore people have already registered for the scheme.
I would highly request everybody to opt for this scheme in case you do not have taken any life insurance.
Keep learning!!