Listen to this:
Pradhan Mantri Suraksha Bima Yojana- The government has created numerous schemes to provide benefits to different parts of society. Insurance is not a new topic in India, but still, its reach is limited to a few people.
Though there are so many insurance companies operating in India, there is still a large number of people, especially in rural areas, who are not covered under any kind of insurance.
This section of society is mostly below the poverty line, and insurance service is unaffordable for them.
Hence, our government has introduced "Pradhan Mantri Suraksha Bima Yojana" after the successful performance of Jan Dhan Yojana, keeping in mind the poor masses.
Table of Contents
What is Pradhan Mantri Suraksha Bima Yojana (PMSBY)?
Pradhan Mantri Suraksha Bima Yojana (PMSBY) is a government-backed accident insurance scheme in India. It was launched by our honorable Prime Minister Narendra Modi on 9 May 2015 in Kolkata.
The scheme was launched with the intent to increase insurance coverage amongst the masses. Any individual between 18 and 70 years of age with a bank account can open a Pradhan Mantri Suraksha Bima Yojana account.
The scheme will cover for one year and is renewable from year to year.
Features of Pradhan Mantri Suraksha Bima Yojana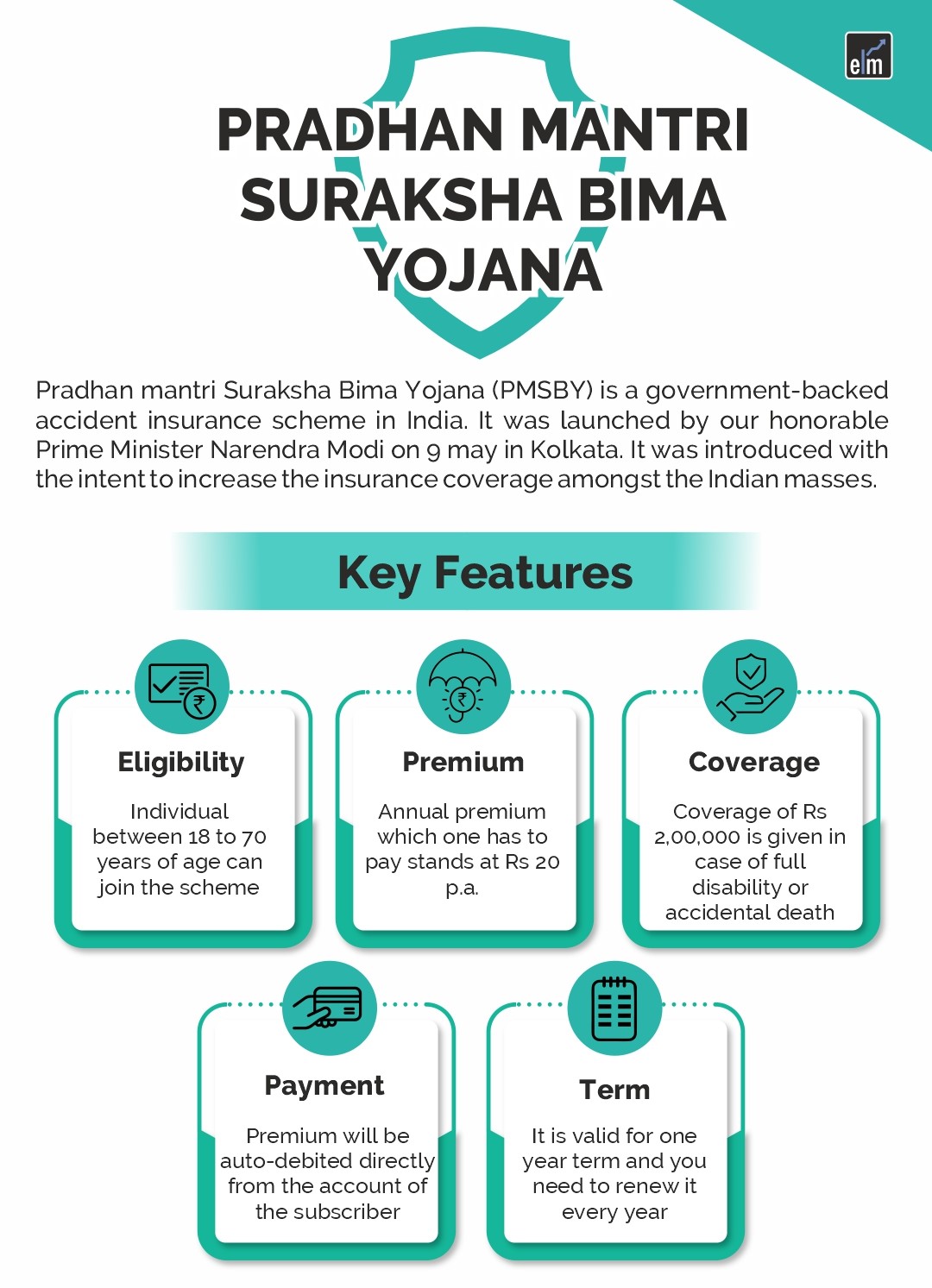 1. Premium
The key highlight of this scheme is its low premium which stands at Rs 20 p.a.
2. Risk Coverage
The coverage of Rs 2,00,000 will be provided in case of full disability or accidental death and Rs 1,00,000 in case of partial disability.
3. Payment mode
The premium will be auto-debited directly from the account of the subscriber, and this is the only mode available.
4. Eligibility
An account holder between 18 and 70 years of age, who has given their approval to join the PMBSY scheme or enable the auto debit feature, can enroll in this scheme.
5. Terms of Risk Coverage
A person needs to renew this scheme every year. Moreover, he/she can also choose the long-term option where his account will be debited every year by the bank.
Pradhan Mantri Suraksha Bima Yojana (PMSBY) Benefits
a. Tax benefits
The proceeds received under this scheme will get tax exemption u/s 10(10D). But in case the proceeds from the policy is over Rs 1,00,000, TDS will be applied @ 2% of the overall proceeds if no Form 15G or Form 15H is submitted to the insurer.
Moreover, the premium paid will also be tax-free under section 80C of the Income Tax Act.
b. Low premium
The main attraction of this scheme is its low premium of Rs 20 p.a., which makes it possible for even the poorest of the poor to avail of the scheme.
How to apply for this scheme?
You are required to link your Aadhar card to your bank account. Then fill up the application form and submit the same to your bank.
However, the individuals have to submit an application every year to be covered under this scheme. Whenever you fill out the form, you need to mention the name of the nominee along with the relationship.
Exclusion
The major exclusions include suicide or suicidal attempts under the influence of drugs or liquor, intentional self-injury or loss arising from an act due to a breach of law with or without criminal intent.
Termination of Cover
The individual will not be entitled to any benefit, and the accident cover will get terminated in case of any of the following events-
1. In case the individual attains 70 years of age.
2. The account has been closed as there are insufficient funds in the account to keep the insurance active.
3. When a person is covered by more than one account. Insurance cover will be limited to only one account, and the premium on other accounts will be forfeited.
4. When the insurance cover is ceased due to any technical reasons like insufficiency of funds on the due date or any administrative issues, the same can be reinstated on receipt of the full annual premium (subject to conditions that may be laid down).
The risk cover will be suspended during this period, and reinstatement of risk cover will be at the sole discretion of the Insurance Company.
Bottomline
Pradhan Mantri Suraksha Bima Yojana is one of the most important social security programs initiated by our government to help poor and underprivileged people and to cover them with basic social security benefits. As of January 2018, over 13.28 crore enrolments have already been made under this scheme.
Frequently Asked Questions (FAQs)
What is Pradhan Mantri Jeevan Suraksha Bima Yojana?
The policy that benefits the poor and low-income segment of society the most is the one with a minimum premium of Rs 20 per year instead of Rs 12 per year. The Pradhan Mantri Suraksha Bima Yojana offers life insurance coverage of Rs. 1 lakh for permanent partial disability and Rs. 2 lakh for accidental death and permanent disability.
How to get the benefit of Pradhan Mantri Suraksha Bima Yojana?
The Pradhan Mantri Suraksha Bima Yojana requires an annual premium payment of ₹ 12 from the applicant to receive benefits. The nominee receives the insurance sum if the insured person passes away. In addition, insurance money is given in the event of a permanent incapacity.
For Market Research, visit StockEdge