Financial inclusion, low-cost benefits, and social security for the Indian citizens have been the top priority of the Modi government, and the launch of various schemes like Jan Dhan Yojana, Pradhan Mantri Jeevan Jyoti Bima and Suraksha Yojana, Atal Pension Yojana, etc proves the same. Today in this article, we will discuss in detail about Atal Pension Yojana.
Table of Contents
Atal Pension Yojana
Atal Pension Yojana, also known as APY, is a government-backed pension scheme and is administered by the Pension Fund Regulatory and Development Authority (PFRDA).
It was launched in accordance with Jan Dhan Yojana, to bring the masses employed in the unorganized and rural sector under the purview of the Pension Scheme.
This scheme aims to provide a definite pension to all Indian citizens. However, you need to contribute accordingly in order to get a pension during your old age.
Under this scheme, for every contribution made to the pension fund, the government also contributes 50% of the total contribution or Rs 1000 p.a. (whichever is lower) to each individual account for a 5-year period.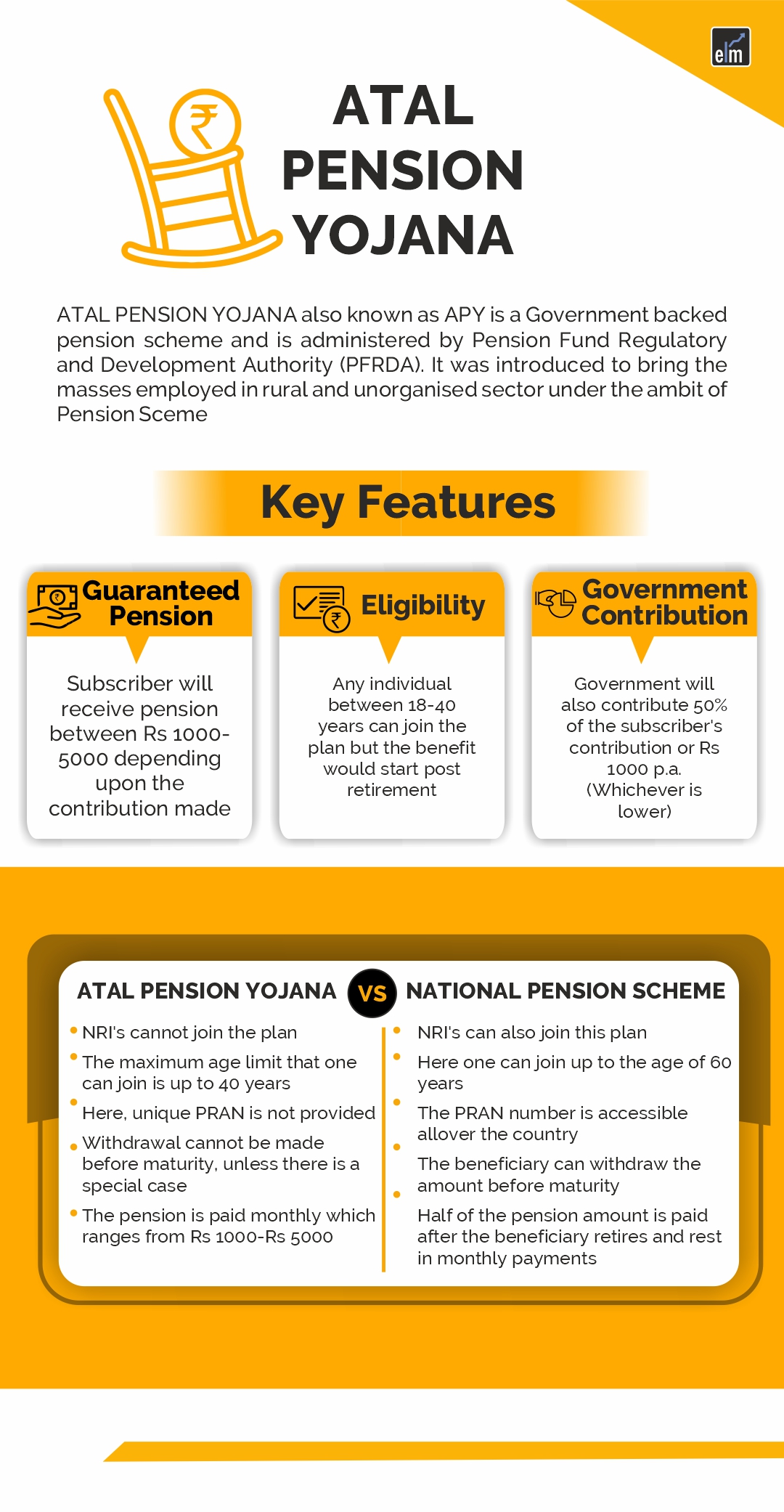 Features
The main features of Atal Pension Yojana are discussed below-
1. Guaranteed monthly pension– It offers a guaranteed monthly pension between Rs 1000-5000 to the subscriber post-retirement, depending upon the contribution you made.
2. Eligibility– This scheme is open to all Indian citizens with savings bank accounts.
Any individual between 18-40 years can join the plan, and the benefit would start post-retirement.
Hence, the minimum period of contribution under this scheme is 20 years or more.
3. Government's contribution– The central government will also contribute 50% of the subscriber's contribution or Rs 1000 p.a. (whichever is lower).
However, the contribution made by the government is restricted to those who are not income taxpayers and are not covered by any Statutory Social security Scheme.
Benefits
This program aims to provide security to retirees and also instils a habit of savings and investments among the poor masses of our country.
The government's decision to contribute 50% of the contribution or Rs 1000 (whichever is higher) for a period of five years; will benefit the poorest section of the society in a great way.
Atal Pension Yojana Calculator
You can calculate your pension received from this scheme easily by just inputting two values-.
1. Desired Monthly Pension after Retirement
2. Age should be between 18 to 39- when you want to start investing.
By entering these two values, you will get to know how much you need to contribute per month, as shown below: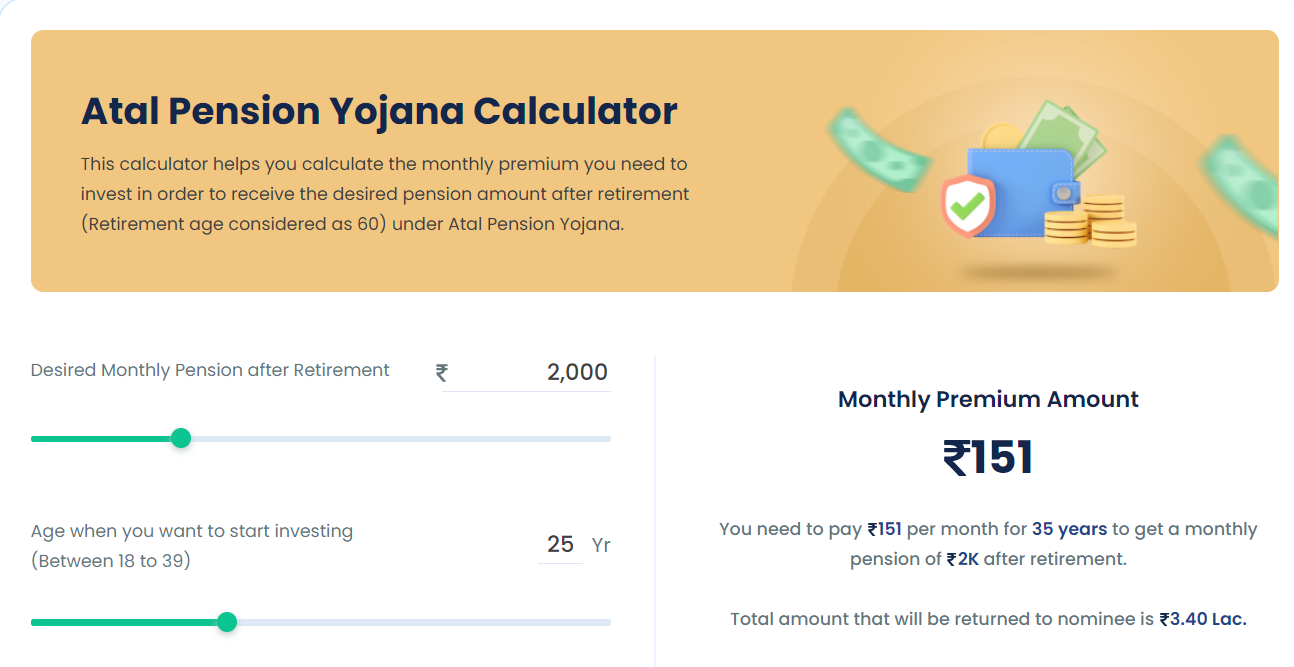 Enrolment process
You have to fill out an authorization form and submit it to the bank. The form will require details like your account number, nominee details, and approval for auto-debit of the contribution amount.
You can download the form here. The forms are available in various languages, including Hindi, English, Bangla, Kannada, Marathi, Gujarati, Tamil, Odiaa and Telugu.
However, make sure that there is sufficient balance in the account every month. Otherwise, you will be imposed with a monthly fine.
Recent developments
The government has planned to expand the benefit of the scheme through Post Offices, selected Payment Banks (11 as of now)and Small Finance Banks(10 as of now) in order to bring more people under its coverage.
This decision is expected to benefit the people, especially in the rural areas.
How to exit the scheme?
An account holder, under normal circumstances, cannot exit the scheme before 60 years. The exit is only possible under special circumstances in case of the death of the beneficiary.
Bottomline
The government, through this scheme, wishes to make the unorganized labour force (which is about 85% of the total labour force) join the scheme and avail the benefits.
However, already around 1.10 crore people have registered for the scheme as of May 2018. So anyone who has attained the desired age and has an Aadhaar card along with a bank account can apply for the scheme.
Frequently Asked Questions (FAQs)
What is the scheme of Atal Pension Yojana?

How much money has to be deposited in Atal Pension Yojana?
You need an active mobile number, savings bank account, and Aadhar card in order to participate in the Atal Pension Yojana.

At what age does pension start?
Only senior people who are 60 years of age or older are eligible for benefits under the National Old Age Pension Scheme. The Old Age Pension Scheme applicant must be a member of a family that makes less than the federal poverty threshold (BPL).