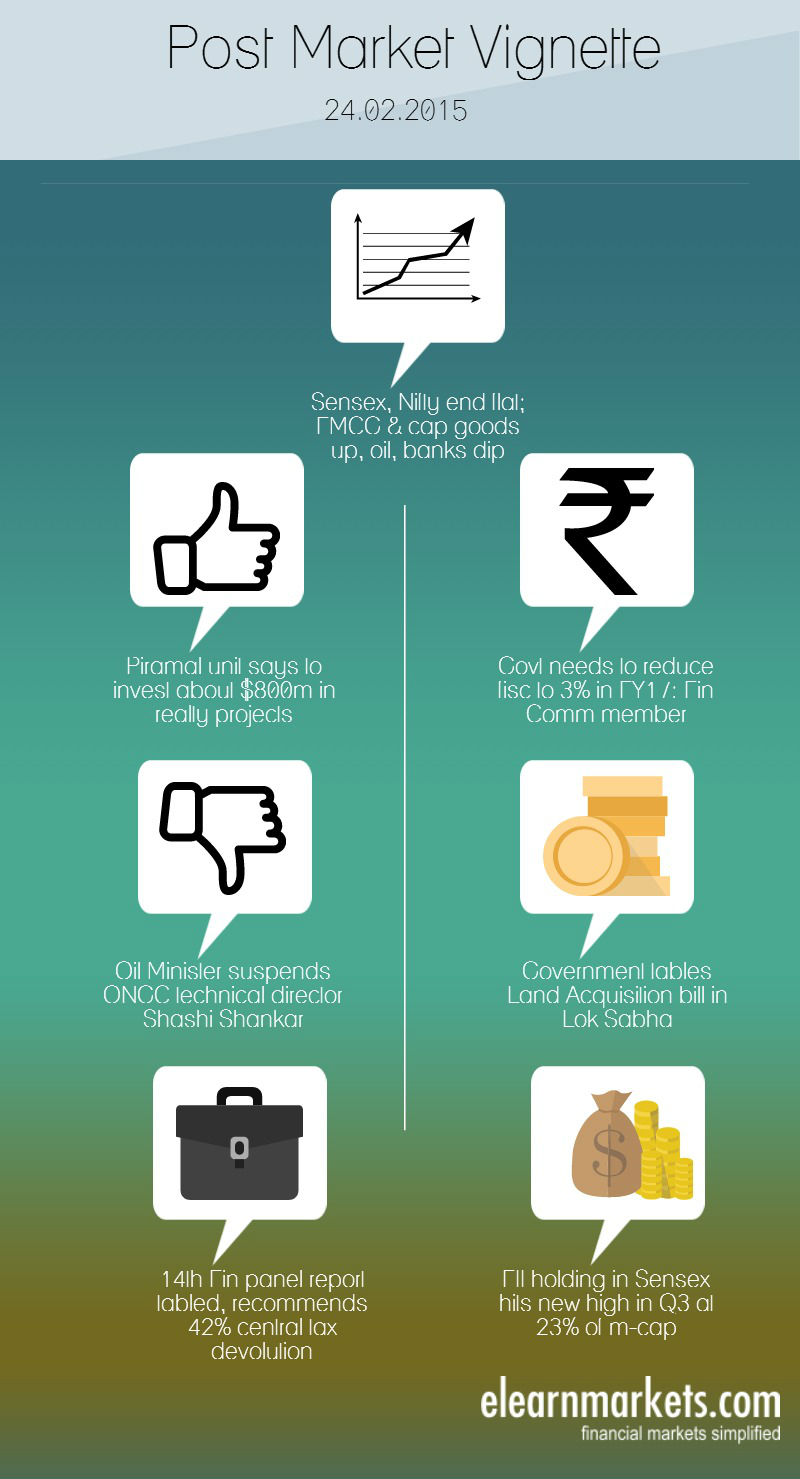 Lets visualize the post market vignette in the article and get a complete picture of the stock market trend
Under post market vignette we witness that the market was in a completely confused tone today as there was neither major upside or downside. Since yesterday after a fall of about 75 points on the downside, the Nifty appeared to be consolidating around yesterday's close of 8750.00. The Nifty closed at 8762 (up 7.15 points) as it made a high of 8800 and a low of 8726. The immediate support for Nifty can be seen at 8500 while the resistance is at 9000.
Among the sectors, CNX FMCG (1.5%) was the biggest gainer today followed by CNX MEDIA (1.27%). CNX METAL (-1.25%) followed by CNX ENERGY (-0.95%) were the biggest losers.  The market breadth was in a mixed mood  today with 27 advances and 23 declines.
Among the prominent stocks, JINDALSTEEL fell about 5% today along with CAIRN (3.6%), SSLT (3.5%) followed by Bank of Baroda and ONGC as the other laggards. The Nifty gainers were Hindustan Unilever (3.18%), Kotakbank (2.6%) and ZEEL (2.48%).
The markets seem to be getting cautious ahead of the upcoming budget announcements by the end of this week. With big changes expected from the new government, the market is maintaining a neutral stance before the much sought-out trading day by the end of this week.
Post market vignette is an important factor to get a clear picture of the stock market and avoid any high risks while investing.
BOTTOMLINE
Visit our webpage www.stockedge.com for daily market updates.
Interested in Financial Markets? Learn all basics, premium and free courses from Elearnmarkets, including live and recorded lectures and also get to attend webinars and face-to-face interactions with Market Experts. To visit click here.