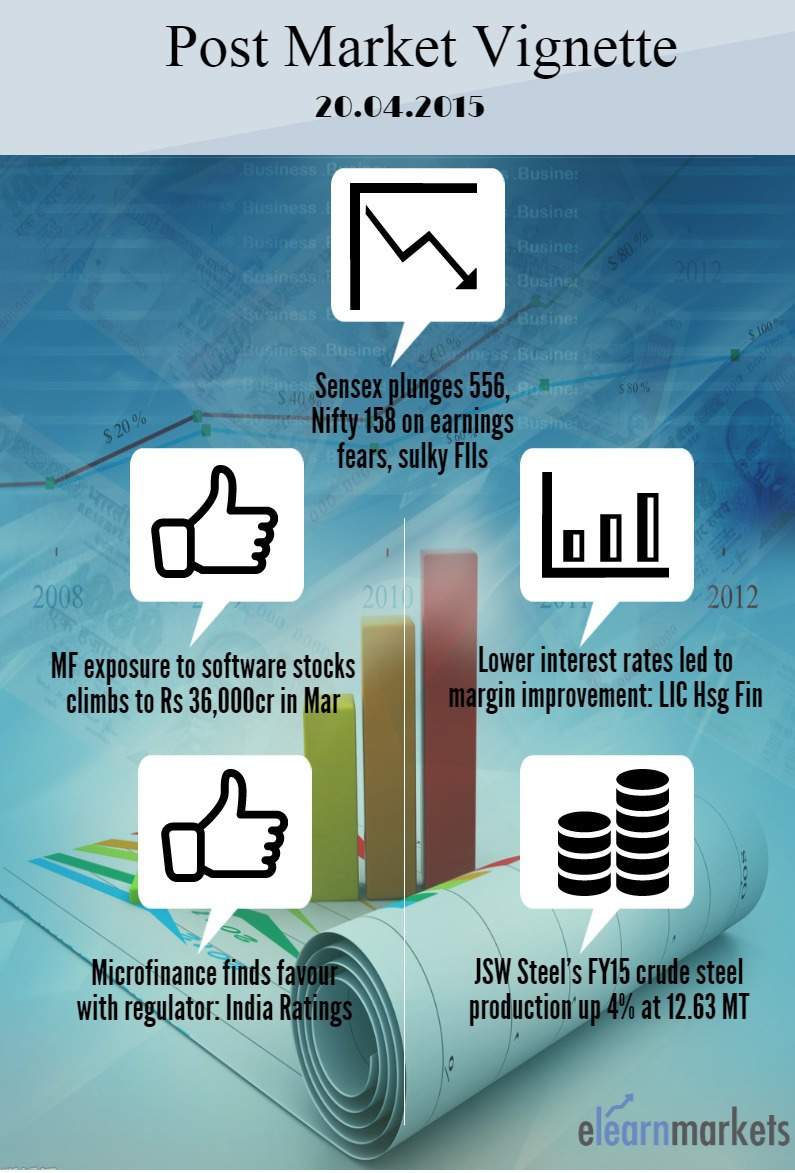 Post Market Round-up 20.04.2015
The market bled today throughout the trading session due to weak global cues, disappointing results of companies and a weaker rupee. Nifty opened today at 8619 (+13) and fell as low as 8422.75 to finally close at 8444.15 (-1.88%). Its current support is at 8444 while its resistance is at 9000. The rupee was at a one month low at 62.86.
Among the sectors, there were no gainers today.The highest losers today were CNX FMCG (-2.87%), CNX REALTY (-2.75%), CNX ENERGY (-2.73%) and CNX MEDIA (-2.46%). The reason for the fall of the FMGC sector was mostly due to the massive fall in BRITANNIA of -144.95 (-6.31%). Its current support is at 2100 while its resistance is at 2360. The fall of realty sector is due to the fall of HDIL (-8.80%). Its current support is at 100 while its resistance is at 140.
Among the prominent stocks, the highest gainer today was LUPIN(+1.24%) followed by BANKBARODA(+1.24%), ACC(+0.55%), BPCL(+0.55%), and ICICIBANK(+0.48%). The stocks which fell the most today was NMDC(-5.35%), RELIANCE(-4.65%), HEROMOTOCO(3.96%), and HDFC(3.82%). LUPIN was trading today with a high of 1819.5 and a low of 1750 to finally close at 1792. Its current support is at 1700 while resistance is at 2100.
Lower expectation of the upcoming earning reports can lead to further correction in the markets in the next few sessions. The market sentiment was very bearish today with only 8 Advances and 42 Declines.