This article is about the basics of portfolio diversification. If you want to get a more comprehensive idea of portfolio diversification. People may have huge resources at their disposal deployed in a particular asset class.
For Example, Mr. Alex had a huge amount of funds which he decided to invest only in real estate.
Accordingly, he pooled a large amount of funs in the real estate market.
In a couple of years, he gained multiple amounts of returns from the investment made and therefore continued to invest in that particular asset class.
He was contended without diversifying his portfolio.
What if that particular asset class suddenly starts showing a bad result?
What if the market does not respond well to that asset class?
What if Mr. Alex had a cash crunch and liquidity becomes an issue?
Like Mr. Alex, there are several investors who are unwilling or are not aware of the benefits of portfolio diversification.
To resolve all the above-mentioned queries and to make the investors understand the concept of portfolio diversification, we bring you this blog.
It will help you to understand the ways to invest in a diversified portfolio and enjoy the benefits from the same.
What is Portfolio diversification?
Portfolio diversification means deployment of your funds/resources into multiple asset classes/ securities with the objective of reducing the quantum of risk and to prevent the impairment of the entire portfolio due to bad performance of a particular asset class/ securities, country or industry.
Before we proceed to understand the strategies of portfolio diversification, let us take an example to understand the situation of a person having a diversified portfolio and the other focussed on a particular asset class.
Mr. Ram Kapur has a huge amount of funds, out of which the maximum amount is invested in a property purchased in Pune.
A nominal amount is invested in stocks.
Suddenly Mr. Kapur is cash-crunched and requires funds as early as possible.
However, due to the illiquid nature of the property, the cash amount is not readily available.
Hence, the money is blocked for the time being. The money invested in stocks is not sufficient enough to meet the requirement.
Apart from this, there can be several other factors, say natural calamities, foreign market fluctuations, government regulations that may affect the prices of the property and may lead to the sudden downfall. Mr. Kapur has not considered risk, liquidity, and other related factors into consideration before allocating maximum fund to purchasing of the property.
In this situation, portfolio diversification plays a vital role. Had Mr. Kapur channelized funds into more than one asset class say, mutual funds, shares, commodities etc, and balanced the profile of assets included the risk element would have been balanced and the cash crunch could have been met.
Essentials of portfolio diversification:
The major factors to be considered while considering for portfolio diversification are as follows:
Risk
Liquidity
Maturity
Fund structure
Availability of resources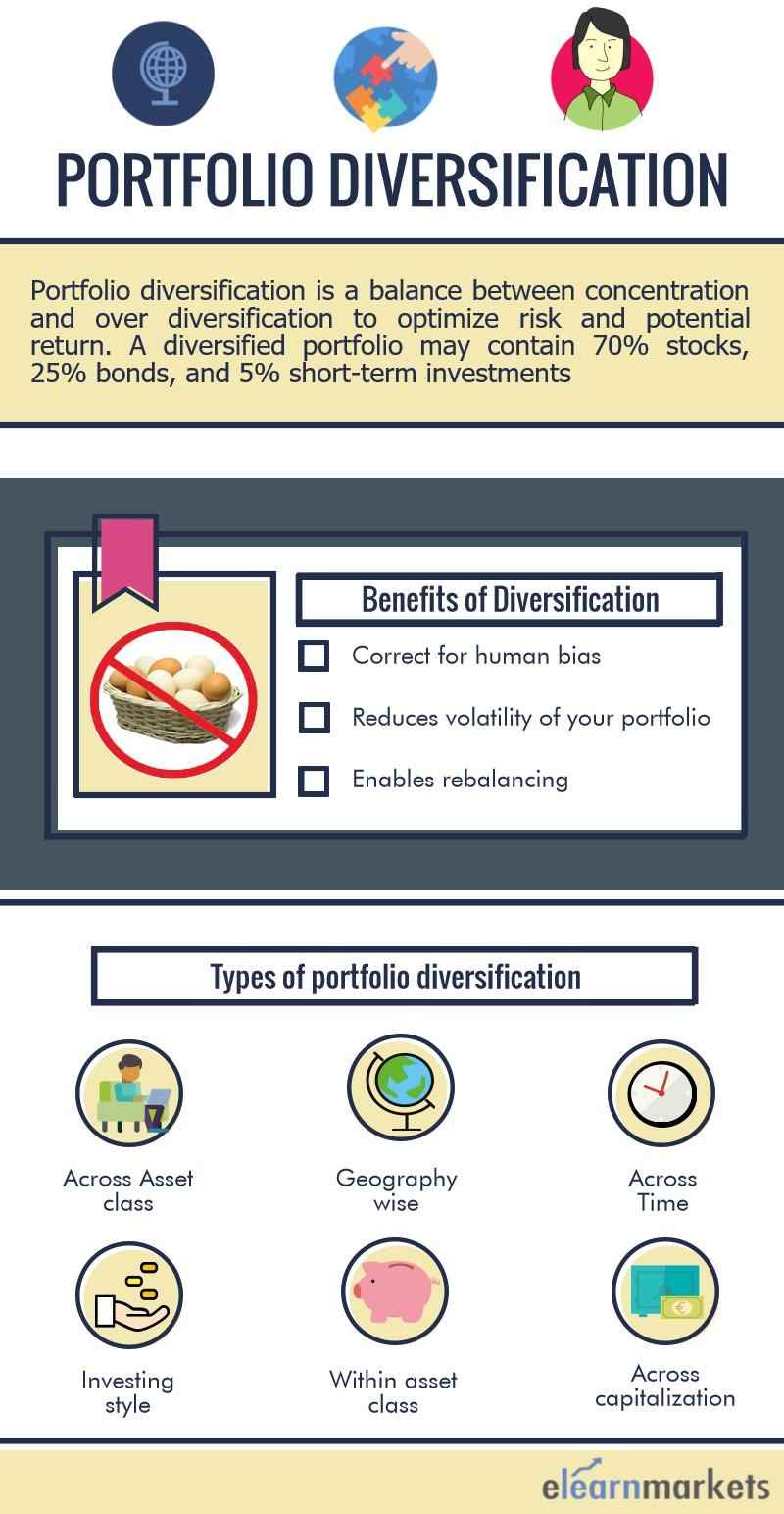 Types of Portfolio Diversification:
The types of portfolio diversification are based on the following criteria's:
Based on Asset Class:
Portfolio diversification herein implies allocating your funds into more than one asset class such as mutual funds, stocks, real estate, debt market, commodities such as silver, gold, fixed deposits, recurring deposits etc.
This kind of diversification allows you to balance your portfolio and combat from the risk of failure of a particular asset class.
Of course, you may do your own research and allocate substantial funds to the asset class which you may find to be sufficient in terms of returns.
Also, you may rejig the entire portfolio or the investment in asset classes depending on the market conditions and other related factors.
Another way to invests funds based on asset class is to invest in different company or instrument of that particular asset class and diversify a portfolio in this manner.
For example, you may have Rs. 20 lacs at your disposal and you do not want to take a risk by investing in stocks or equities.
You can invest the entire amount in fixed deposit with one bank say, HDFC Bank or may opt to invest the amount in proportions in fixed deposits of different banks say with Axis Bank, IDBI Bank, Standard Chartered Bank, ICICI Bank, Kotak Bank or HDFC Bank, depending upon the interest rates, maturity etc.
Or you may invest in mutual funds handled by the portfolio managers of different agencies or banks or institutions, keeping the underlying securities nature to be same.
Also Read: Portfolio diversification – do's and don'ts
This will allow the diversification aligned with the strategy of the fund managers and will give you a risk-balanced profile of investments.
Based on Location:
Geographic location also plays an important role in portfolio diversification.
You may invest into shares or securities of one or the many countries subject to the rules framed therein and earn the benefit of currency fluctuations.
You may also purchase property abroad.
Investing in stocks of other countries requires expertise and good knowledge about the foreign market. Thus, all those willing to diversify their portfolio under this strategy should gain sufficient knowledge of that particular countries market and price movement.
Note: The proportions given above in the diagram are merely indicative and do not suggest any pattern.
Based on Time:
Diversification is also substantiated by the maturity period of the investment pooled in the portfolio.
For example, you have taken a 10-year-old fixed deposit, in that case, what is most affected is the liquidity factor because your funds become blocked for that maturity period.
Of course, you may withdraw amount anytime before maturity but that will be subject to deduction of a charge and the amount that you will receive will be much less than the total amount to be received at the time of maturity.
On other hand investing in a fixed deposit of different maturity period say, 2, 3, or 5 or 10 years will give you diversification and you will not be hit by the liquidity factor.
Based on Investing Style:
An investor always has an option to invest in a diversified portfolio depending upon the style of investing.
An investor may be risk averse and invests in growth-oriented investment options or an investor may be open to speculation and choose those investments which are of alike nature.
Keeping a mixture of both gives bigger room for diversification as growth as well as speculation gives you a balanced portfolio mitigating the risk of damage to the portfolio as a whole.
Bottomline:
Investing reaps you returns; however, strategically investing in diversification fuels the growth pattern of investing and gives substantial returns.
An investor should always maintain a considerable diversification in the portfolio so as avoid any overall damage to the entire portfolio due to the bad performance of any particular stock/ security.
Further, one should always take the assistance/ advice of portfolio managers, agents, researchers, experts who are well equipped with the knowledge required in that field.
In this manner, through portfolio diversification and strategies involved, an investor will be able to derive maximum benefits with proper risk diversification.
In case of any questions, please write us back and also mention about other basic finance topics that you would like to know about.
In order to get the latest updates on Financial Markets visit Stockedge