Relationship Manager (RM/ RMs), in simple terms this word relates to the person managing relationships. Want to learn more about managing your investments and funds? Enroll in the NSE Academy Certified Financial Planning & Wealth Management course on Elearnmarkets.
As the designation sounds, so does it work.
Relationship managers are required to maintain the relationship between their clients and organization.
We all must be aware of the new coupon culture that has come out so well.
Often do we see advertisements highlighting – In the case of purchases worth Rs. 10000 or more get a coupon/ gift voucher worth Rs. 500 free.
Also, in the case of few merchants, when you give them a good deal of business, they assign you with one particular agent to take special care of your needs and you can always reach them with any help related therein.
Similarly, when your salary amount reaches a certain threshold limit or your net worth is of a certain amount, you are provided a special agent by the bank to attend you personally and resolve your queries. Such agents specifically allocated to you are Relationship managers.
Who is a relationship manager?
In case of banking service a relationship manager means a professional who is required to attend their clients as and when required. RMs are not only required to assist the clients with account details but are also required to assist them with financial advice. The focus of RMs is to generate more business to the organisation by rendering appropriate deliverables to the clients.
The relation between you and your RM:
A relationship manager is a banking personnel and is well aware of your account details.
He continuously scans your transaction details, deposits made, withdrawals done by you.
They also know about the investments made by you through the bank such as a fixed deposit or any term deposits made.
Mr. Narayan Sharma had a fixed deposit of Rs. 10 lacs, which was about to mature sometime soon.
He got a call from his relationship manager informing about the maturity of the fixed deposit and asking Mr. Sharma's plan on any future investment if any.
The RM provided details of other financial products that can be bought by Mr. Sharma post maturity of the fixed deposit.
When Mr. Sharma was not convinced and told the client relationship manager that he will be reinvesting in fixed deposit itself, the RM switched over to the idle cash lying in Mr. Sharma's bank account.
At times, it becomes really difficult for clients to avoid the relation managers convincing skills and fall into the trap for useless products.
At times, few purchases do give good returns but can be just by chance. Until you have funds, trust me, your RMs will never set you free.
The Do's and Don'ts:
In case you are convinced to buy a financial product offered by your relationship manager, do keep the following points in mind:
Don'ts:
Do not get carried away by the attractive features of the financial product. It is the RMs job to sell the product, but you are under no obligation to purchase it. Do listen to the product features, but always get convinced by your own research.
Do not sign any form or application before knowing about the terms and conditions offered by the financial product. Client relationship Managers may just give you the gist's of the products and may not provide you with the complete information. For example, A cigarette seller will never tell you that smoking cigarette is injurious to your health. It is you to decide whether you want to purchase it or not. The seller will obviously show you the best brands to purchase. But on the packet, you will always find it written that smoking is injurious to health. Similarly, an RM will never tell you about the negativity of the product, it is your duty to read the terms and conditions carefully before injuring your pocket.
Do not provide any details about the investments made by you that have not been routed through him. They may try to mold your thinking pattern otherwise and convince you to buy the similar or near to similar product offered by their bank instead.
Do not get convinced about the "shiny offers" having the limited period. These are just to trap you to purchase the product since the RM needs to fulfill their targets. Be careful with these offers.
Do's:
In case you are convinced to purchase a financial product, always make sure that all the necessary papers pertaining to that investment are documented well by you. You cannot stay depended on your RM for documentation. In case you are not satisfied with the product or the features are not similar to those illustrated by the RM, you can always lodge the complaint against your RM, basis the proofs available to you.
Always read the documents before signing any papers provided by the RM. Also, be sure about the authenticity of the documents provided to you.
Do a proper research and also compare the product's features with those taken by your colleagues and friends if any. Discuss the current trends and progress and then go for the option provided to you.
Innumerable products are available in the market, but the RMs pitch in for those products which will loosen your bank account. Be sure to make a wise decision and do not get carried away by the product features unnecessarily. Purchase it only if you require. Because once you purchase a particular financial product, it becomes difficult for you to redeem it. And yes, it's a tiresome process.
I assume that most of us are frequent users of online services.
We also know that it is easy to purchase a product online but when you need to return the same product, it may take days.
Not only this, when you pay the price, it takes a minute, but the refund process takes days as well.
Mr. Shah bought an annuity plan on the client relationship managers advice.
But soon it turned out to be his mistake, as he already had other similar plans which fetched a better return.
When he asked his RM to cancel the purchase, the RM told Mr. Shah that he may end up in losing the premium amount already paid by him.
Irrespective of this, Mr, Shah lodged the complaint to senior authority and got the plan canceled.
He also got the refund back after a month.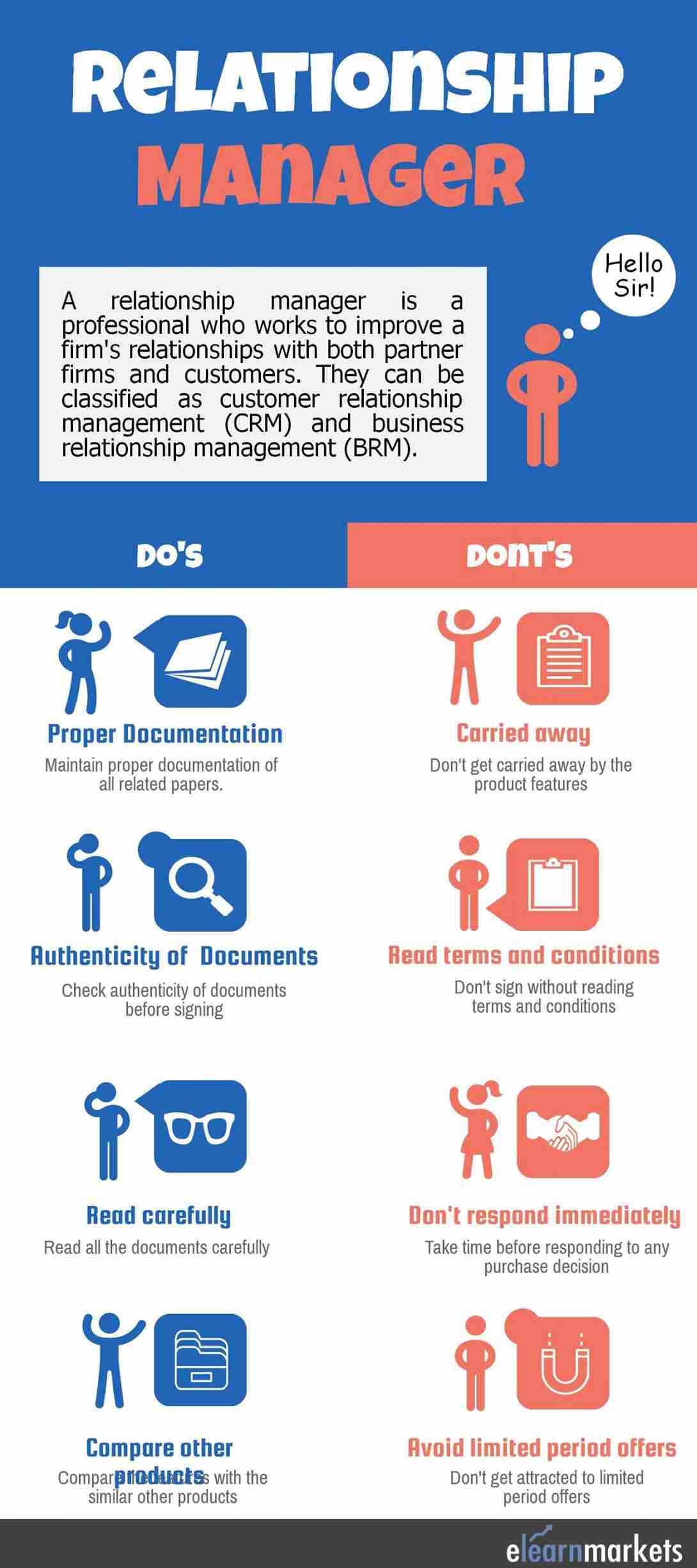 But this wasn't fair. Isn't it?
Bottomline:
The client relationship managers are no doubt blessing in disguise.
At times, they are really helpful in resolving our queries, on the other times, their calls can get annoying as well.
Always remember that they are doing their job and will continue to do so.
You need to keep your calm and take a wise decision based on your wit and not their convincing skills.
You can learn more about the services provided by the relationship manager in Certified Market Professional course by Kredent Academy.
In the case of any questions, please write us back and also mention about other basic finance topics that you would like to know about.
Please visit our site to read more about the related articles on our blog and follow us on youtube via our channel.
Happy Learning!!