Nifty (weekly close approx. 10452.30):
This week Nifty was very range bound. After volatile previous week, which saw Dow Jones Future plunging close to 23000 and all the global indices falling in panic, this week was like a dream for global market as most of the global markets recovered close to half of the lost ground. However, Nifty, which was an outperformer during last week's global rout, was a laggard among relentless global rally of this week. The disturbing news about PNB which hit the market on 14th February seem to have broken the heart of Nifty bulls and consequently they gave in all the advances market was trying to make and closed close to the low of the week due to a Friday sell-off.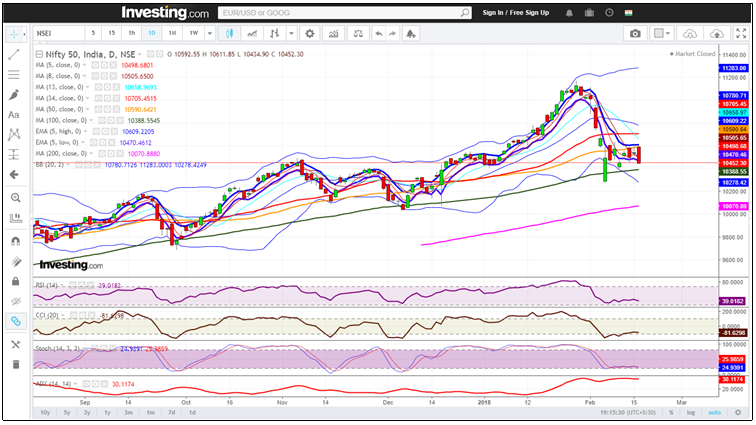 Figure: Daily Chart
The daily RSI, CCI and Slow Stochastic indicators are close to the oversold territory, while the daily ADX has picked up momentum. This indicates a fairly bearish sentiment so far. The daily close was below most medium term Moving Average, but above 100 day SMA. The hourly momentum indicators are either in oversold zone or close to the oversold zone; however the hourly ADX is tepid. This reinforces the way the market has been over the past week, very volatile, within a tight range of 10400-10630. However, due to PNB news Bears seem to have won the battle this week and the Nifty closed at lower end during the week. The interesting point to note is that the weekly low was just close to 20 Week Moving Average.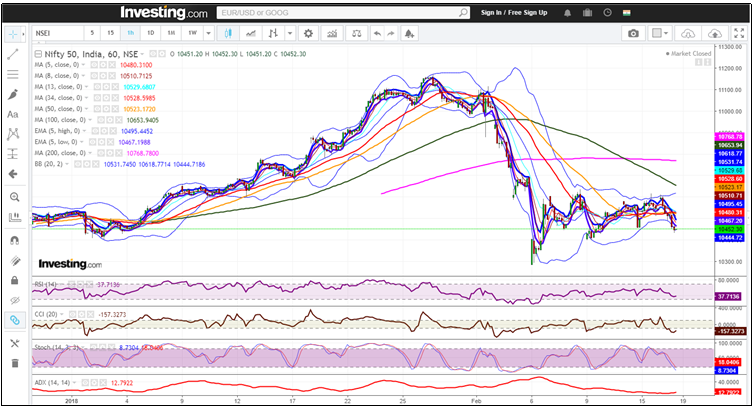 Figure: Hourly Chart
Technical possibilities for upcoming week:
The next week's move in Nifty will depend on both the global and domestic news flows, especially in the context of the PNB news. Technically speaking, a break below 10400 should open downside possibilities for Nifty with 10277 and the 200 DMA. However, a move above 10500 should prolong Nifty's consolidation within the 10400-10650 zones. Any decisive move above 10650 only would confirm any upside possibility for Nifty. This is expiry week too and US market is closed on Monday. Hence volatility may remain at elevated level due to the uncertainty in both domestic and global front.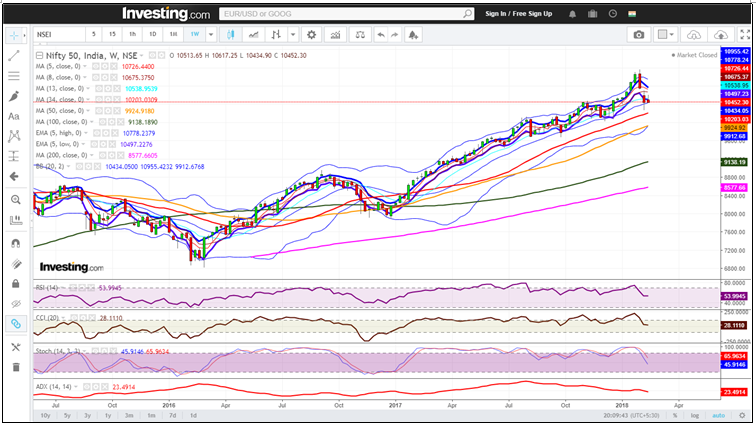 Figure: Weekly Chart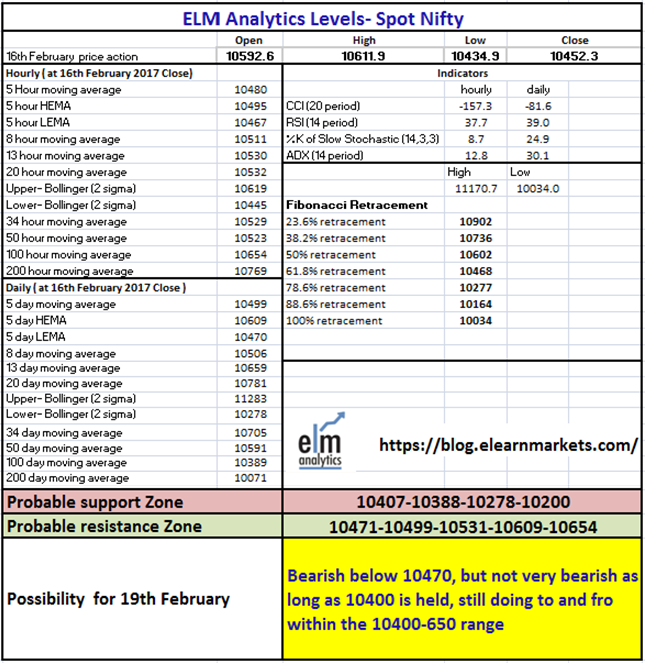 Figure: ELM Nifty level Matrix 19th Feb
We are including the ELM level matrix for Nifty for Monday 19th February for your reference.