Nifty close 11010: The index closes above 11000 level. In the last week Nifty gave a very bullish move and crossed 11000 level with high momentum. But this week has been different for the index, company results and fall in Indian rupee makes the market indecisive. However, closings above 11000 suggest that the momentum and Bullish sentiment is still intact in the market.
Hourly Technical: From the Nifty hourly chart we can draw that the market is going to trade flat for next few trading sessions. Crossing 11040 mark may attract the bull again and we may witness the bullish trend continuation.
Major moving average lines are below the price, so there is less chance for a sudden down trend unless Nifty breaches 10950 level.
In the hourly chart most of the indicators are trading flat. RSI is below 60, Stochastic is in the normal zone (presently at approx. 79), ADX is above below 15 (presently at approx. 11), CCI is above 100 but slopping downward.
Overall the indicators are suggesting a range bound movement for the Index.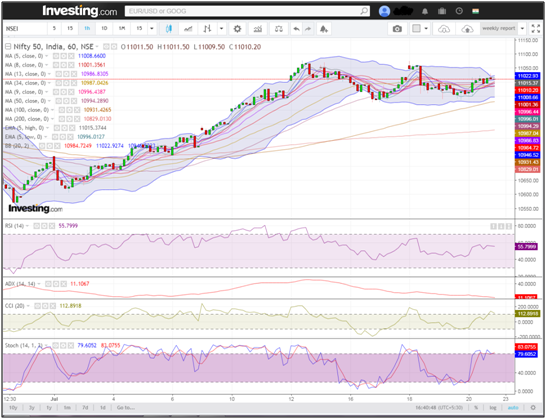 (Hourly chart)
Daily Technical:
Nifty has been range bound for this week. Last week Nifty closed above the Bollinger band, this could be a reason that the price is correcting itself.
However, Today's closed is within the band and the mid Bollinger line (presently at approx. 10841.95) is still below the price. So, there is a less chance for the index to fall below that level.
Indicators are still in the bullish zone. RSI is above 60 level, Stochastic is above 80 and slopping upward, ADX is above 20 and slopping upward, CCI has entered into its normal zone (presently at approx. 80) but slopping upward.
Overall, the bullish sentiment is still intact but we may witness short term side wise movement in the index.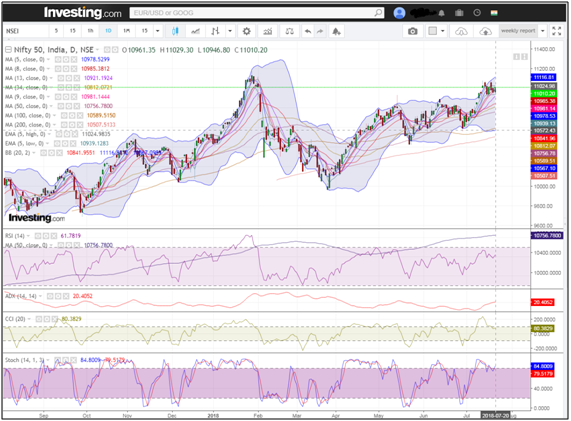 (Daily chart)
Weekly Technical:
In the weekly chart Nifty has a made a Doji candle and another important factor is the candle is made within previous candle's range. Because of this inside candle we can expect a move from the index.
The price action suggesting that trend is pretty strong. Moving averages are below the price which will act as a short term resistance. 11200 level and the upper Bollinger line (presently at approx. 11151) will act as a resistance in case of an up move.
From the chart we can say the sentiment is in the positive territory. Indicator RSI is above 60, Stochastic is in the overbought level, ADX is above 15 and slopping upward, and CCI is above 120 level.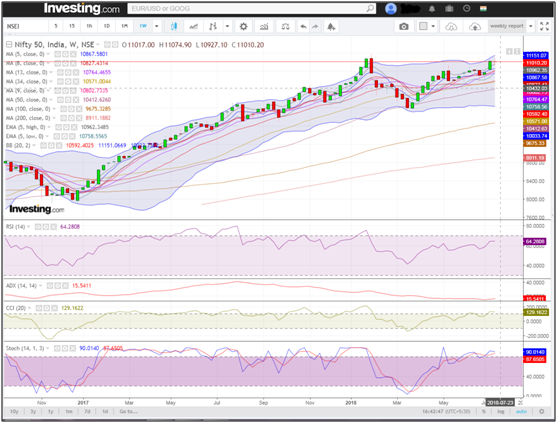 (Weekly chart)
You can use stockedge app to get cutting edge over others in both short term trading and investing. Here you not only get data at one particular place but can also create your own combination scans based on your own technical and fundamental parameter. See the video below to know about various features in Stockedge app.