Nifty (weekly close approx. 10760.6):
This week Nifty started bullish on the back of budget euphoria on Monday. But as the week progressed, significant global correction set the bearish tone and Nifty started falling in run-up to budget. The reintroduction of Long term capital gain tax in budget unnerved few market players and there were worries on the fiscal mathematics in the upcoming financial year. Hence the bond yield in G-Sec rose to close to 7.6% in India and rising bond yields in USA triggered risk-off trade across globe. Finally, Nifty closed c.256 points down on Friday in sync with a global correction that saw 4-5% shaved-off in most major global markets.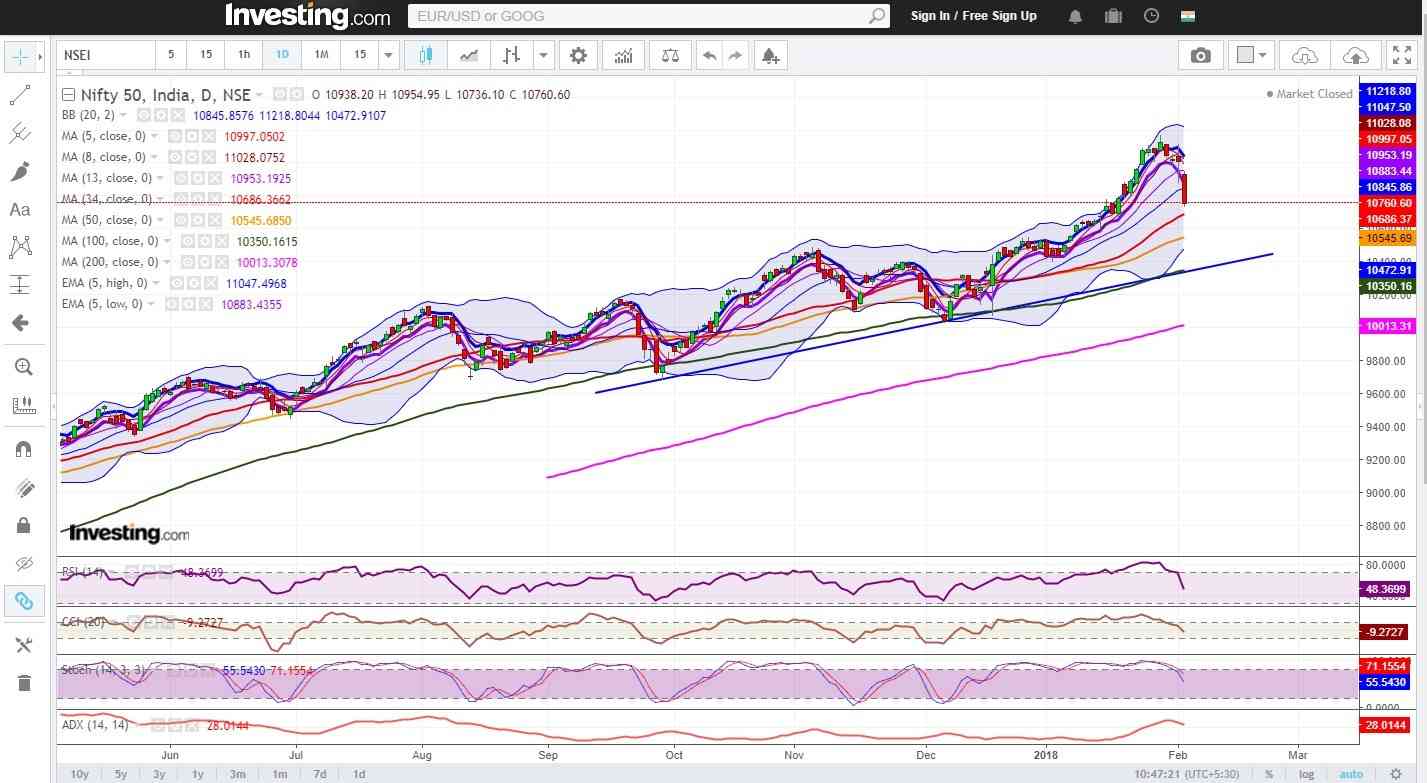 Figure: Daily Chart
The daily CCI, RSI, Slow Stochastic have entered into the normal zone from overbought zone indicating a shift of sentiment. Nifty has seen a significant correction but the picture is more acute in the cases of mid and small-cap stocks. This may continue for some more time. Technically speaking 5 day low EMA is very crucial level going forward. Any close above 5 day low EMA will be the first sign of the correction halting for the time being. A close above 5 days high EMA would mean the uptrend resuming after this dramatic correction. But, such bullish possibilities remain absent under present market set-up.
In the hourly chart, Nifty is clearly bearish and will remain so as long as Nifty stays below 20 hours moving average. The hourly CCI, RSI, Slow Stochastic all are firmly in oversold zone, which indicates continued bearish momentum.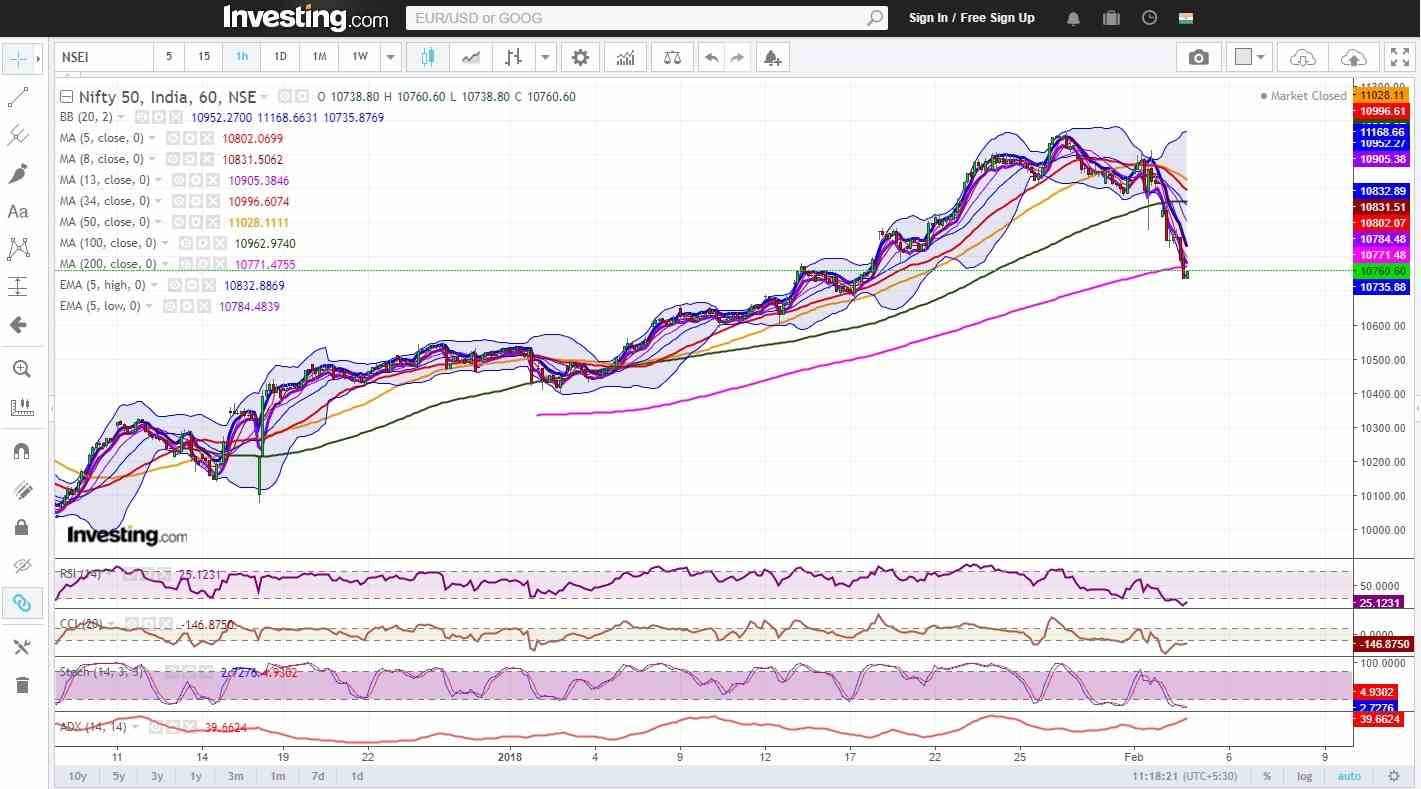 Figure: Hourly Chart
Technical possibilities for upcoming week:
Nifty formed a bearish engulfing pattern in the weekly chart. Earlier too Nifty formed such bearish weekly candles in this up-move but had shrugged off the sentiment after 1-2 weeks. But this time things may be different as Nifty faces the challenges of higher crude oil prices, higher global bond yields, global risk-off and domestic sell-off due to effects of the long-term capital gain tax. If bearish momentum continues, Nifty may choose to revisit 10400 -10500 zone in the coming week.
Become a Technical Analyst Expert? Enroll in: NSE Academy Certified Technical Analysis course on Elearnmarkets.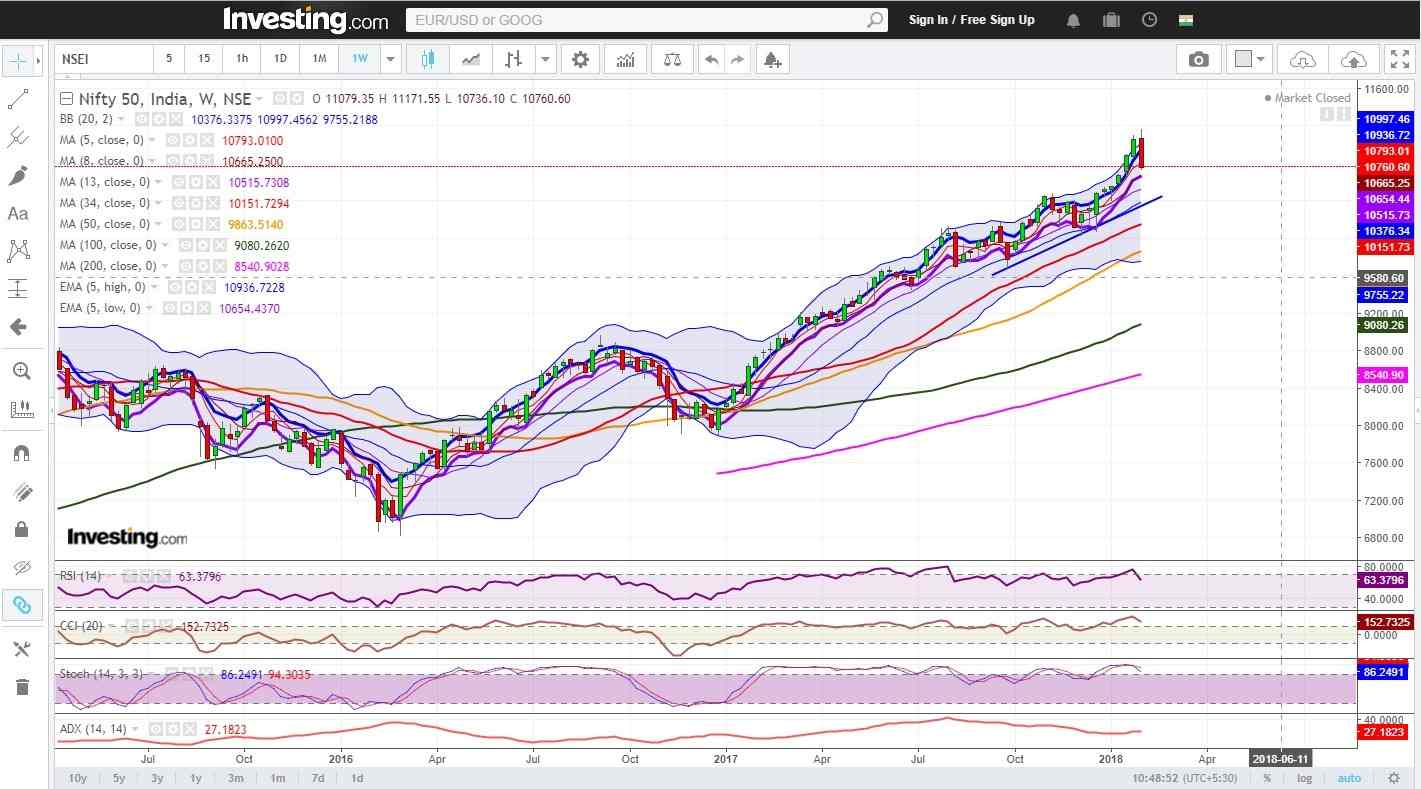 Figure: Weekly Chart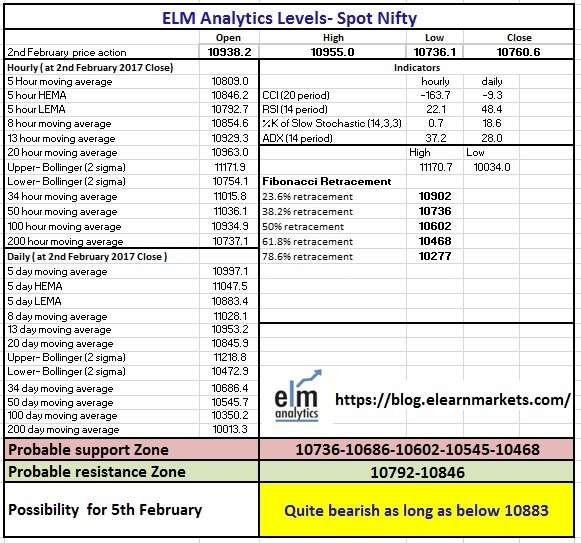 Figure: ELM Nifty level Matrix 5th Feb
We are including the ELM level matrix for Nifty for Monday 5th February for your reference.
To know how to analyze the above matrix, you can watch the video below: