Nifty close 11470.75: After a little correction nifty again back to its lifetime high (presently at approx..11459.95). This week Nifty has been range boundfor the index. Monday nifty gave a gap down opening of 50 points (approximate) which made the bull run a pause. But today's trading session bring the index back near its life time high.
As the price action suggesting this is just a consolidation phase and bullishness is still intact in the market. There could be some more consolidated trading sessions due to few resistance levels but there is very less chance for the index to go down.
Hourly Technical: Hourly technical suggesting little correction may take place but there is very less chance for any downside because of the Support levels. However, Bullishness may continue once it closes above 11480 level.
Let's discuss the indicators, RSI is below level 60, Stochastic is in the overbought level, ADX is at approximately 15 level and CCI is just below 100 level (presently at approx.87.40).
So overall, Bullishness is still intact in the market but consolidation is expected. For any downside 11350 level would be support for the index and for resistance last swing high (approx..11495.20) and upper line of the Bollinger Band (presently at approx. 11577) may react.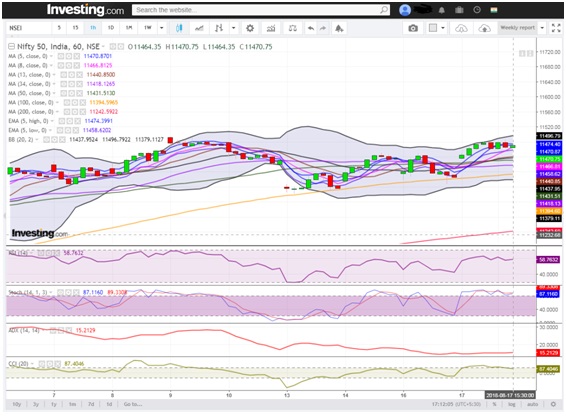 (Hourly chart)
Daily Technical: In the daily chart of Nifty we can observe that the index has closed above the 5EMA (high) which is very positive sign. But resistance level is just above recent price which 11500 level this level is a psychological as well as a technical level. Price closing above this level may attract the bulls again.
Indicator RSI is above 60, Stochastic is above its 90 level (presently at approx.. 90.60), ADX is just below 40 level but slopping down and CCI is above 90.
So indicators are telling the same story. Bullishness is intact but in the short term there could be a chance of consolidation or little correction.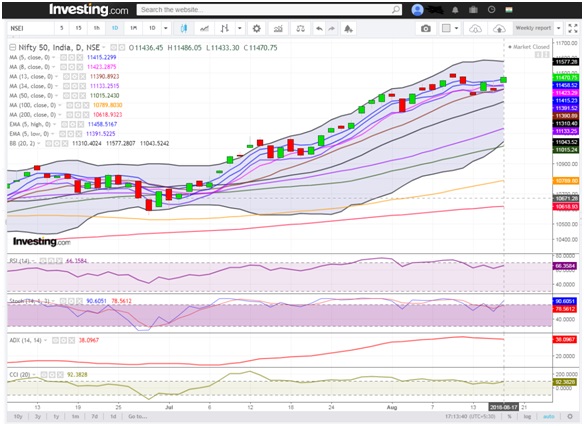 (Daily chart)
Weekly Technical: In the weekly chart as we can see there is no sign of shortfall or correction so in the long run we can expect that the index is very much bullish.
Price is above all the MA lines so in case of downfall there will be huge support for the index. For any upside 11500 going to be the next resistance level for the index. But if it made a close above 11500 level the bull run may start again.
Let's explore the indicator, RSI is above 70, Stochastic is above 95, ADX is above 20 and CCI is above 160 level but slopping down.
So overall the sentiment is bullish but a correction may take place and very less chance of downfall.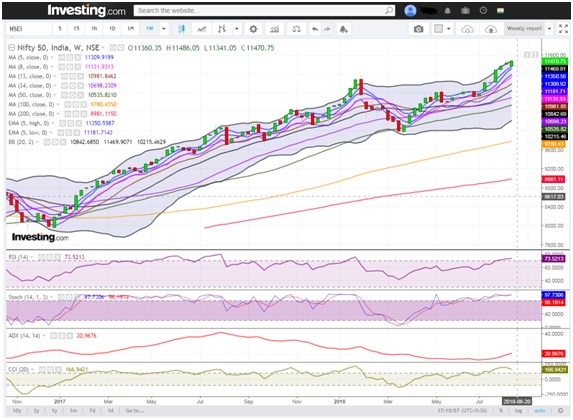 (Weekly chart)
You can use stockedge app to get cutting edge over others in both short term trading and investing. Here you not only get data at one particular place but can also create your own combination scans based on your own technical and fundamental parameter. See the video below to know about various features in Stockedge app.