Nifty close 11278.35: Nifty trading at its record high. Most of the heavy weight companies' quarterly result has been positive, except this FIIs has also shown positive approach by investing a lump sum amount in the Indian Equity market.
Momentum is favourable for the index and more side can be expected from the index.
However, 10350 to 10500 zone is going to be very important for the index. According Fibonacci retracement line 10350 (approx.) and psychological level 11500 might act as a resistance. Closest support level for the index would be 11100.
Hourly Technical: In the hourly chart Nifty is above all the moving Average lines. Index is slowly rising and the last candle has been formed within the range of the previous candle. So it is inside candle formation and because of this we may expect a gap up opening for Monday.
Indicators are very bullish, but some of them has gone extreme overbought level. So there is chance for little correction as well.
RSI is above 79, Stochastic is at 97 (approx.), ADX is 39 and CCI is above 100 but sloping down.
Overall most of the indicators are showing positive, momentum is supper supportive so we can expect more up move from the index but there is an also chance for little correction.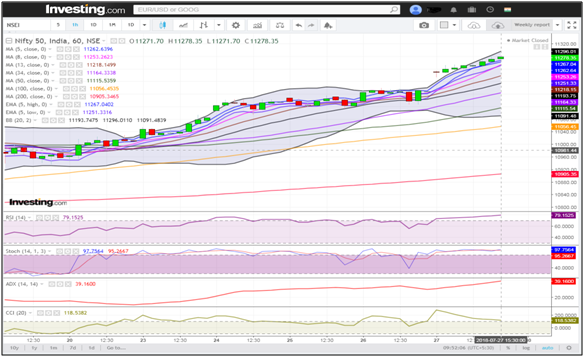 (Hourly chart)
Daily Technical:
Daily technical shows that the index started with a gap up opening and rallied upward direction. The candle is long enough to suggest that the bulls are pretty confident about their position.
Indicators and Moving Average lines are also in the positive zone.
RSI is above 73, Stochastic is in the level 99 (approx.), ADX is at 28 and CCI is above 150. So we can easily understand that the momentum as well as the strength of the index is total in the bull's favour.
In case of resistance 11350 is a Fibonacci level which will act as a short term resistance and psychological level 11500 will also act as a strong resistance. There is also a chance for the index to fill the gap which is made on Friday's trading session, in case of any downside 11100 will act as a support.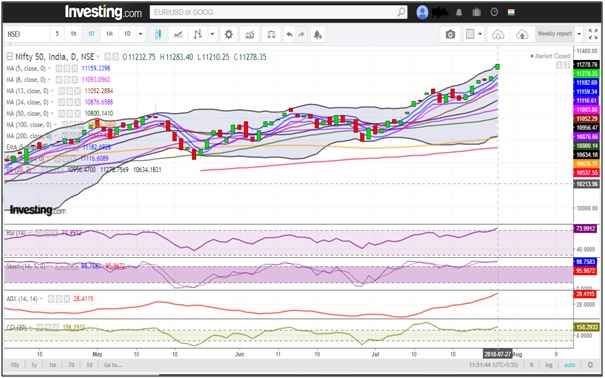 (Daily Chart)
Weekly Technical:
From the weekly chart we can say a bull run has just started and more upside may come soon. In the next trading session if the latest candle's high is broken we may witness another long bullish candle. However, the latest candle close is above the Bollinger band so there is chance for little correction. In case of any down side previous swing high will act as a support.
Indicators are in the positive territory. RSI has crossed its 70 level, Stochastic is in the overbought level (presently at approx. 99.59), ADX is shaping up and just crossed its level 15, CCI is above 170.
Overall, Bulls are totally in control but little correction is expected and very less chance for any downside.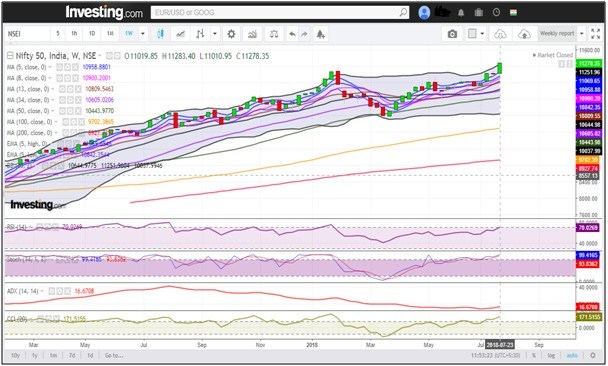 (Weekly Chart)
You can use stockedge app to get cutting edge over others in both short term trading and investing. Here you not only get data at one particular place but can also create your own combination scans based on your own technical and fundamental parameter. See the video below to know about various features in Stockedge app.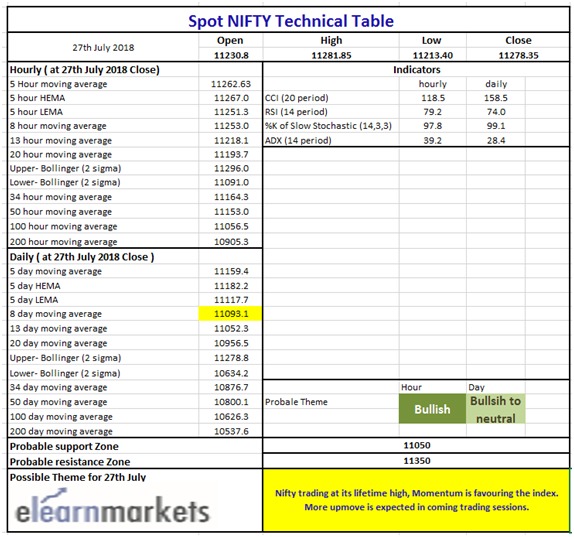 (Tech Tble)