Nifty close 11522.70: Last week we have witnessed nearly 500 points correction in the benchmark index. But in the Friday's trading session the index manages to give a close above 11500 which is very good sign for the index.
Depreciation in Rupees and other factor related to trade warwere the reason for this 500 points correction but rupee also appreciated in the last trading session. It can be expected that the correction likely to stop and the index is going to consolidate for the next trading sessions.
Hourly Technical: In the Hourly chart, the index is trading above most of its MA lines but important thing is that 100 MA and 200MA lines are still above the price. So for the next trading session they are going to act as a resistance.
Let's look at the indicators, RSI is above 65, Stochastic is at its overbought level (approx. 97), ADX is above 20 and the CCI is above 110.
So over all the short term up trend may continue but there is chance for the index to take halt.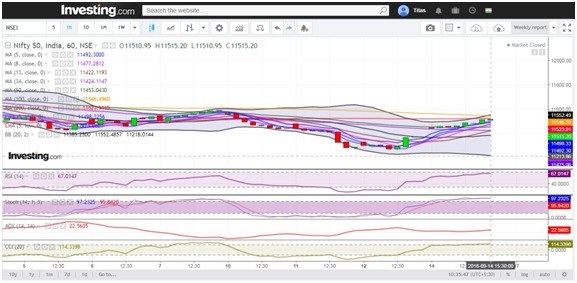 (Hourly chart)
Daily Technical: In the daily chart of Nifty we can see there is a bullish candlestick formation on Thursday and on Friday Nifty gave a gap up opening. This is a positive sign for the market. But, Nifty is still below the Mid Bollinger line, and this line is going to act as a resistance.
Let's have a look at the indicators, RSI is above 50, Stochastic is above 50, ADX is below 30 and the CCI is at -42 level (approx.).
So overall there is not too much support from momentum and Strength index to push the market higher, we may expect consolidation for next trading sessions.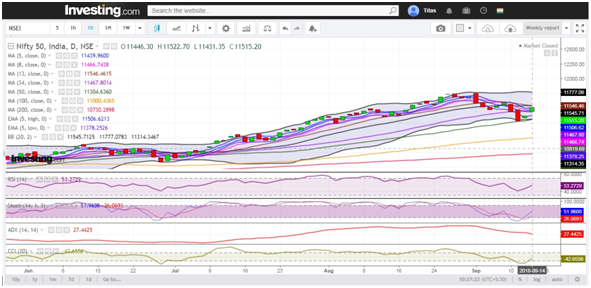 (Daily chart)
Weekly Technical: In the weekly chart Nifty has formed a hammer candle and it has taken support from the 13 MA lines. So in the longer time frame it is nothing but a small correction and Nifty is still very much bullish in the weekly time frame.
Indicators are cooling down. RSI is below 70, Stochastic is just below 80 and sloping down, ADX is below 25 and CCI is in its normal zone (approx. 81.47).
So Indicators are still in the bullish zone and the Nifty is very much bullish in the long run. But seeing the position of the indicator we are expecting little consolidation for next week.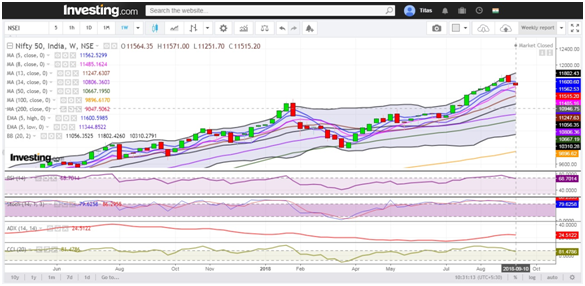 (Weekly chart)
You can use stockedge app to get cutting edge over others in both short term trading and investing. Here you not only get data at one particular place but can also create your own combination scans based on your own technical and fundamental parameter. See the video below to know about various features in Stockedge app.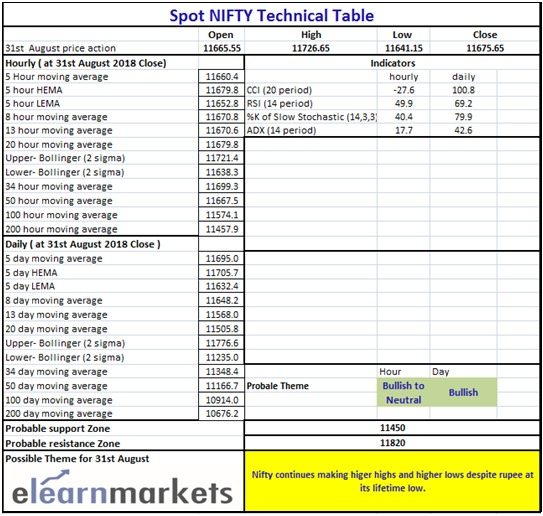 Technical Table