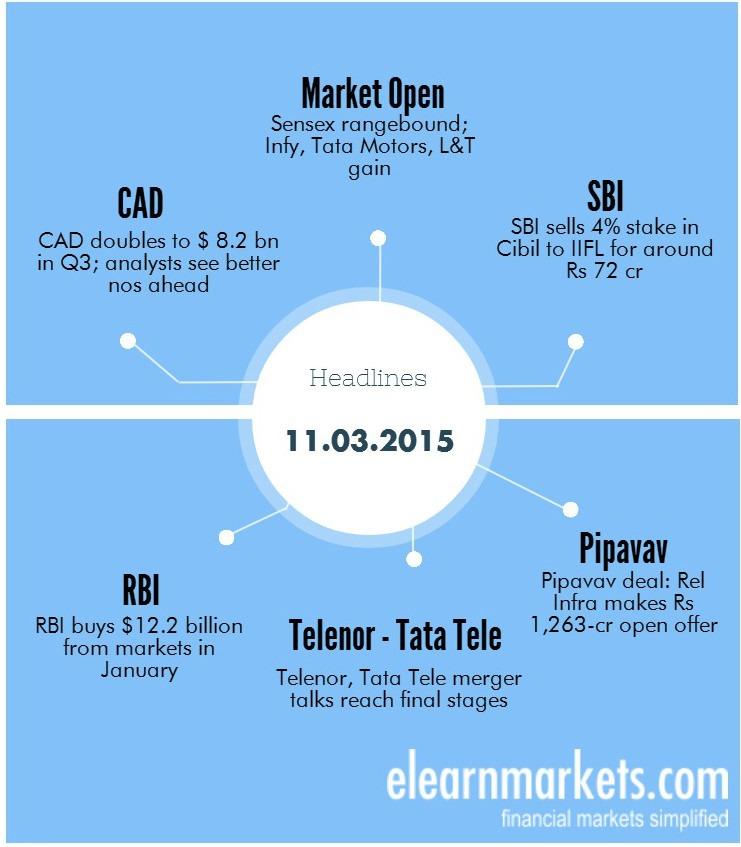 Here is a morning market glimpse of the important Market News today across several business newspapers: –
Morning Market Glimpse – Economic Times – Business Standard
Ø CAD doubles to $ 8.2 bn in Q3; analysts see better nos ahead
Ø SBI sells 4% stake in Cibil to IIFL for around Rs 72 cr
Ø Indo-US trade could reach $ 500 billion: Ed Royce
Ø RBI buys $12.2 billion from markets in January
Ø Pipavav deal: Rel Infra makes Rs 1,263-cr open offer
Ø RIL is India's largest co with Rs 3.68L cr assets
Ø 'Sugar production likely to rise by 8% to 26.5 MT'
Ø Lok Sabha clears Land Acquisition Bill
Ø Jaitley to meet heads of PSU banks today
Ø India's CAD narrows to 1.6 % of GDP in Q3
Ø Govt revives plan to set up 1.3 mn tonne urea plant in Iran
Ø JSW Steel scouts for acquisitions
Ø Majority FTIL shareholders object to NSEL's amalgamation
Ø Telenor, Tata Tele merger talks reach final stages
Morning Market Glimpse – Business Line – Mint
Ø EU ready to discuss outstanding trade issues with India
Ø Boosting liquidity may help banks lower lending rates
Ø At Rs 1,000 cr, Essar Steel's pipe mill order book up 25%
Ø SEBI-FMC merger could renew hopes for silver, precious metal ETFs
Ø L&T unit wins orders worth Rs. 1,242 cr
Ø Asian Paints to set up Rs. 1750-cr greenfield plant near Vizag
Ø Govt set for record proceeds from spectrum auction
Ø Qualcomm to buy back $10 bn of stock, increase dividend
Ø SSTL bets record copper on Narendra Modi's spending plan
Ø Dr. Reddy's in talks to buy UCB India business for $135 mn: report
Ø Germany's Boehringer loses India patent on lung drug to Cipla
Morning Market Glimpse – Financial Express – Financial Chronicle
Ø Unitech to pay penalty for Gurgaon project delay
Ø NMDC cuts iron ore prices by Rs 300-550/tonne on weak demand
Ø HCL Tech stake sale: SNF rakes in Rs 1,109 crore
Ø Maharashtra's beef ban to boost chicken sales
Ø Adlabs Ent allots Rs 60-cr worth shares to anchor investors
Ø Telecom stocks in limelight; Bharti Airtel surges 7%
Ø Infosys opens new 250-seater BPO in Puerto Rico
Ø Engaged with Indian govt on tax dispute: Cairn
Ø BSE, S&P to launch AllCap index for Indian markets
Ø Maruti Suzuki recalls 33,098 units of Alto 800, Alto K10
Ø Top companies shed assets to reduce debt.
BOTTOMLINE
You can use Stockedge to get cutting edge over others in both short-term trading and investing. Here, you not only get data at one particular place but can also create your own combination scans based on your own technical and fundamental parameter.
Visit blog.elearnmarkets.com to read more blogs.