Nifty ended on a positive note, with gains of 65 points , following the strong opening in the European market around 12.30 today afternoon, before which the market was trading choppily. The resistance currently lies at the level of 8330 and support at 8050. The RSI indicator is showing a Negative divergence , which mans that inspite of the index forging an almost higher high, the RSI is far from it high. Adding to the weakness id the struggle of Nifty's RSI to maintain its stand above the level of 60. However, weakness is not as prominent on the chart of Banknifty, which per se has a resistance at the level of 18075 due to the past price activity at this level.
NSE INDICES:
The Banknifty closed with the maximum gains fo almost 1.50%, followed by Nifty 50, the Nifty Midcaps closed flattish with a negative tilt whereas the Nifty Realty index was the biggest loser with a closing of 1.41% lower.
GAINERS: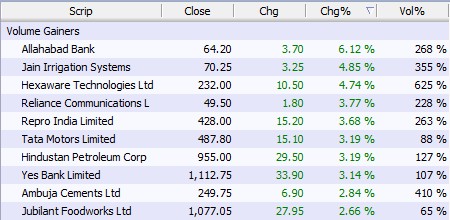 LOSERS: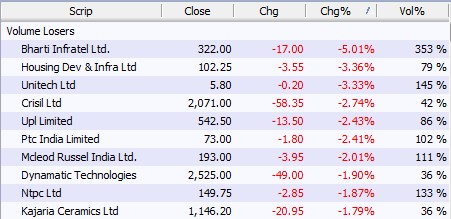 INTERNATIONAL MARKET
The US markets closed slightly negative yesterday in anticipation of the Brexit Referendum.  Following the other international indices, the US indices are expected to trade strong.
The European Indices drove the stocks stocks higher after opening. The European indices themselves are \trading a good 2% higher.
The Asian indices have been strong from India (SENSEX), Japan (NIKKIE) however the Chinese Shanghai was weaker.
Looking at the commodities futues, Gold is trading weak , whereas Crude oil is in cheers (+1.41%). This is also an impetus for the strngth in the market today.
CHART OF THE DAY
Bharti Infratel was the biggest loser on the day with a loss of 5%. It has also breached a very important support level of 340. The weakness is expected to continue, owing to the weakness in RSI.