Pointers for the day:
Nifty resisted the level of 7250 yesterday morning and turned lower towards the level of 6800. It breached the level of 7050 and 7010, closing very weak at 7018.70, down by 90 points.
On the weekly Nifty it is evident by the support trendline that thye level below 6800 is the 6300.
BankNifty has shown a slight Positive Divergence on the daily chart which may result in a bounce in the following days.
Losers of the day were NMDC -13.68%, Aurobindo Pharma -5.65%, Bhel -5.08%, Jetairways -4.50%.
Winners of the day were BPCL +4.46%, GMR INTRASTURE +4.00%,unitech +3.85%, Ajanta Pharma +3.39%.
International Markets in a glance : the Chinese Shanghai Composite was slightly better off with a closing in green , Hangseng was weak with a closing 1.15%lower, The European Indices are trading much lower nearly 1-2%. Nikkei 225 on the other hand , held its own yesterday however today it was down 0.85%.
Chart of the Day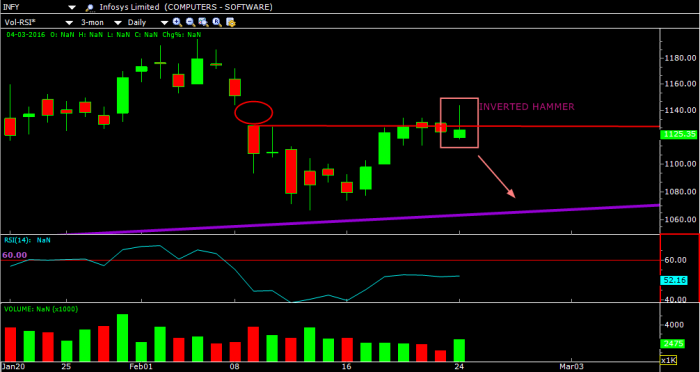 Infosys is our pick for the day: After a big downside side few days back, the range saw no closings in the recent sessions. Today was an inverted hammer which is a bearish pattern and as per the support trendline the support the range of 1070-1080.
_______________________________________________________________________________________
Read more articles here:
https://blog.elearnmarkets.com/market/nifty-chart/
https://blog.elearnmarkets.com/market/nifty-live/
https://blog.elearnmarkets.com/market/nifty-live-chart/